Estimated read time: 6-7 minutes
SALT LAKE CITY — Tight end coach Freddie Whittingham asked Thomas Yassmin to sit down; he wanted to break some news to him.
Yassmin nervously sat in a chair in the team's football facility on the Friday before Utah's game against Arizona and had no idea what to think. His mind swirled nevertheless. It felt like a serious conversation was about to happen.
Whittingham didn't sugarcoat it or hold back: Utah was bringing in a new transfer to join the tight end room. He wanted Yassmin to meet him right then.
"Freddie was actually winding me up a little bit, telling me we got a new transfer coming in," Yassmin said. "And I'm sitting there in the chair and I'm like: not again."
Yassmin had given up his comfortable home in Sydney, Australia, where he had multiple contracts ready to sign to play professional rugby, all to come some 8,000 miles away to the University of Utah to accept a scholarship for a sport he'd never played before he signed with the program.
After all that, he picked up the sport and was buried in the depth chart behind two of the best tight ends in the country. And in his fifth season with the program, he started to see the field on a more regular basis. Now Whittingham wanted to bring in another transfer tight end to an already competitive room?
It didn't matter that a player couldn't transfer and be eligible for this season, but the sudden news was jarring and he didn't know what it would mean to his playing time. It wasn't a situation he was worried about per se, it was just a quick gut check on the reality of where he'd finally come over the last five seasons.
But as the door opened, Yassmin got the surprise of a lifetime.
It was no transfer.
Instead, it was his brother, whom he had seen only two times before over a four-year period. Travel from Australia to Salt Lake City can be costly and laborious — it's roughly 20 hours of travel time and usually thousands of dollars for one trip. It's not just a quick trip over a bye week or the holidays to see family.
That difficult travel experience was only complicated further when the COVID-19 outbreak kept Yassmin from being able to come home or his family being able to come to Utah for over two years. Yassmin was doing it all alone ... until Friday.
"I see my brother walk through the door and I'm just in absolute shock," Yassmin said as his entire demeanor changed when he recalled the moment with fondness. "I had no idea this guy was coming in. ... It was very emotional. I teared up a little bit when I haven't seen him — I mean, twice in the space of four years."
It was a welcomed addition on the eve of Utah's game where Yassmin would be the team's starting tight end with Brant Kuithe out for the season due to an ACL injury and Dalton Kincaid out for the week after suffering a shoulder injury weeks earlier against Washington State.
The weekend would become even more special when Yassmin scored his second career touchdown — a 12-yard reception from quarterback Cam Rising in the fourth quarter to give Utah a 38-10 lead — with his brother watching in the stands on a cold and windy night at Rice-Eccles Stadium. It was the perfect script to a surprise visit.
"It was unreal, and he got to come watch me for the first time since high school," Yassmin said. "I mean, to get a touchdown in front of him, I think that just capped it off, and just overall big team win; it was an awesome experience."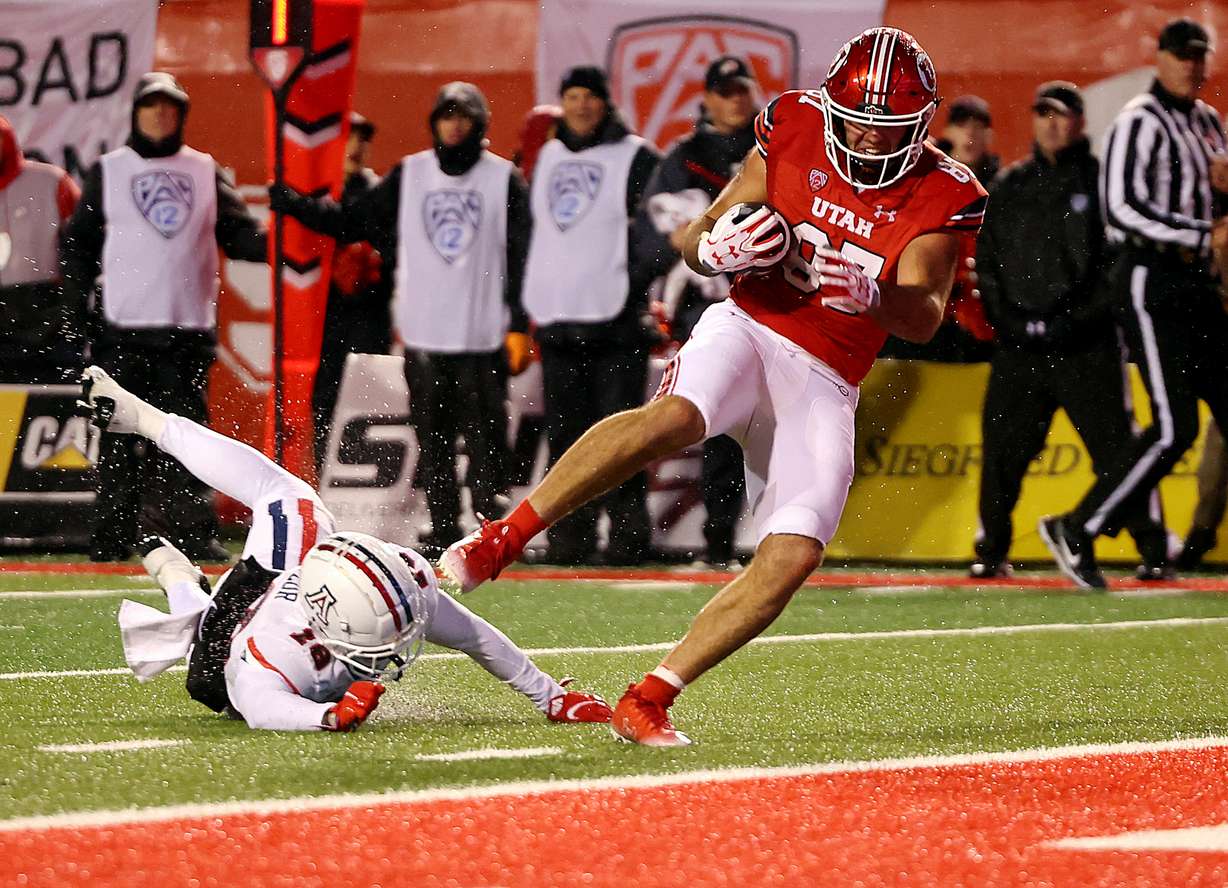 The whole experience in what could be Yassmin's final season with the team — he'll walk with the seniors on Saturday night against Stanford, though he hasn't fully made up his mind whether he's leaving yet after five seasons — was a surprise that was orchestrated by his fellow teammates.
Kuithe, Kincaid, Rising and other players on the team helped coordinate the travel and overall surprise element with Yassmin's parents and brother — keeping it all a secret from their teammate as he prepared for another game.
"Had no idea he was coming," Yassmin said.
That type of effort from his teammates was the embodiment of the family culture that Utah's coaching staff and players preach. It's not just words the team says to win over recruits as a shiny sales pitch among other key features of the program; it's real life.
More importantly, and even more so for Yassmin who can't see his family regularly, it's a newfound family that cares for him like one of their own.
It's like how after Kuithe suffered a season-ending injury, he turned his attention to help Yassmin develop as a starting-caliber tight end to be one of his replacements. It was a natural transition and one Kuithe did to make Yassmin feel comfortable in a new role.
"Brant, when he went down unfortunately, he texted me almost every day: How's practice? What are the things you want help on? And during games he's giving me little tips here, but in saying that, like very constructive criticism and helped me with things that I've translated into games and I try to take on board," Yassmin said.
"Dalton, too, this past weekend, those guys have been unreal role models and sort of give me that confidence boost. I mean, I'm not gonna lie to you, this last game I was nervous — my first real start. I've started a couple of games, but one tight end personnel when I'm out there and coaches are relying on me, it was a little nerve racking; I mean, especially because it's been such a long road."
That journey to get onto the field in meaningful minutes and to have his brother watch him play was years in the making, and one that didn't come easy. It's a journey, though, that Yassmin described as one of the "greatest experiences ever."
"It's been unreal," he said. "I mean, guys on the team will tell you, there's definitely times where I've sort of gone through the wringer, and it's just been hard being away from home and family. ... There's been times where it's very emotionally and mentally challenging, but in saying that it's probably the greatest experience I've ever had.
"If I could just speak back to myself in senior year when I was contemplating the decision of coming here or sticking with rugby, I mean, I'd call myself an idiot if I told him to stay with rugby. I think this decision has just opened up — not just for football, and obviously, everyone hopes for that — but just other doors with my academics and everything. It's just opened up so many opportunities that I think if I stayed home I wouldn't have experienced, so it's been up until this point one of the greatest experiences ever."
Whether Yassmin returns for another season or not, he's pleased with the journey college football has taken him. And more importantly, he's grateful for the connections — especially those of his teammates and coaches — he's made because he decided to give football a chance 8,000 miles away from home.
×
Most recent Utah Utes stories