Estimated read time: 3-4 minutes
SALT LAKE CITY — New goals, new players, new coach and now a new schedule.
The Utah Jazz's 2022-23 schedule was released Wednesday; and, well, it had everything you expected: 82 total games, four against each divisional opponent, at least three (with most being four) against the rest of the West and then home-and-home series against the Eastern Conference squads.
We might not know yet who will be on the team when the season begins (or ends for that matter), but we at least now know when the games will be played.
So with that, here are the notable things about this year's schedule.
Hardy's first game
The first game of the Will Hardy era will be at home. Utah opens the season against the Denver Nuggets on Oct. 19 at Vivint Arena.
National TV games
This won't be a long section.
The Jazz have just one game that will be broadcast on the trip of ESPN, ABC and TNT: New York at Utah on Nov. 15, televised by TNT.
Yep, Utah currently has zero ESPN games scheduled. For comparison, the team played on the trio of networks 14 times last season. That's what happens when the team goes from a contending team to a (possibly?) tanking one.
Utah will have three other games on NBA TV.
Bonjour, Rudy
The Jazz will face former pal Rudy Gobert and the Minnesota Timberwolves four times this season, with the first coming in the second game of the season on Oct. 21 in Minneapolis.
Gobert will come to Vivint Arena for the first time as an opponent on Dec. 9. The other two? Jan. 16 in Minnesota and Feb. 8 in Salt Lake City.
Gobert was a beloved staple for nearly a decade in Utah; expect a long standing ovation when he returns.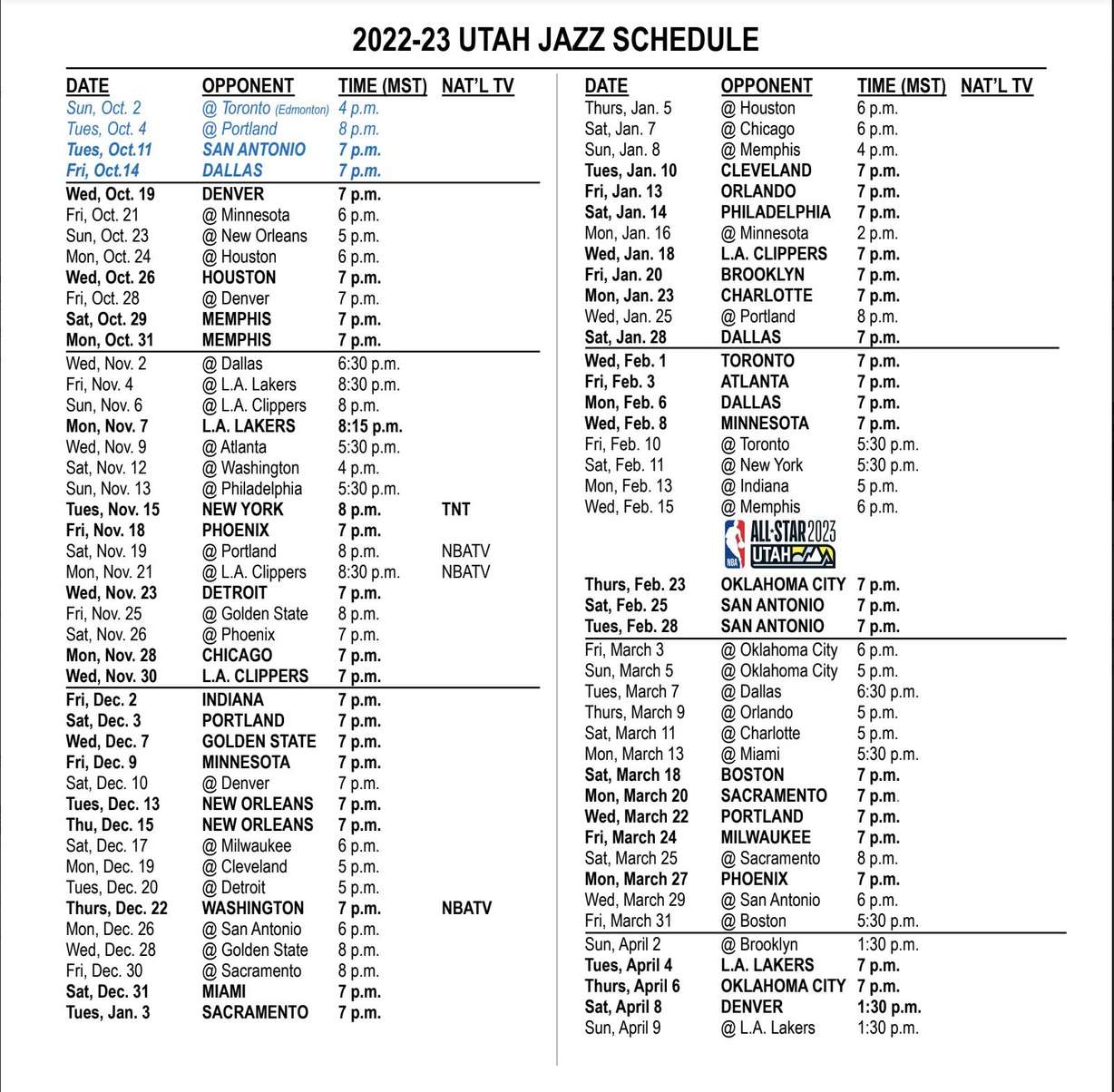 The return of Donovan?
Yes, Donovan Mitchell is still on the Utah Jazz, but there's a reason TNT has penciled in a New York Knicks-Utah Jazz matchup for a national TV contest in the middle of November. They know just what we all do: There may be a certain Utah star that could be playing for a certain marquee franchise that night.
Along with the Nov. 15 game at Vivint Arena, the Jazz and Knicks will play Feb. 11 in Madison Square Garden.
Other homecomings
Longtime Utah starter Royce O'Neale, who was traded to the Brooklyn Nets at the start of free agency, will play against his former team on Jan. 20 in Salt Lake City and April 2 in Brooklyn.
Forward Joe Ingles, who is still recovering from an ACL tear he suffered last January, could potentially be in the lineup when the Milwaukee Bucks travel to Salt Lake City on March 24.
A tough start
The Jazz will know who they are early.
In the first 15 games, Utah will play against teams that see themselves as playoff contenders 12 times. The stretch includes contests against the Nuggets (twice) Memphis Grizzlies (twice), Los Angeles Lakers (twice), LA Clippers, New Orleans Pelicans, Dallas Mavericks, Atlanta Hawks and Philadelphia 76ers.
Holiday games
There won't be a Christmas game this season, but Jazz fans can celebrate Halloween with the team — along with some other holidays.
Holiday schedule
Halloween: vs. Memphis,
New Year's Eve: vs. the Miami Heat,
Martin Luther King Jr. Day (Jan. 16): at Minnesota
Other notable scheduling
The longest homestand is six games and will take place Nov. 28-Dec. 9.
The longest road trip will consist of six games between March 3-13, and will feature Oklahoma City (twice), Dallas, Orlando, Charlotte and Miami.
The Jazz are scheduled for 15 sets of back-to-back games.
The All-Star break will be Feb. 16-22, with the festivities taking place in Salt Lake City.
×
Most recent Utah Jazz stories