Estimated read time: 3-4 minutes
Parents are always looking for new activities to introduce to their young children to help them learn and grow as they adjust to the world around them. Some may use mathematical books and early learning classes, but research and studies have shown that creating art can prove extremely useful for your little ones. Here are a few reasons why you should schedule regular art time for your children (and yourself!).
Better self-esteem
Many people claim they are not good artists, but even so, research from a 2019 study has shown that art naturally boosts self-esteem! Some members from the University of College London found that children who made physical art had higher confidence in themselves. "The arts have been shown to support a sense of social identity", said the researchers, "[it] encourages goal-directed behavior, and enhances social resilience."
Lowered stress
Art reduces stress—for people of all skill levels. Dr. Girija Kaimal, an assistant professor of creative art therapies at Drexel University conducted a survey of 39 adults ranging from 18 to 59 years old, where she had them create art for 45 minutes a day.
Researchers measured the amount of cortisol, a biological indicator of stress, in the participants while they were creating art. They found that 75% of participants experienced lower levels of cortisol during their short time of making art.
In a life that can be stress-filled, art can be a way for everyone, especially children, to relax and calm their senses.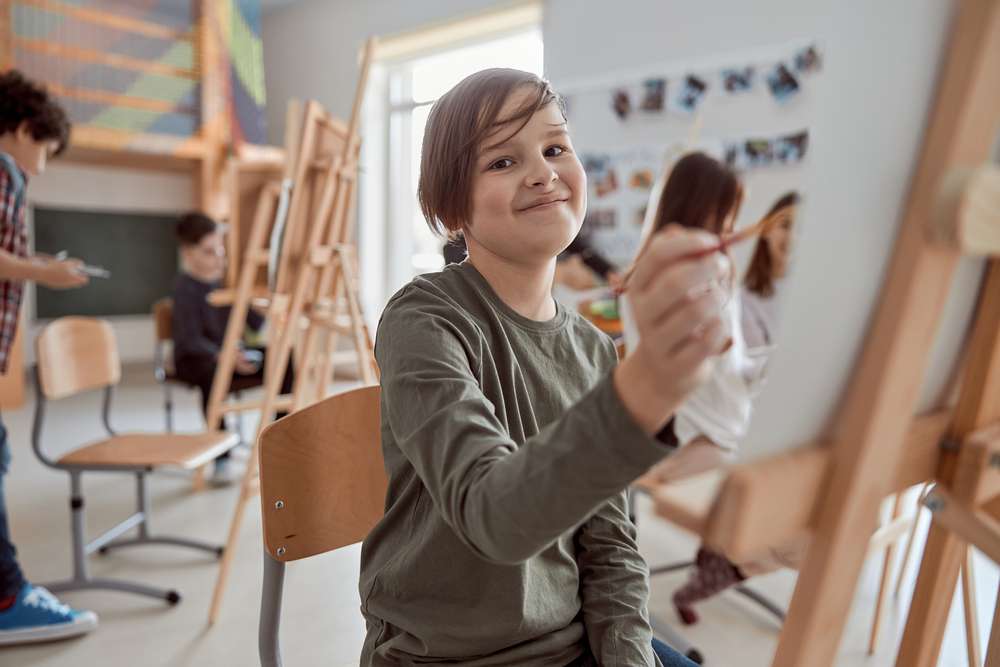 Less art in school settings
Art education has proven to be really beneficial for students, with studies showing that children who take art or music classes score an average of 92 points higher on the SAT, according to Americansforthearts.org.). Sadly, many in the education system overlook the value in these courses and because of this, opportunities for creating art are dwindling within public learning institutions, reports Forbes.
With an increase in focus on STEM classes, the number of art programs being offered in schools is decreasing. The number of art teachers is declining and, as a result, so are the opportunities for children to benefit from being creative.
The good news is, even if your children don't have access to arts activities at school, Pintsize Picassos can fill that gap for them!
Learn to paint with Pintsize Picassos
Pintsize Picassos loves to help you and your kids create art, have fun, and make memories! They offer paint nights for kids and families and each of their classes features a unique painting. They'll guide you step-by-step through how to paint your own masterpiece and you can either follow along, or apply your own creativity to make your painting completely your own.
Located in Bountiful, you can attend in-person classes or sign your kids up for 2022 summer camps. Whether you want a fun family activity or need to get the kids out of the house for a bit, you'll love what you can create at Pintsize Picassos. Visit their website to book your next class!
×