Estimated read time: 8-9 minutes
SALT LAKE CITY — Dee Brewer's Thursday morning started with a stroll through downtown Salt Lake City.
As he began his journey from the Salt Lake City Downtown Alliance headquarters, he looked out to the west, where construction crews are putting the finishing touches on a new Hyatt Regency tower by the Salt Palace Convention Center. He then looked to the east and came across Liberty Sky, the city's first luxury high-rise complex, on his way to 95 State, one of the city's newest skyscrapers.
His short journey took him past six new businesses or developments in a block and a half.
"This is evidence of just how much is going on downtown," said Brewer, the executive director of the Salt Lake City Downtown Alliance, standing on a podium on the 23rd floor of 95 State, which offers a serene view of the core of the city's downtown from above. "You don't have to walk very far to see that evidence and the optimism and the investment that's happening in our capital city."
But Brewer's thoughts quickly shift to what's on the horizon. He notes that the short walk he took — and the incredible vista from the 23rd floor of 95 State — will be completely different in just a few years because there are close to a dozen major buildings under construction this year. While those should be completed within the next few years, there are even more projects in the planning stages behind it.
The first wave of structures are expected to double downtown's residential capacity and offer all sorts of new businesses, while the wave after it will drive even more people into the heart of the city.
Those projects are noted in the Downtown Alliance's annual economic benchmark report, as are the successes of the past year of a growing city slowly rebounding from the COVID-19 pandemic.
"We know that we're no longer a secret in the world," said Salt Lake City Mayor Erin Mendenhall, explaining she no longer has to explain to people where the city is. "People know what's happening in Salt Lake City."
The state and future of downtown
Downtown Salt Lake retail shops brought in a little over $2 billion in sales tax last year, a 29% increase from 2020. The 84101 and 84111 area codes accounted for 5.5% of the entire sales tax collected in Salt Lake County in 2021, the report states.
The numbers are still about 3.2% below sales tax collected in 2019, but city officials contend the downtown area was "inordinately impacted" by the pandemic, especially since the thousands of people who normally commute into the city for work stayed home.
Yet last year's successes plus Utah's "steady state" stage of the pandemic and all the new business options indicate that this year will only be better.
Downtown Salt Lake City is also becoming increasingly residential, which will only drive that number in the future. There are currently close to 3,846 existing apartment units in the downtown area, according to the Salt Lake City Downtown Alliance.
---
Growth is good for us. We're making it good for us.
–Salt Lake City Mayor Erin Mendenhall
---
However, another nearly 4,000 units are currently under construction and are expected to be available within the next 24 to 30 months. Most of the growth comes from 11 buildings under construction this year, which combined, will soon offer 2,600 new apartments, 697 new hotel rooms and 425,000 square feet of office space. Another 4,405 apartment units are proposed beyond that, with a less-clear timeline of when they will be available.
"That is going to change our city immensely," Brewer said.
His other major takeaway from the report is the state's ongoing growth. Utah is the fastest-growing state in the country; while its rate of growth is projected to slow down over the next four decades, the sheer number of people coming to the Beehive State isn't stopping anytime soon.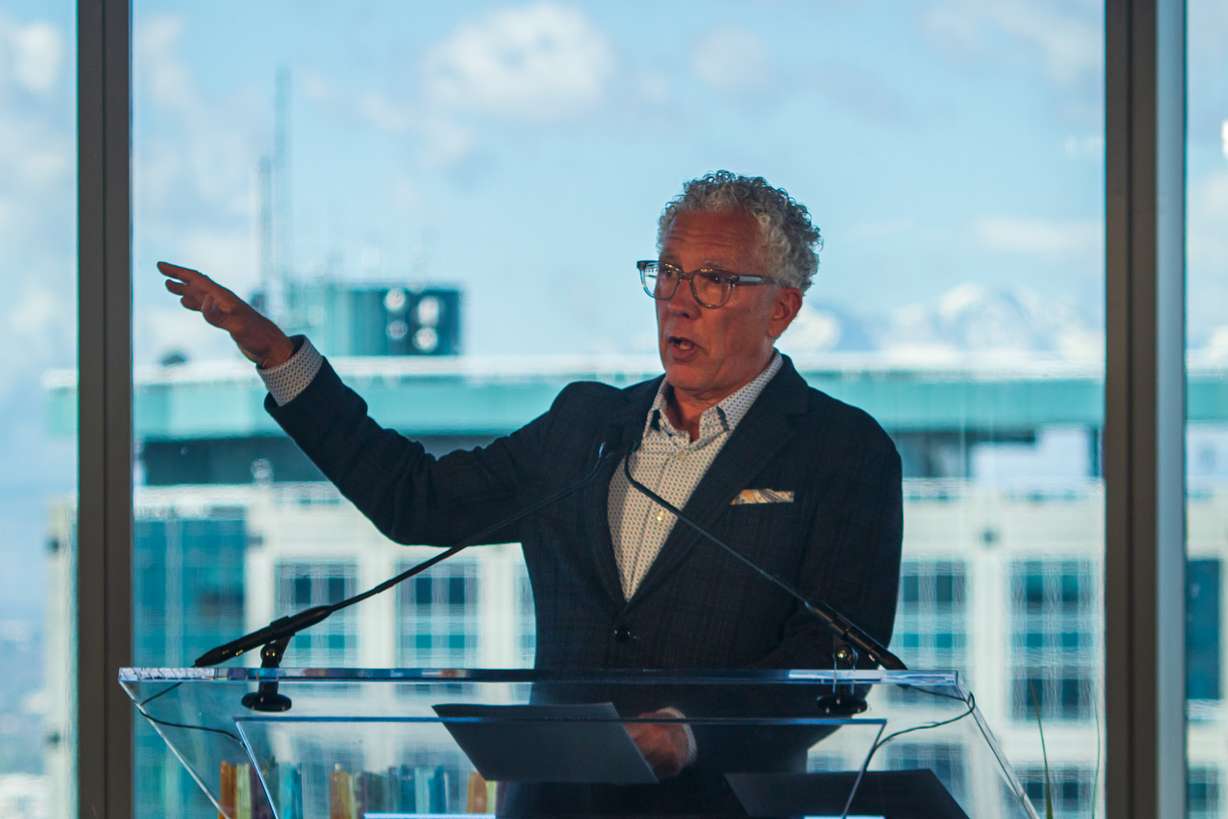 All of the projections are going to create new opportunities and challenges for downtown Salt Lake City. The Downtown Alliance report published Thursday outlines these.
Opportunities
Diversifying downtown economy with new state-of-art office spaces and residential growth. Over 800,000 square feet of office space is arriving from the 95 State and 650 S. Main projects to be completed this year in addition to all the new housing units elsewhere in the city.
New nighttime economy visitors with concerts, performances and dining options. About 900,000 people are expected to attend summer festivals in downtown Salt Lake City this summer alone.
A new health innovation sector and life science tenants.
An educated workforce. Nearly one-third of Utahns have a bachelor's degree, which is 11th highest in the U.S. The state's high school graduation rate is also one of the highest with a rate of 88%. Utah also has the lowest student debt in the country.
A "super transit corridor" on 200 South and new transit connections.
The NBA All-Star Game in 2023, the effort to host the Winter Olympics again and other possible events coming to Salt Lake City with the Salt Palace Convention Center's brand new hotel attached.
Challenges
Housing affordability and availability. The price of single-family homes in the downtown area has increased by 25% in the last three years, while the average condominium is up 19%. The average monthly rent is also now up to about $1,400. Downtown vacancy rates fell to about 2.9% downtown by the end of last year, which is driving up costs.
It's dry out there. Not only from the ongoing drought but the state's liquor license shortage. It makes it difficult for some new bars and restaurants to open.
Labor shortages and increased project costs. Utah's unemployment rate is riding steady at about 2%, causing labor shortages statewide in a competitive labor market. There's also inflation and supply chain shortages impacting new construction. Construction costs are up 15% in the past year because of market constraints.
Competition from suburban markets. Office availability in areas outside of downtown Salt Lake City offers a direct competition to the city's downtown spaces.
Any construction happening, such as the 200 South or State Street projects, will make for inconvenient travel over the next couple of summers.
A rising need for green space. Downtown has about 2.8 acres of park space per 1,000 residents now, which is below the average of 10 acres per 1,000 residents in other similarly-sized cities.
While the future promises growing pains, Mendenhall says she welcomes the work ahead.
"Let me say, I will take the opportunities and the challenges of growth over stagnation and decline that other cities around this country are facing. I will take that any day," she said. "Growth is good for us. We're making it good for us."
Making Salt Lake City fun
Thursday's report and Salt Lake City Downtown Alliance's annual "State of Downtown" presentation also highlighted the importance of arts, entertainment and recreation, and new goals to build off of that. To that end, Peter Kageyama, the author of the book "For the Love of Cities," was brought in to highlight the ideas that make a city fun, which he views as the ultimate goal cities should strive for after they've made it functional, safe and comfortable.
He contends that city leaders should ask the same question: Where's the fun? He says projects never have that goal but it is something that drives people to want to be in a city more than anything else. These can be murals across the city, different sculptures or even scavenger hunts.
"When you ask that question, you actually change the dynamic in the room and the way people are fundamentally thinking about the problem," he said. "And in that moment, you've opened the door up to the possibility of something beyond a merely technically-efficient solution."
The report highlights 2023 initiatives, including a new Main Street promenade to enhance the Open Streets program. Brewer played a video promoting the idea of making Open Streets — where Main Street is closed off to motor vehicles — a more permanent fixture downtown. The program began in 2020 as a weekend-only event that provides more walkable space and dining around the street's businesses.
There are also ongoing plans to make a permanent Downtown Public Market in the city's Rio Grande neighborhood, banking off the success of the summer market. This year's schedule is expected to draw over 200 vendors and 10,000 people to Pioneer Park every Saturday. Kageyama pointed out in his keynote address that farmer's markets aren't just fun, but they are often incubators for new businesses.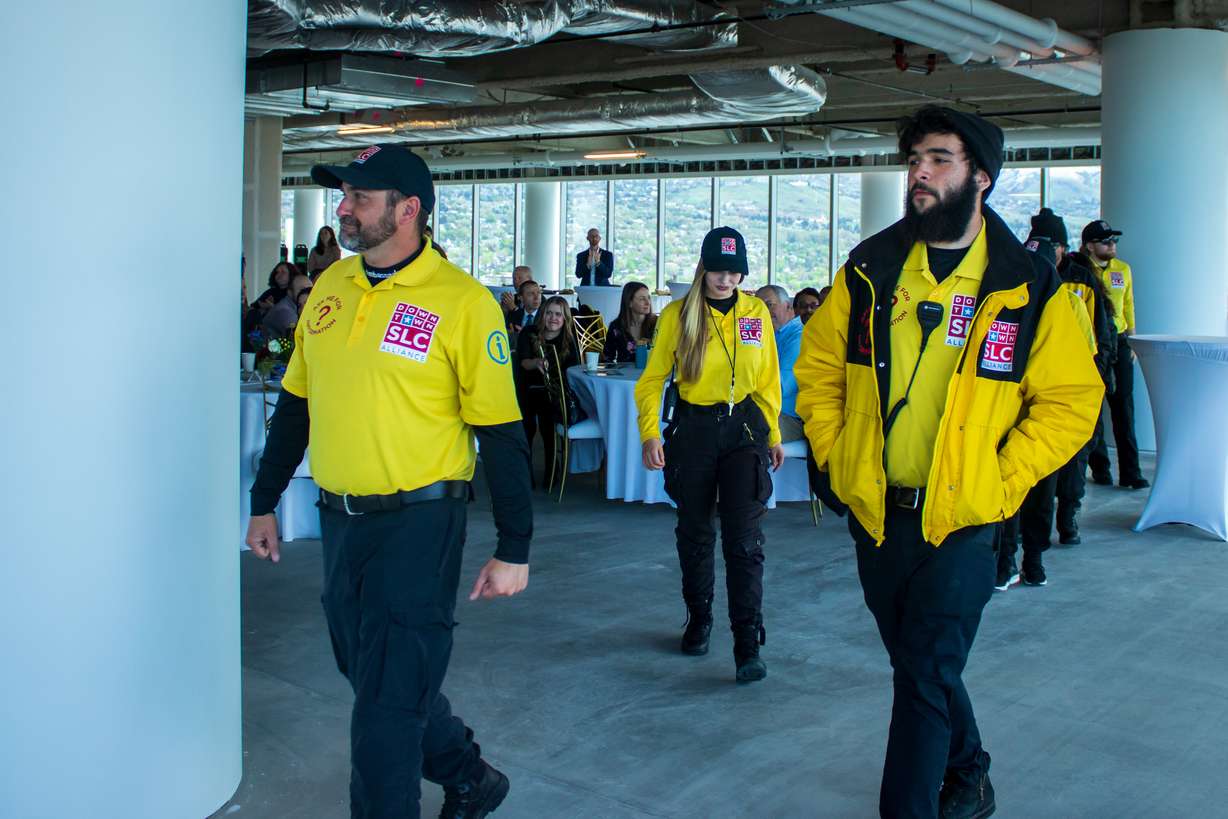 Other forthcoming initiatives include more murals, artists and programming on downtown streets, including new street performances. The Downtown Alliance also wants to deploy its street ambassadors to patrol the area to help direct people to services, including shelter and safety.
Kageyama said these are ideas that help make a city fun, as are parks and other recreation ideas. In fact, he contends the pandemic, which led to a spike in dog ownership and even a 43% increase in park use across Salt Lake City, will change how cities view their parks and recreation departments.
"We rediscovered how important that green space and that park is to our community," he said. "I think people will now realize how important parks are ... for the vitality of our entire place."
×
Photos
Related stories
Most recent Salt Lake County stories