Estimated read time: 4-5 minutes
SANDY — As little as three weeks ago, Rowland Hall was a .500 team after finishing the regular season with a 6-6 record, including a 5-5 mark in region play.
And they haven't lost since, including Wednesday's 2A state championship.
How did a team go from middle of the road in Utah's smallest classification, a No. 9 seed playing without a tournament bye, to breaking a 13-year streak without a title?
With a lot of defense and a little luck.
Luke Muhlestein and Zach Baughman — the two seniors and team captains — each scored a goal, and goalkeeper Sam Andrew kept the shutout as Rowland Hall won its first state title since 2009 with a 2-0 win over St. Joseph at Rio Tinto Stadium.
"We knew we were much better as a team. Our season started out rough, losing to teams we knew we could beat," Baughman said. "But coming in as the nine-seed, we knew we would have to prove ourselves and win this thing.
"The past three games have been a really tough bracket. But it was the last game we can play as high schoolers today, and I knew we had to go for it."
St. Joseph (16-2) boasted the state's leading scorer in Daniel Fontes (30 goals), averaged an eye-popping 6.5 goals per match that included an eight-spot in Tuesday's semifinal win over Millard, and a 16-1 overall record.
But Rowland Hall (11-6) knew it could compete with those types of teams. They played the Jayhawks to a pair of narrow 1-0 losses in the regular season, and took top-seeded Maeser Prep to double overtime before edging the Lions 4-3 in the postseason.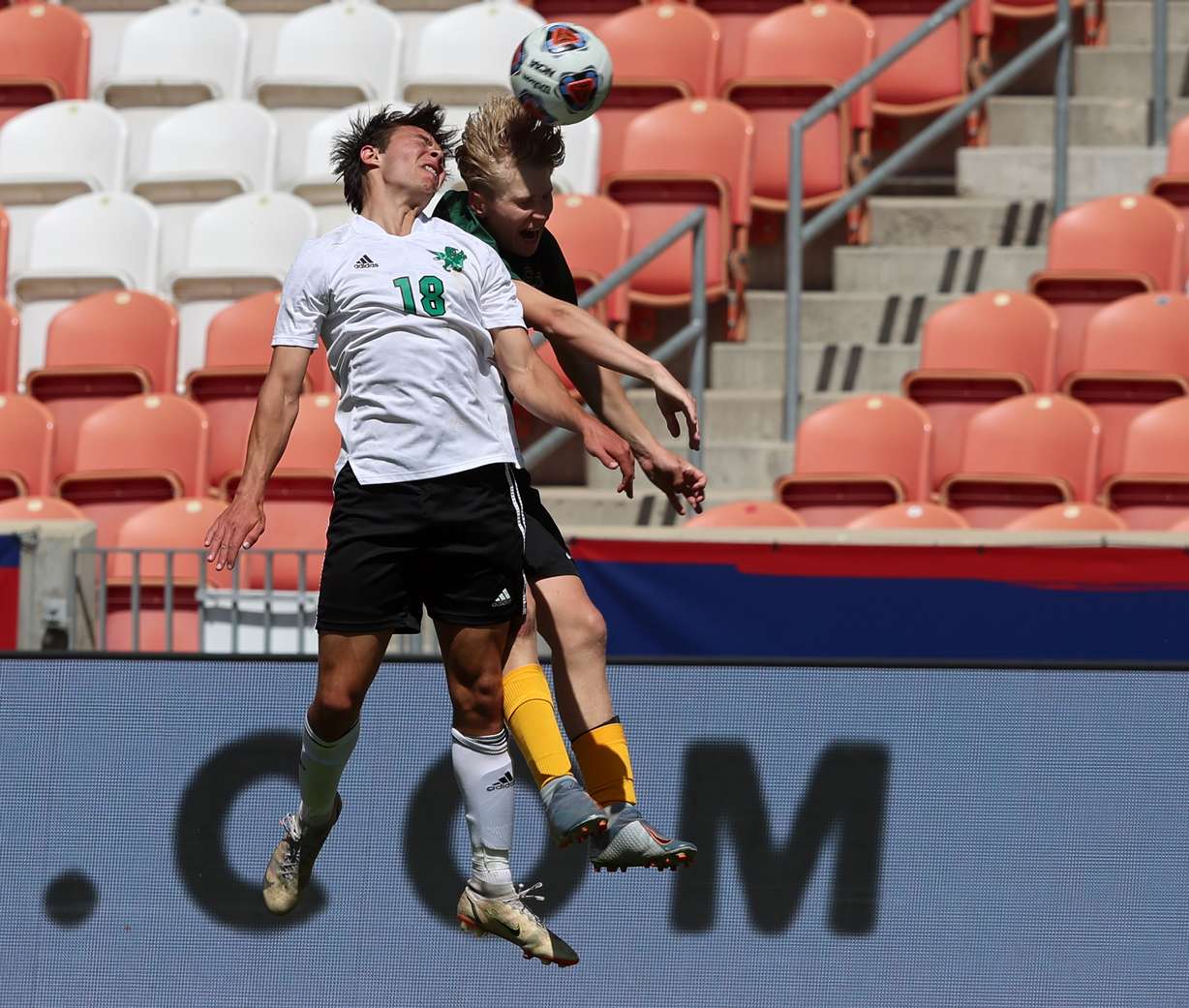 It was just a matter of putting everything together at the right time — which proved to be the postseason, beating Mount Vernon, Intermountain Christian, Maeser Prep in the quarterfinals and a 2-0 win over American Heritage in Tuesday's semifinals. The Winged Lions had come close to ending their title drought before, but rarely quite like this year.
"We kind of knew we were close to St. Joe's and Maeser," Rowland Hall coach Joe Murray said. "We had some injuries early in the season, and other little things like that.
"But we knew all along that those top-four teams, we had played as well as anyone — or better. We just couldn't put the ball in the back of the net. So we changed the formation, put two up through the middle, and I think it helped with this team to score more goals."
And it was the Winged Lions who took advantage early.
Rowland Hall struck first from the penalty spot, when St. Joseph was called for a handball in the 37th minute. Muhlestein stepped up when his number was called, and buried the ball inside the right post to give the Winged Lions the 1-0 advantage at halftime.
The Jayhawks threw numbers forward, looking for the equalizer, which opened up Baughman in the second half to net a cross-turned-goal in the closing minutes of the match that sent the Rowland Hall student section into a championship-level celebration.
"The defense has been our rock all season," Murray said. "They've been rock solid; I had total faith in them. They're the rock on which this team is built."
It also came because of the defensive effort, from Calvin DeBellis sprinting back to block a shot with his whole body to underclassmen Jack Vitek and Brandt Barker playing beyond their years. Wing backs Lorenzo Parker Pillow and Muhlestein patrolled the wide field at Rio Tinto Stadium, while goalkeeper Andrew — a converted basketball player who averaged 15.1 points and 13.8 rebounds per game — cleaned up in the back.
"Our defense has been amazing the whole season," Baughman said. "The reason we struggled in the start of the season was our offense; we could not buy a goal. But our defense has honestly been the best in the state, I would argue.
"We have a lot of heart back there, and they are really the reason we made it here today. They've been outstanding."
Where does that goal — the ninth one of the year for Baughman — rank in his career?
"Oh my God, No. 1. In the final at Rio Tinto — there's nothing like it," he said. "I'm on top of the world right now."
×
Photos
Related stories
Most recent High School stories