Estimated read time: 5-6 minutes
PROVO — Violet Zavodnik kept a secret while she was being recruited to play softball up and down the west coast.
The Murrietta, California, product committed to Utah as a freshman, but after several travel-ball teammates talked to her about other options, she reopened her recruitment.
The 5-foot-8 outfielder with a big bat and bigger international experience took a number of visits during her junior and senior year in high school. And before every one of them, she started to have the same, awkward pre-visit routine.
Until she met the coaching staff and team at BYU for the first time, that is.
"Every visit I went on, I always threw up right before meeting the coaches," Zavodnik told KSL.com after practice in Provo. "I don't know why, but I'd just throw up.
"Then I came here, and it was the first time I didn't throw up. I fell in love with the school, and it felt like home."
She wasn't the only one who noticed that strange quirk, either. Both her parents Mark and Kimberly noticed something different when she first met with BYU coach Gordon Eakin and his staff.
Normally quiet and reserved, Zavodnik was talkative, outgoing — even professional — from that first meeting in Provo. They'd say she seemed like her normal self, except that they rarely saw a side like that to their daughter.
"That day, I felt like God wanted me to be here," she said. "And so I chose BYU as my home, and I'm very happy I made that decision. I love everything about this school."
The Cougars are glad she came, too.
Zavodnik, who was named WCC Player of the Week on Monday, exploded on the scene as a freshman in 2021, starting all 54 of the Cougars' games in the outfield and hitting .424 with an .834 slugging percentage, 15 extra-base hits, 15 home runs and 50 RBIs. She also played nearly flawless defense, with 41 putouts and just two errors for a 0.95 fielding percentage.
Paired with fellow power slugger Huntyr Ava and ace pitcher Autumn Moffat-Korth, Zavodnik has the Cougars off to a 38-10 start to the season after last week's road sweep of Pacific (which the Cougars won by an aggregate score of 24-0) and a 10-5 win at Utah Valley where Zavodnik smacked two home runs.
BYU is back home this week with a Tuesday evening game against in-state rival Utah State (6 p.m. MDT first pitch) followed by Saint Mary's in the home finale Friday and Saturday to wrap up their penultimate year in the West Coast Conference before joining the Big 12 in 2023.
The Cougars have rebounded from a rare lost series in conference play, losing two of three to Loyola Marymount on April 8-9 with 13 consecutive wins since, playing every game as if a conference championship is on the line. In many ways, it is.
And Zavodnik has been at the front of the charge for a 13th-straight conference championship in four different leagues, or at the very least, a 17th consecutive NCAA Tournament appearance.
The diehard Angels fan who played baseball at Lakeside High School because her school didn't offer softball rolled to West Coast Conference Player and Freshman of the Year honors in her first season — the first player to do so in WCC softball history — before upping her game as a sophomore.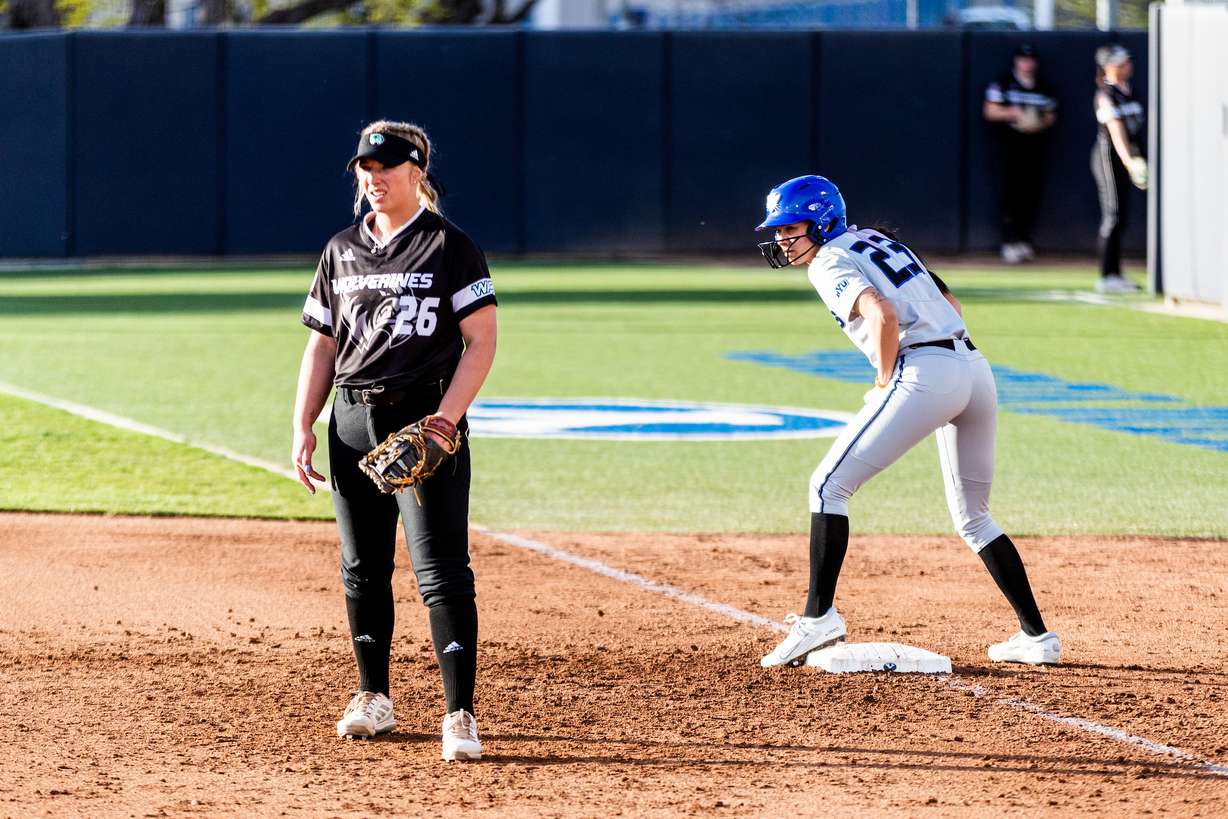 "Baseball was so much fun," said Zavodnik, a special education major. "I gained brothers, I gained family, and having a different vibe to it was amazing."
Zavodnik is currently hitting a team-high .397 (tied with teammate Ava) with an .858 slugging percentage, 42 RBIs, 17 home runs and 13 extra-base hits. Her on-base percentage is up to .488, and she's fielding a perfect 1.000 with 52 putouts.
An All-WCC first-team selection and NFCA All-Region second teamer, Zavodnik used that breakout college season to earn a spot on the USA Softball U-18 junior national team last summer, where she led the Americans to the gold medal at the Junior Pan American Games in Colombia. Zavodnik even scored the game-winning run to walk off with a 1-0 victory over Chinese Taipei in the gold-medal game.
"Playing international and seeing these teams playing was eye-opening," Zavodnik said. "A lot of teams don't have what we do; people from Puerto Rico are really good, same with Mexico, Chinese Taipei, Argentina, and other countries.
"It gave me a different perspective. Playing D1 softball is a once in a lifetime opportunity – you have to learn from it and take advantage of it, but also have fun. That changes your perspective of how you play the game."
That change in perspective has elevated her game, as well. But another moment forced her to grow just as much.
That was when Eakin called Zavodnik to his office during the preseason and told her she was going to be one of the team captains for the 2022 season. Only a sophomore and reserved, the outfielder couldn't believe it.
"Who, me? Are you sure?" were the first words she remembered saying in that meeting. There was no mistake, though; as good as Zavodnik was as a freshman, she was going to have to repeat it as a sophomore, and with the added bonus of leadership on her young shoulders.
"She's a special player for sure and a great team player," Eakin said of Zavodnik, who ranks as high as No. 4 nationally among outfielders by D1Softball.com. "She is a first-team All-American waiting to happen and is just an incredible player."
No pressure, right? Right now, the biggest pressure is trying to chase down LMU at 11-1 in the WCC standings, one game ahead of the Cougars in a rare chase in the final week of the regular season.
At least one player will be leading from the front.
"I knew I had to be a bigger personality, to talk more," Zavodnik said. "And that kind of went against my personality. But I've been able to become more of a talkative leader throughout the season, which has been good."
×
Photos
Related stories
Most recent BYU Cougars stories