Estimated read time: 5-6 minutes
PROVO — Justin Anderson has a pretty easy way to describe his job as the new director of player personnel on Kalani Sitake's football support staff at BYU.
"It's similar to a general manager at the NFL level," he says matter-of-factly.
Simple enough in a world governed by the increasing emergence of the NCAA transfer portal, right? Anderson is the guy tasked with balancing the spreadsheet, filling out roster spots and checking scholarship limits, making sure the number of incoming recruits matches — or at least does not exceed — outgoing and graduated players.
He deals with the portal, as all programs do, and coordinates arrival times on campus for each football player, determining when one's eligibility "clock" can start and when it ends. Add to it the missionary program of The Church of Jesus Christ of Latter-day Saints, which affects players at several colleges but none greater than those at the church's flagship institution.
Simple enough, right? Anything else you want to add?
Maybe add in name, image and likeness legislation, which is dramatically reshaping how rosters are managed by the day — oftentimes working in tandem with the transfer portal, as recent college basketball players around the country have shown.
"I think it's just a matter of balancing your roster," Anderson said. "The transfer portal and NIL are here to stay, so it's just a matter of who fits your program and what kind of culture you're trying to build. Culture is the most important for each program."
In his new (and also, returning) role at BYU, Anderson will work under Sitake's support staff, working closely with recruiting coordinator Jasen Ah You and other personnel directors while reporting directly to chief of staff Jon Swift.
It's all designed to take what BYU has been able to do until now — be competitive amongst the Power Five, if not always spectacular — and be consistent with it. And if you want a player personnel director or "general manager" like one found in the Power Five, then why not take one with experience in the Power Five?
"He's been a coach before, he was a teammate of mine, and he knows what the BYU experience is all about," Sitake said of Anderson. "But he also has the experience of seeing what it's like at the P5 level, and more recently when he was hired at East Carolina quickly.
"We talked to the people at East Carolina, asked for permission to speak with him to gauge his interest, and as we spoke with him, we knew that he'd be a great fit here and with this support staff. I think there are still a number of people out there who can really enhance this program; that's what we're trying to get done."
Anderson was among the eight new hires and staff promotions BYU announced Monday, a group that included six promotions from within BYU athletics to roles more directly associated with the football program, as well as the hiring of a former rising star equipment manager from the Mountain West via Fresno State and UNLV.
Even though Anderson is officially a new hire, he's hardly new to the program. And there's nowhere else the former Orem High standout would rather be.
"This is home," Anderson said. "My family's here. I was really grateful to coach with (ECU coach Mike Houston) at East Carolina, and I learned a lot in three months. But when this opportunity came up, he gave me great advice and was really supportive of me. It's not easy for him, as well."
Anderson, who played wide receiver at BYU and Ricks College from 1995-2002 (with a mission to San Antonio in between), has worked across the country, from offensive coordinator at Harmony High School in St. Cloud, Florida shortly after graduating with a degree in communications in 2002 to rising up as assistant head coach, passing game coordinator and wide receivers/tight ends coach at Nicholls State from 2010-15.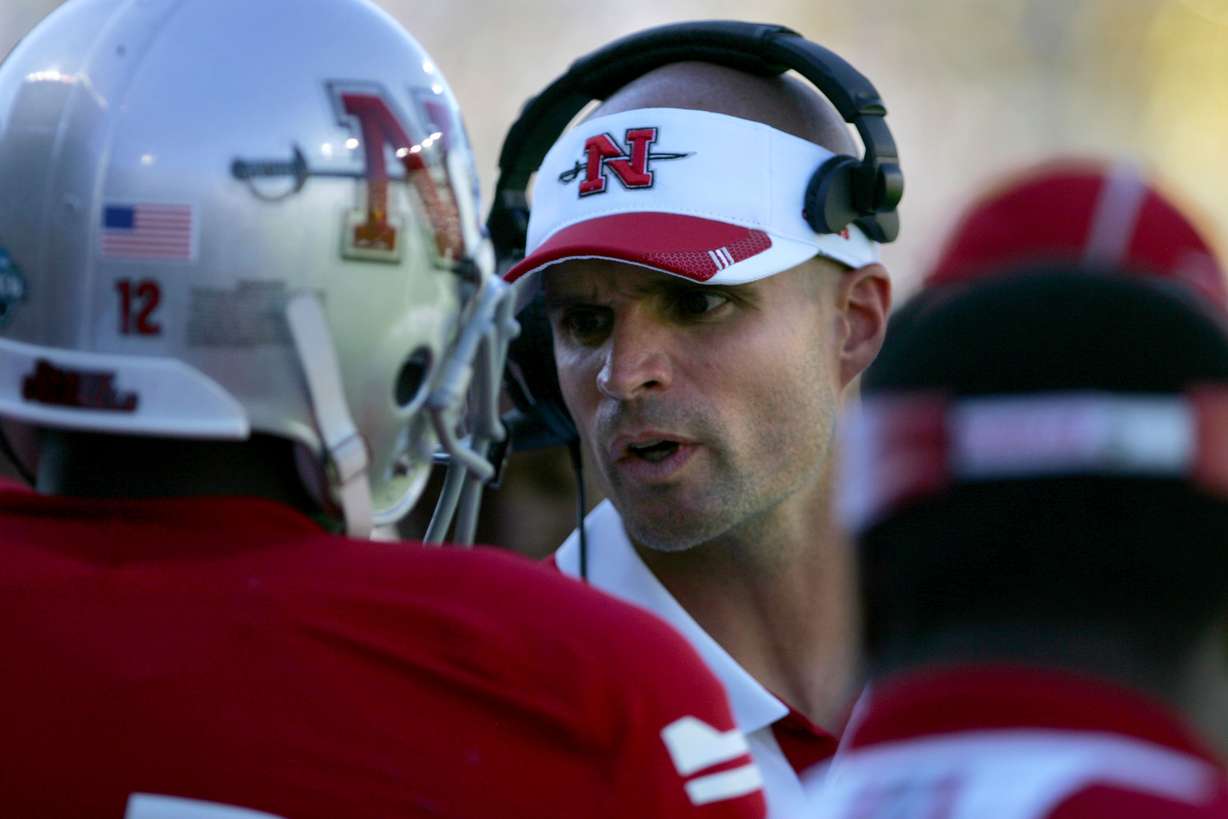 After returning to his alma mater as recruiting coordinator in 2015, Anderson followed former coach Bronco Mendenhall east to Virginia to work in the same role, coordinating the program's recruiting and identifying, evaluating and retaining prospective athletes for the football program.
Under Anderson, the Cavaliers produced the two highest-ranked signing classes in program history, helping Mendenhall to earn bowl eligibility in four of his five years at the helm, including an Orange Bowl berth in 2019.
When Mendenhall abruptly stepped down following the 2021 season, Anderson (along with the rest of the Virginia staff) was left to scatter to the wind. He took a job with East Carolina, where he worked doggedly for three months, before staff reorganizations in preparation for BYU's jump to the Big 12 opened up an opportunity for him to come home.
It's not an easy job for Anderson, either. He's tasked with preparing a roster to join a Power Five conference for the first time in program history, where increased television revenue awaits — but so does an increased consistent level of competition.
How does Anderson think BYU will acclimate to the P5 ranks? Pretty well, if the past is to be believed — he saw up-close just how close to "Power Five" the Cougars could be when he came back to Provo for Virginia's 66-49 loss in LaVell Edwards Stadium.
"Last year, when we played them, I thought they looked great," he said. "They've had success beating Power Five programs, so they have a Power Five roster. You can't beat those teams without a Power Five roster."
×
Most recent BYU Football stories