Estimated read time: 6-7 minutes
EAGLE MOUNTAIN — It may look like a bunch of piles of dirt, but to 12-year-old River Bell, they are his ticket to ride.
On April 16, Eagle Mountain had a grand opening for the Mountain Ranch Bike Park located on Golden Eagle Road near the base of the Lake Mountain foothills. For River and hundreds of others who attended, this meant that there was now a place to hone their craft as budding bike jumpers.
To some who are familiar with the Eagle Mountain area, the bike park is nothing new. In fact, it has been around for a good 10 years. However, as time went by, the area wasn't maintained, and the promise that the Mountain Ranch bike park once held began to wither away.
About six months ago, however, a man named Christian Peper, who grew up jumping bikes, just like River, moved to the neighboring town of Saratoga Springs and was hoping to find some unoccupied land where he could build some jumps.
"I am a lifelong lover of bicycles and at the age of 7 or 8 years old my parents moved to Alpine," Peper said. "I had been racing bikes since I was 4 years old, and when we moved to Alpine and we had some undeveloped land behind our house that we built some bike jumps on."
Peper explained that as he got into his teens, he no longer competed in bike jumping, but maintained his love for the creativity of the sport. He said he and his friends built some more jumps, and word spread. During that time, he also became a volunteer member of the city council and petitioned for a skate park, but got a bike park instead.
"Alpine (city) noticed my backyard was bringing enough people in from even neighboring states so they said, 'Let's sanction your backyard as a city bike park, and we will lease the properties from the construction company who's going to develop them so we can insure it,''' Peper recalled. "From a young age, I had this sense of grassroots activism – particularly developing the biking community and pushing for good terrain to ride. I mean, I had a city park in my backyard!"
Not only did Peper have experience biking and building jumps, but he knew that if he built it, they would come.
Creating a 'new' backyard out of an existing one
When searching for a place to build jumps near his new home, Peper said he was directed to the city of Eagle Mountain, particularly a man named Adam Clark, who is the president of the Lake Mountain Trails Association and on the board for parks and recreation for the city.
Clark suggested some open areas where Peper could build, but also remembered the plans he had to revamp the existing bike park that the city didn't have time or resources for. Clark mentioned that Peper might want to give the old park a facelift with the hope that the city would be able to eventually help with funding.
Before long Peper had a proposal ready to send to the city. Unfortunately, the city didn't have funding available, so the community of Eagle Mountain stepped in, raising about $5,000. And while that was a start, Peper knew that they needed more.
"I knew I had to get local businesses involved," Peper said. "I reached out to the Maverik right at the mouth of the bike park, and they gave us a $15,000 grant. I was then introduced to Meta, which is the parent company for Facebook, and after presenting my proposal in front of a board, they have also committed to funding the next phase of the project."
Peper explained that the first phase included getting the right dirt and designing the layout of the park.
"We spent probably three months looking for the right dirt to bring in, but that's only part of it," Peper said. "The other part is very much the shape and the layout and knowing the proper spacing. How long should the jump be? How high should it be? How much space should there be before the next feature? How wide should it be to induce confidence in the rider that they're not going to fall off?"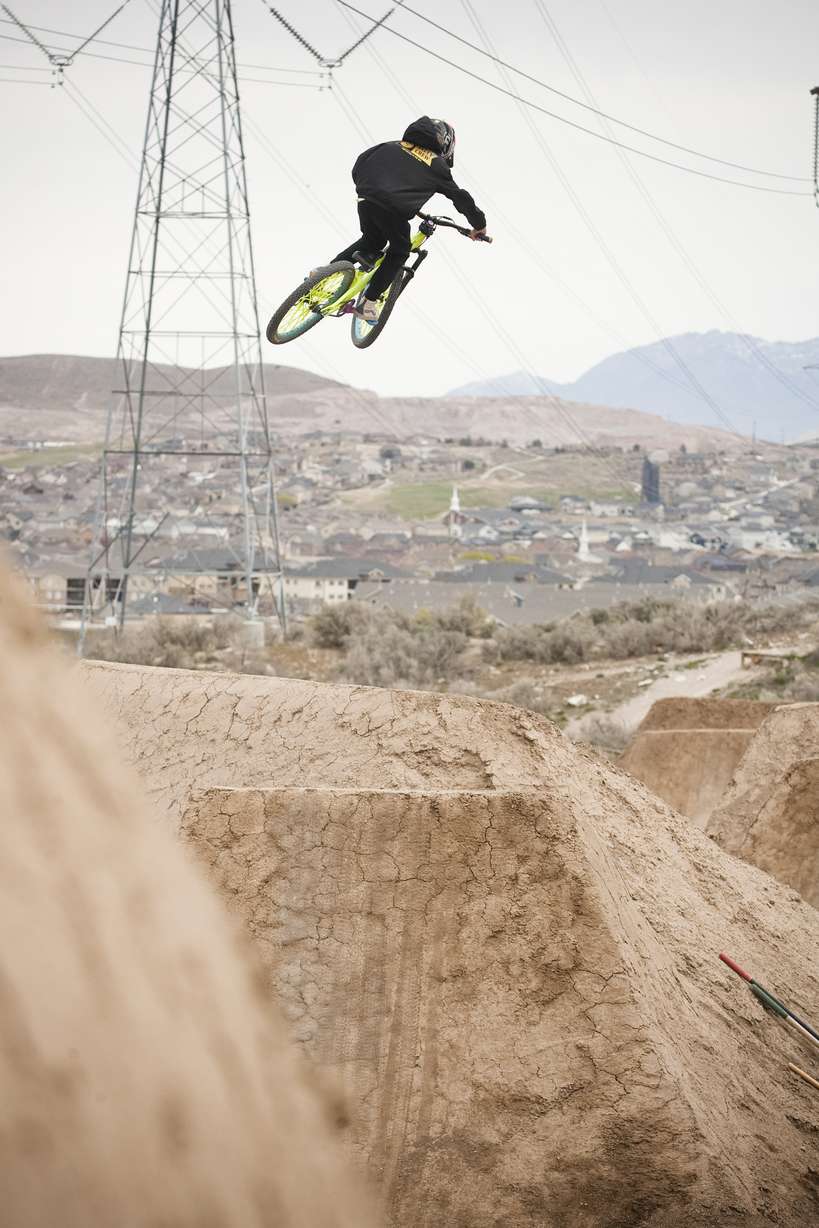 The master plan
With a bit of a sad history to the existing park, Peper and Clark said that they kept this in mind moving forward. Peper said one of the main ingredients in his park maintenance plan was to make parts of the park extremely challenging.
"The average rider rides at a green or a blue line level (novice/intermediate) and develops their skills there," Peper explained. "The average rider also doesn't feel a sense of trail stewardship. Part of the reason I built the park to have a true black line with very advanced features, is because I know that it attracts the talent from around the valley and state who know how to be real trail stewards and who are probably actively involved in their local spots in upkeep. Attracting that level of talent to the park is a way to get the park to maintain itself, but also to let the locals watch how those riders interact with the park and how they take care of it, and hopefully become the next generation of trail stewards."
One of the next generation of stewards is 12-year-old River Bell, who Peper said can also hold his own with the black liners.
According to River's dad Fanz Bell, there is no place like the Mountain Ranch bike park.
"We live in Cottonwood Heights, but the park in Eagle Mountain is so amazing and there's nothing else like it, so the drive is worth it," Franz Bell said. "The only jumps that compare to Eagle Mountain are in Frisco, Colorado, which is eight hours away!"
According to Clark, that's the hope.
The park is part of a greater picture
"We have kind of a big vision out here for what our city can become," Clark said. "We have a lot of advantages that a lot of cities don't have in northern Utah, like available land. We still have the ability to plan and include trails into our city's development, whereas other cities are kind of already done. We have an opportunity to create a living trails system inside our city as it grows. The idea is that you could jump on a trail and spend hours going all over the place and just explore without ever being in a car."
"There is a huge opportunity for us to provide both the quality of living of people who live here or a destination for people to come."
For more information on the master plan in progress, go to Lakemountaintrails.org
Correction: In a previous version of this story, Christian Peper's last name was incorrectly spelled Pepper.
×
Photos
Most recent Utah stories