Estimated read time: 5-6 minutes
SALT LAKE CITY — As walk-on quarterback Bryson Barnes jogged onto the field to replace Cameron Rising in the Rose Bowl, there was seemingly a collective sense of shock from the fan base — and media members alike.
Offensive coordinator Andy Ludwig talked up Barnes all season, but would he really jump Texas transfer Ja'Quinden Jackson for the QB2 spot?
Jackson was the only scholarship player left on the roster at the position, and when push came to shove, the "next man up" mentality instilled under head coach Kyle Whittingham has traditionally fallen to someone on scholarship. It was nothing against Barnes and his talent, but it was seemingly the next logical step to insert Jackson, a four-star recruit, as QB2.
But the reality was Jackson wasn't ready for the moment, and the coaches knew it.
That singular moment dated back to a whole year of watching Jackson and his ability to pick up the offense and execute at a high level while doing it. Jackson admits he wasn't ready. He spent a whole year with the program, but he recalled being "real lost" when he first arrived for spring in 2021.
"I'd been here for two months and we're already in spring. I didn't know nothing," Jackson said. "I tried to study certain stuff, but I have to go over and over and over again to actually remember and do it. So it was just hard for me as a player just to know what I was supposed to do."
He made progress, but it wasn't enough. And some of that had little to do with the game of football at all.
When Jackson transferred to Utah, he expected to play with fellow Texan Ty Jordan; but a week after his announcement, Jordan was suddenly gone to a tragic accident. It was the third person close to him that he'd lost in less than a year's time.
So it really came as no surprise that Jackson was "lost" during spring camp, especially in a new environment. But he had defensive back Aaron Lowe on the roster to keep him grounded and to help him feel connected to home. The two committed to each other that they were going to push forward.
"Me and A-Lowe talked about this before, so it was like we talked about, 'Hey, we can't (quit), we've got to do this for Ty,'" Jackson recalled.
But with terrible irony, Lowe was shot and killed outside a house party following the team's homecoming game against Washington State. And just like that, any progress made on the field for Jackson was suddenly shattered again as he was forced to bury another friend in less than a year.
"I had a downfall last year after the passing of A-Lowe, so I just shut down completely," Jackson said.
Whether Jackson was QB2 or if he even played the sport again was irrelevant anymore, but he was buoyed up by his teammates that persevered and fought through one of the hardest year of their life. Jackson remained engaged and worked to get better, but his time to play was not in the cards.
"I'm still trying to process and I'm still trying to — I'm still grieving and stuff like that — but it's more I can't sit here and feel sorry for myself," he said. "I have to be able to come out here and do what I got to do for them."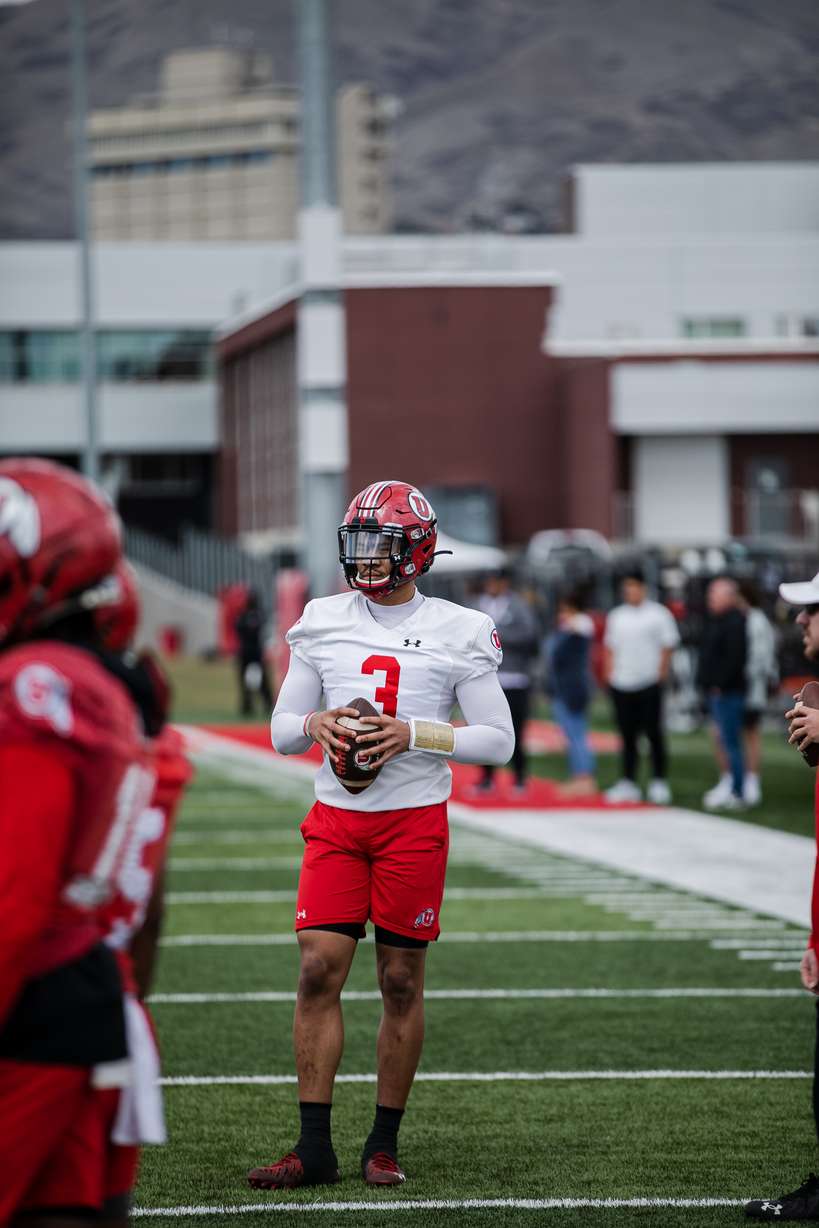 His grief may never completely go away — his former teammates are still in his memory — but Jackson is committed to improving his game and has been locked into a battle with Barnes in spring for the QB2 spot.
This time around, Jackson feels confident in what he's doing.
"Quarterback is hard; it's a hard job. That's why they get paid so much," Jackson said. "But I'm just making progress. This following year, I watched the spring and fall camp film of me and I compared it to this year. I look totally different. Like when I first got here, I looked like I'd never played a down of football in my life. I'm still making progress. I'm still working. I'm still trying to develop. I have to continue to make progress if I want to take over this program."
For his part, Jackson has made significant strides.
Utah head coach Kyle Whittingham has repeatedly said in spring that Jackson has "really improved his game since the fall." Offensive coordinator Andy Ludwig agreed and said Jackson has done a lot of work to "tighten up his motion" and is showing more "repetitive accuracy."
"It's real positive," Ludwig added.
Everyone that's seen Jackson plays knows he can run, but the spring and the summer months will be where he continues to improve his throwing mechanics. It's no longer relying solely upon his legs to get the work done at quarterback — the passing game has to improve.
"You have to train yourself to be able to throw," Jackson said, speaking about his penchant for running. "Like in high school, I didn't really throw the ball. You can look at my stats, I did not throw the ball like that. But I had to train myself to be able to throw the ball and learn how to — don't throw so hard, put this touch on it, put that touch on it. It's all muscle memory, and over time I've gotten better at it, but I'm still working on it."
Whether it means Jackson will come away as QB2 at the end of spring remains unknown, but he's feeling like a worthy contender and contributor in the battle for the backup position. And he no longer feels lost.
×
Most recent Utah Utes stories