Estimated read time: 4-5 minutes
This archived news story is available only for your personal, non-commercial use. Information in the story may be outdated or superseded by additional information. Reading or replaying the story in its archived form does not constitute a republication of the story.
You wouldn't be a parent if you didn't cringe just a little at the idea of your teen getting behind the wheel of a car. Unfortunately, that worry is well-founded. According to data from the Centers for Disease Control, motor vehicle crashes are the second leading cause of death for U.S. teens. During 2019, more than 258,000 teens were treated in emergency rooms for injuries sustained in a vehicle collision.
As a parent, you'll do anything you can to keep your child safe on the road, from creating specific rules around phone use to restricting late-night driving and, of course, helping them select a car that keeps them safer while behind the wheel. If you're in the market for a new teen ride, these safe and practical picks are a good place to start.
Mazda 3
There's a reason Motor Biscuit called the Mazda 3 "the perfect high school daily driver." Due to its performance in crash tests, the National Highway Traffic Safety Administration (NHTSA) gave the Mazda 3 a five-star overall safety rating – the highest possible. Additionally, the Insurance Institute for Highway Safety named the Mazda 3 sedan and hatchback as a 2021 Top Safety Pick+. Safety features like automatic emergency breaking, potential collision alert and automatic braking before a collision come standard on the Mazda 3.
For teens just learning to drive, lane-keeping assist and blind-spot monitoring will help them hone their reflexes and learn the ways of the road while staying safe.
Ford Taurus
Not every parent wants to go out and buy a brand-new car for their newest household driver – in fact, most probably don't. Fortunately, safety doesn't have to break the bank. According to Car and Driver, the Ford Taurus – which was discontinued in 2019 – is still a safe and economical pick for the country's newest drivers.
Models newer than 2013 sport longer side-curtain airbags to keep your teen and their passengers safer. If your budget is less than $10,000, opt for a 2013 or 2014 model.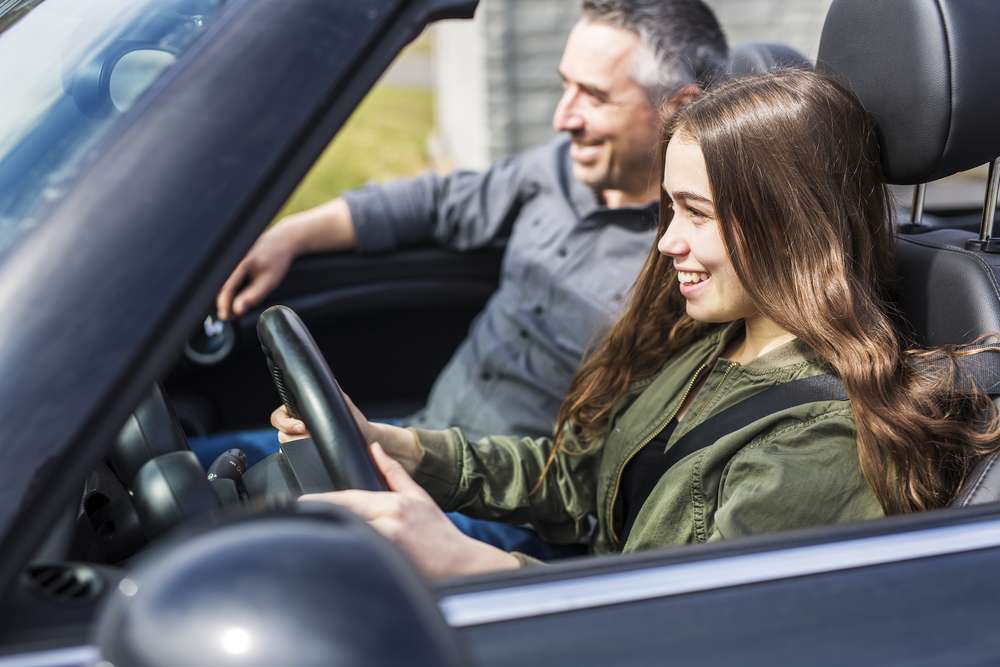 Toyota Prius
While safety is always your top concern when it comes to finding an appropriate car for your teen driver, a little economy never hurt anyone either. You'll get both with a Toyota Prius. According to IIHS, the hybrid favorite is a safe option for your teen driver when you select a model built after November 2013 – when the vehicles gained optional front crash prevention.
Additionally, beginning with 2014 models, the Prius features lengthened side curtain airbags and single-supplier alloy wheels to provide "a more controlled crush during the small overlap test."
Toyota Rav4
Another Toyota hits the list, and this one actually tops Kelly Blue Book's Best Used Cars for Teens Under $20,000. Another IIHS Top Safety Pick+, the Rav4 touts an impressive list of safety features, including LED headlights, lane-departure warning and lane-keeping assist and automatic high beams.
A compact crossover, the Rav4 is great for inclement weather with all-wheel drive and good ground clearance. And since the Rav4 is available in a hybrid model, you can keep your teen safe and environmentally friendly.
Kia Sorento
Another IIHS Top Safety Pick+, the Kia Sorento has proven optimal crashworthiness, as well as crash avoidance and mitigation. The midsize, four-door SUV also provides standard daytime running lights, optional blind-spot detection and optional lane departure warnings – not to mention four-wheel drive to help your teen safely drive through snow and rain.
Honda Civic
There's a reason the Honda Civic continues to be one of the best-selling cars on the market. Not only does it suit modest budgets – particularly if you're buying used – it also touts incomparable reliability and safety These are all reasons Bankrate named it the top choice for teenagers.
When economy is important and safety is paramount, the Honda Civic has you covered for both. According to Bankrate, nearly every configuration of the car made since the start of the model's ninth generation in 2012 has gotten a 5-star overall safety rating from NHTSA.
Even in the safest cars, accidents happen. If you or someone you love has been injured in an accident, The Advocates Injury Attorneys can help. Visit The Advocates online or call 307-271-6866 for a free consultation.
×