Estimated read time: 3-4 minutes
As the holiday shopping season officially kicks off this week, shoppers may feel a little extra stress when they realize Christmas is only three and a half weeks away. But Utah-based Finders Seekers is making it easy for shoppers to find that special, unique gift for everyone on their list.
With Escape Rooms popping up all over the country and Americans testing their skills as detectives, Finders Seekers launched its own version of an Escape Room that allows sleuths to join in the fun from the comfort of their own home and at a fraction of the cost. Finders Seekers ships a new Escape Room adventure box each month that provides hours of fun for tens of thousands of "Seekers" across the country.
Black Friday Deal: Get 50% off!
Order today and you can get 50% off your first box when you use the code KSL50. That means you'll be able to get this new game for only $15 and you'll be the clever gifter who doesn't just hand out new pairs of socks to your loved ones. Visit FindersSeekers.com to order and use the coupon code KSL50.
A unique gift for everyone on your list
Finders Seekers is a unique gift that appeals to a wide range of people. Their mysteries are family-friendly but challenging, so everyone can participate and feel the satisfaction of cracking the code and saving the day. Each box has a unique theme that explores different cities and cultures throughout the world, so players may even learn something while having fun. Finders Seekers is the perfect gift for:
• Parents who already have everything
• Grown children who don't want anything
• Teens and tweens who need to get off their phones
• The travel enthusiast who is out of funds
• The intellectual who doesn't need another book
• Your significant other, so they'll spend time with you
• Yourself, because you deserve it!
Buy local first
Finders Seekers is a small Utah business that started when three friends who share a love of mystery and puzzles wanted to combine their passions and create an experience that can be enjoyed at home and costs a lot less than going to an Escape Room.
"We want to bring friends and family together for collaboration and mystery while also learning about world cultures," said co-founder Cody Dingus. "Now after shipping over a quarter-million boxes around the world, we've been able to hear some amazing stories from gamers. My favorite is from a customer who read Dr. Martin Luther King Jr.'s 'I Have A Dream' speech for the first time as part of one of our puzzles and the inspiration she gained from it."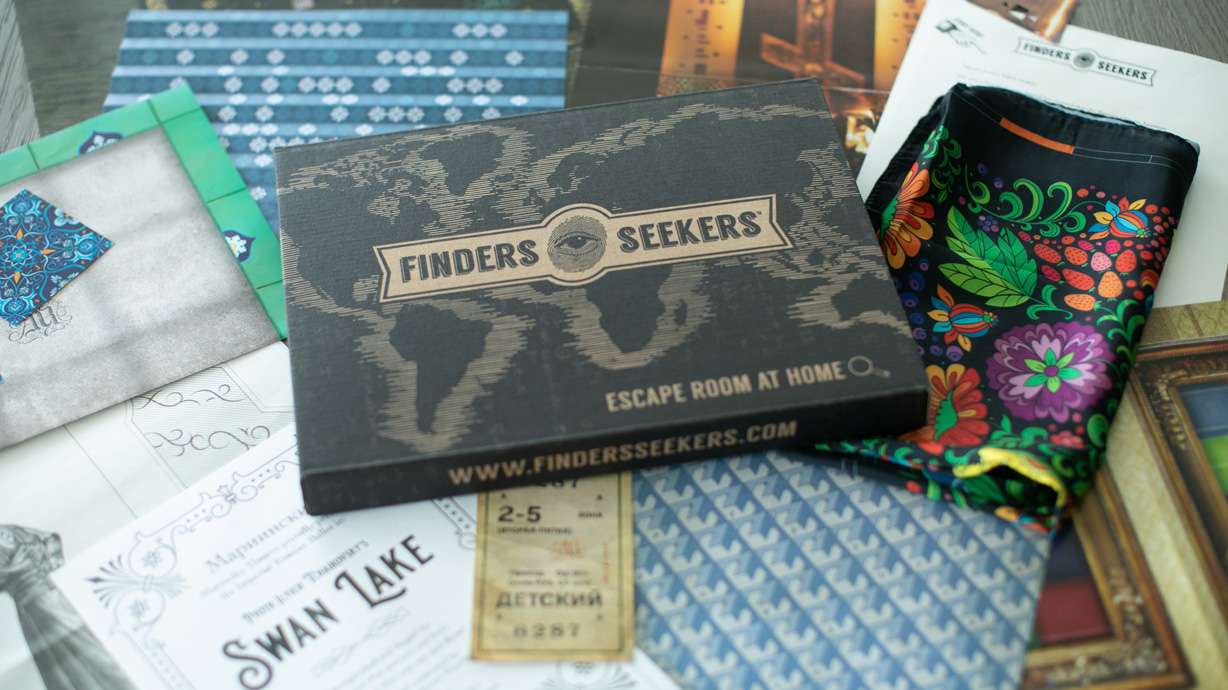 5-star reviews
With over 1,150 reviews on Cratejoy, Finders Seekers is tried and tested and boasts a 4.9 out of 5 stars rating. One customer, Brooke B., posted "I love this game! It can really make you think. My favorite is that they have it interactive where you have to wash your hands with soap or use a flashlight to see the answer on a wall. This game is incredible."
Another review, from Shauna Z., said "My daughter and I LOVED doing this box together! We are spending quality time with each other, having fun, and learning awesome things. Now we both want to go to Petra!"
×