Estimated read time: 3-4 minutes
SALT LAKE CITY — Utah Highway Patrol troopers have already responded to around 189 crashes on Thursday as the first major winter snowstorm of the season rolled into the state.
That count includes crashes up until about 5:30 p.m., according to a tweet from the Utah Highway Patrol.
One crash involved a jack-knifed semitruck on I-215 at 100 South in Salt Lake City and caused heavy delays in the area around 2 p.m. Salt Lake City Fire Department tweeted photos from the scene showing the truck's trailer propped up on a median perpendicular to the roadway. Details about the crash were not immediately available.
December 9, 2021
Salt Lake police on social media urged drivers to "plan ahead, slow your speed, have a roadside emergency kit, and take your time. Together we can ensure a safe commute for all."
Earlier in the day, at about 9:15 a.m., a car driving north at Sardine Canyon lost control and slid into the southbound lanes, said Sgt. Cameron Roden. The car was then struck on the passenger side by a southbound pickup. The driver of the car was taken to a hospital in critical condition. Two passengers in the truck were taken to hospitals with injuries described as minor.
Roden said road conditions in the area were "slushy" and the car that lost control had bald rear tires.
Weather conditions early Thursday also caused a school bus in Morgan to roll, but no one was seriously injured, officials said. The bus crashed about 6:50 a.m. as it encountered "wet and slushy" roads on state Route 66, according to Roden. He said the bus came around the curve and went off to the right, rolling to the side.
One child and the driver were the only occupants, Roden said, and minor injuries were reported.
Among other crashes, a car slid off the road and rolled into a creek near Silver Fork at Big Cottonwood Canyon on state Route 190, prompting the Utah Department of Transportation to warn of potential delays in the area. The driver had injuries described by police as "very minor."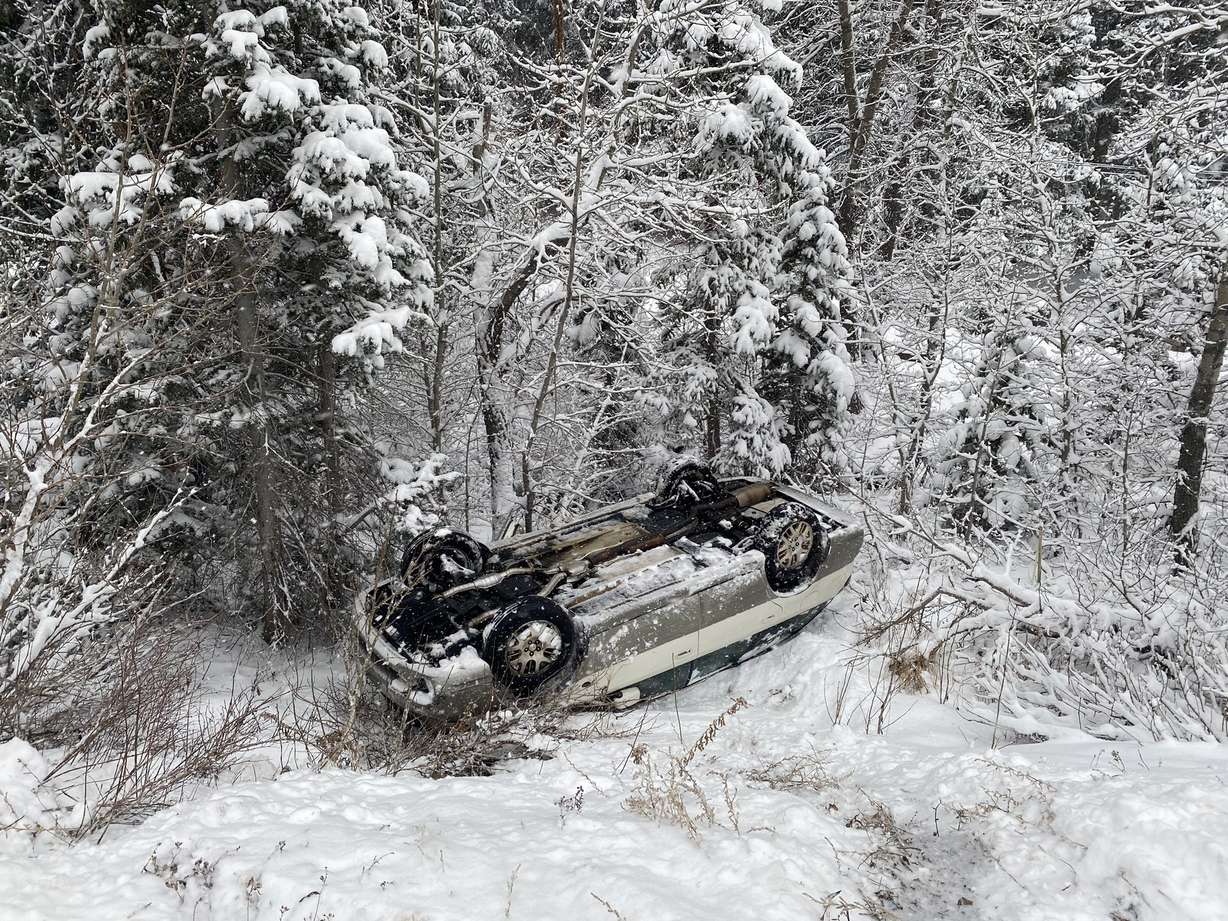 Several more minor slide-offs occurred in the area, which caused at least two other vehicles to get stuck in the snow.
The Utah Transit Authority announced that due to the snowstorm, several bus routes in Ogden, including 455, 603, 625, 640, 645 and 650, will use Birch Avenue, between Edvalson Street and 36th Street, in both directions.
Snow began falling and sticking to the roads in Parleys and Sardine canyons earlier Thursday. It is expected to accumulate up to 2 feet in the mountains by the end of the day on Friday. About 1½ feet of snow has already fallen near Brighton Thursday, according to National Weather Service data updated through 5 p.m.
Winter weather advisories are in effect from northern Utah through southern Utah.
All vehicles traveling in both Big and Little Cottonwood canyons are required to use "approved traction devices," including snow tires or chains. Chains are required for semitrucks traveling on state Route 143 between Parowan and Panguitch and on a 17-mile stretch of I-70 in Millard County, as well.
Marsac Avenue in Park City is closed due to weather conditions at the winter gate about 1 mile south of Deer Valley Drive.
🚨 #RoadWeatherAlert 🚨
The #TractionLaw is now in effect for both Big & Little Cottonwood Canyons. #SR190#SR210@UDOTTRAFFIC@UDOTRegionTwo@AltaCentral@AltaSkiArea@SnowbirdAlerts@SolitudeMTN@BrightonResort@UPDSL@BrightonUT@alta_ofpic.twitter.com/qzzmNkSr8y

— UDOT Cottonwood Canyons (@UDOTcottonwoods) December 9, 2021
Schools in Dugway held classes online Thursday "due to incoming winter weather conditions," the Tooele County School District tweeted.
Get the complete forecast at the KSL Weather page and check commute times on the KSL Traffic page.
Rain at first for the valleys... turning to snow through the late morning and sticking through the afternoon. pic.twitter.com/NmZ5T9PDTD

— Grant Weyman (@KSLweyman) December 9, 2021
×
Photos
Related Stories