Estimated read time: 4-5 minutes
PROVO — By the final whistle, the battle for the best ice cream in the state became a snowball fight.
BYU was just a little bit hotter than the Creamery to the North.
Trevin Knell scored a season-high 13 on 5-of-6 shooting with three 3-pointers, and 24th-ranked BYU shot 50% from the field en route to its 10th-straight win over Utah State 82-71 in front of an announced crowd of 15,669 fans Wednesday night at the Marriott Center.
Te'Jon Lucas added 14 points, six assists and four rebounds, and Alex Barcello had 17 points and four assists for the Cougars, who improved to 8-1 with the win.
Fousseyni Traore scored 10 of his 14 points to go along with four rebounds in the second half for BYU.
"We're doing a really good job of battling through our frustration," said Barcello, who shot just 4 of 12 from the field but made a perfect seven free throws. "But how about Trevin tonight? He let the ball fly in the first half. I'm so happy for him, and for Hunter (Erickson) to come in and knock down his first 3."
Justin Bean poured in a game-high 20 points, seven rebounds and three assists to lead Utah State, and Brandon Horvath finished with 14 points and seven rebounds for the Aggies (6-3). Sean Bairstow had a season-high 11 points and three boards for Utah State, which dropped its second-straight game to a West Coast Conference opponent.
That's game! The 82-71 win gives BYU its 10th straight win over Utah State.

See how they did it 👇#BYUhoops | #GoCougspic.twitter.com/bFeohoOtci

— BYUtv Sports (@byutvsports) December 9, 2021
This one didn't come down to any dubious officiating before the final whistle, though. If anything, it came down to free-throw shooting.
BYU received just two more foul shots than Utah State, 22-20, but the Cougars made 19 of them to the Aggies' nine.
"Tough loss. Really hard place to win at, but we fought really hard," Bairstow said. "It came down to the end of it. We missed some free throws that could've flipped the game, but still proud of how we played and how we fought."
BYU played small ball for the second-straight game, and Knell made head coach Mark Pope's decision look smart. The former Woods Cross ace nailed a pair of 3-pointers during a 15-3 spurt as BYU held Bean to just one rebound in the first four minutes by only missing one shot in its first six to go up 15-6.
Give credit for the spacing of the small-ball to Caleb Lohner, the Cougars' starting center in the absence of Gavin Baxter (knee) and Richard Harward (cardiovascular issue). Gideon George also returned from a week-long flu wherein he lost 12 pounds to score 5 points with a team-high seven rebounds to help bolster BYU's post presence.
"Two of those threes were connected by Caleb Lohner running the floor and sucking the defense in. The impact he's having on this team right now is incredible," Pope said of Lohner, who finished with 5 points, three rebounds and three assists. "He's making a massive difference for us, and we need him right now."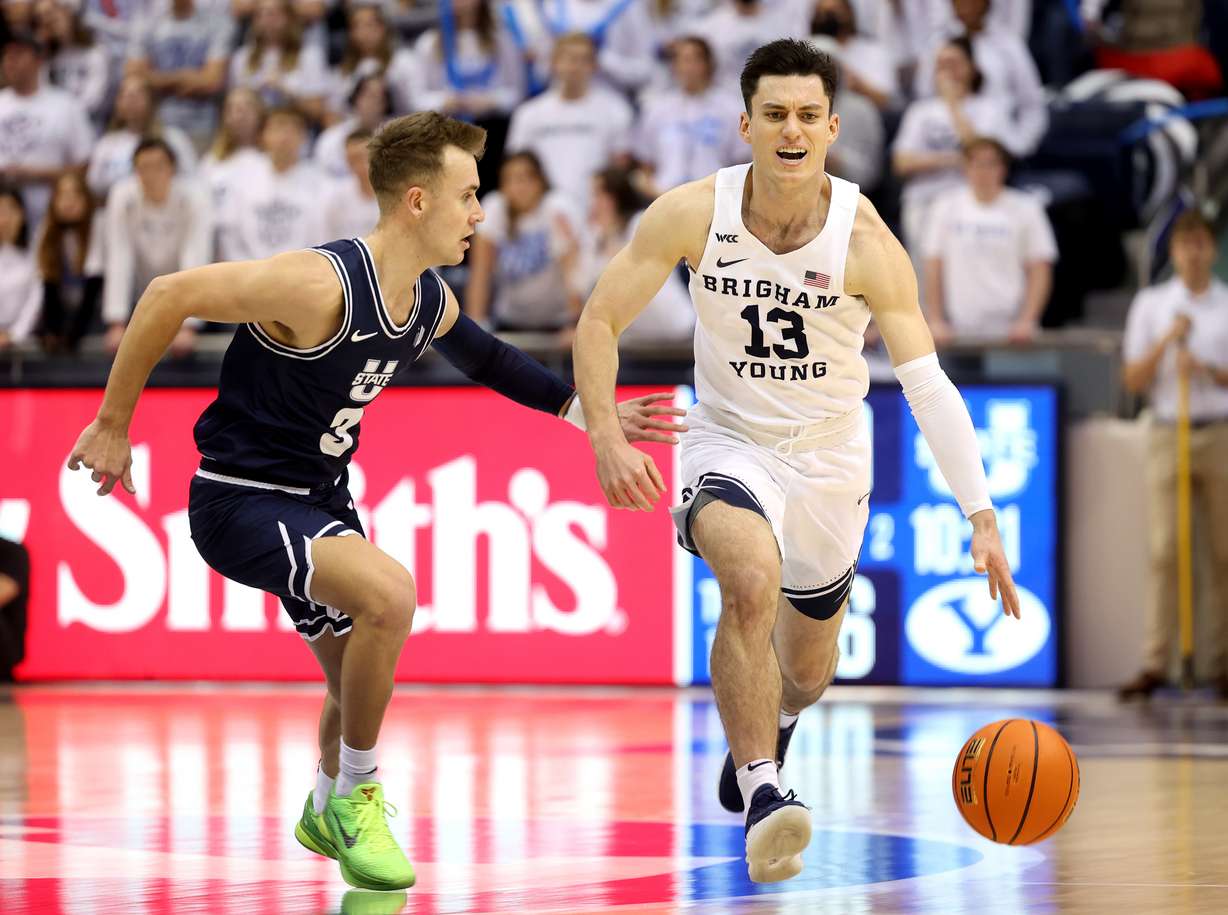 Of course, basketball is a game of runs; it was early. The Aggies came back, including on Bean's game-tying 3-pointer with 12:14 on the clock.
But Knell shot 5 of 6 from the field and 3 of 4 from 3-point range. BYU shot 57% from the field that included a 12-0 run before the break, and the Cougars never trailed the rest of the way en route to a 45-33 halftime lead.
"Defensively, we were not good at all," Utah State coach Ryan Odom said. "Their offense challenged us, and we were on our heels from the very beginning. Bean kept us somewhat within striking distance with his 16 points in the first half, and then we were able to regroup, change our ball-screen defense in the second half, and I thought our guys did a much better job."
.@trevin_knell with his second 3 only 5 minutes into the game 🔥#BYUhoops | #GoCougspic.twitter.com/PKAYkgjrCx

— BYUtv Sports (@byutvsports) December 9, 2021
BYU converted four of its first seven makes from 3-point range to keep a 12-point lead with nine minutes remaining.
Horvath had 5 quick points to punctuate a 16-3 run that cut the Aggies' deficit to 69-62 with 6:25 remaining. But Utah State converted on just two of its eight free throws in the second half — when they faced the BYU student section — and could get no closer.
"It's hard, man," Pope said of the self-proclaimed Roar of Cougars. "I'm waiting for someone from the opposing team to step to the free-throw line and just pass out right there. From my angle, I'm getting dizzy.
"One of the great things about college athletics is that we're in this together. This ROC helps us win games — they're an important part of us winning games. And how much fun is it to walk into the arena and see that group?"
BYU heads to Sioux Fall, South Dakota, and the Sanford Pentagon for a neutral-site game with Creighton. Tipoff Saturday is scheduled for 10 a.m. MT on FS1.
Utah State returns home Saturday to host New Orleans at 7 p.m. MT in the Dee Glen Smith Spectrum.
×
Photos
Related Links
Related Stories