Estimated read time: 5-6 minutes
PROVO — There's still a chance.
After clinching a 10-win season for the second consecutive year with a sixth victory over a Power Five team, BYU inched up one spot to No. 12 in the penultimate College Football Playoff rankings to put itself in position for a shot at a New Year's Six bowl berth — even if it is more of a darkhorse candidacy.
In-state rival Utah moved up two spots to No. 17 in the latest rankings and can clinch its own NY6 bowl bid with a win over No. 10 Oregon in the Pac-12 championship game.
The Cougars likely need some help after ending the season Saturday night by rallying to beat their fifth Pac-12 opponent 35-31 at Southern California — a day before Oklahoma coach Lincoln Riley took the USC job — because the selection committee will add conference championships and the first week of the postseason to its analysis before releasing the final rankings Sunday.
"This coming weekend, the committee will have another piece of information to add to our process," playoff selection committee chair Gary Barta said. "Winning a conference championship is an additional part of our protocol. It's not the only factor we consider, but it is an important piece of information.
"When all the champ games are done, that's when we'll do our homework."
Undefeated Georgia is No. 1 for the fifth consecutive week, followed by No. 2 Michigan (11-1), No. 3 Alabama (11-1) and No. 4 Cincinnati (12-0). Oklahoma State (11-1) and Notre Dame (11-1) round out the top six, with only the Irish in that group idle during championship week.
College Football Playoff protocol states that if berths in New Year's Six bowl games remain open after contracted teams are selected, the highest-ranked other teams — in order of the final rankings Sunday — will fill those berths in rank order. That means BYU would currently be slotted behind No. 6 Notre Dame, No. 9 Baylor (assuming the Bears lose to No. 5 Oklahoma State in the Big 12 title game) and No. 11 Michigan State, which like BYU is idle on championship weekend.
Baylor owns a 34-28 win over BYU, but a loss to Oklahoma State would be the Bears' third of the season. Would it be enough to push them behind the Cougars and the Football Bowl Subdivision independents into NY6 consideration? Barta has consistently declined to speculate on future outcomes, but the answer will be determined early Sunday.
As for the Spartans' ranking ahead of their fellow 10-2 squad, Barta cited the Cougars' wins over Utah and Arizona State among their value, as well as running back Tyler Allgeier, the nation's No. 6 rusher with 1,409 yards and nation co-leading 20 touchdowns as reasons the committee liked BYU at No. 12.
But he also mentioned the Spartans' running back Kenneth Walker III, who ranks second nationally with 1,636 yards and 18 touchdowns, as well as Michigan State's tougher schedule that includes a 30-27 win over Penn State and the rest of the Big Ten sans Ohio State, which fell to No. 7 following its 42-27 loss to Michigan, for slotting the Spartans ahead of the Cougars.
"The strength of schedule that Michigan State has is a little bit more difficult than BYU," Barta said. "And then when you look at this past week, the committee looked at the win that Michigan State had over Penn State and compared that favorably. BYU did beat USC but the committee — when all those factors were taken into account, Michigan State went ahead of BYU.
"But to your bigger question, the committee thinks very highly of BYU's team."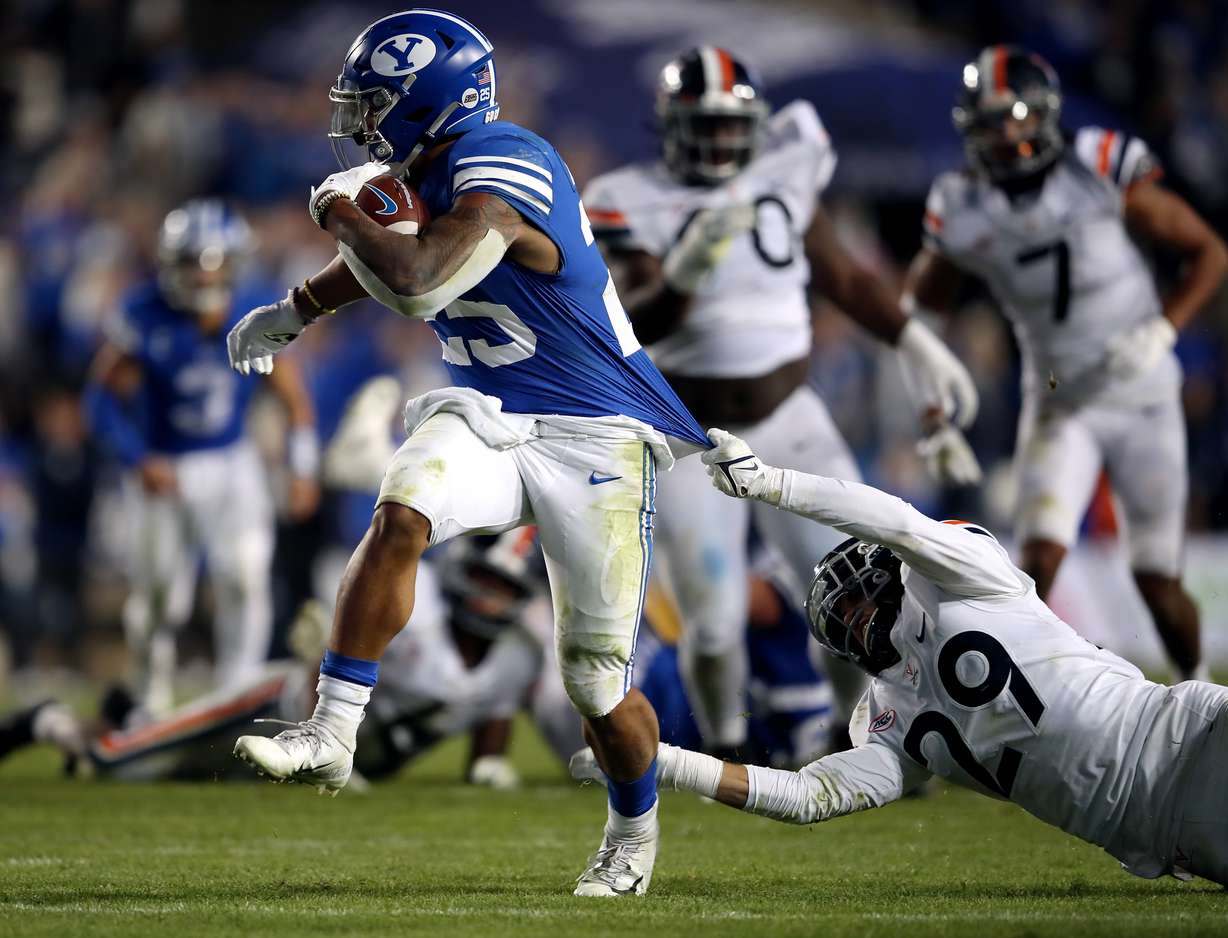 The win over USC marked the second consecutive 10-win season for BYU, which ended the 12-week slate at 10-2 with a 6-1 record against Power Five opponents and a 2-1 record against regional rivals Utah, Utah State and Boise State. It's arguably the finest head coaching job in Kalani Sitake's six-year tenure at his alma mater, overcoming a slew of NFL draft defections in April and numerous injuries beginning at the start of the year in the Cougars' first back-to-back double-digit win seasons in over a decade.
After jumping up to No. 13 in last week's College Football Playoff rankings, the Cougars watched all but one team ahead of them win — Oklahoma's 37-33 defeat to Oklahoma State in Bedlam — while taking care of their own business in Los Angeles.
But the Cougars' 10-2 record isn't perfect — hello, Boise State? — and other teams behind them such as Iowa and Utah have similar records to BYU, which is ranked No. 12 in the latest Associated Press Top 25.
What likely keeps the Cougars in front, then, is that sneaky 26-17 win over the then-18th ranked Utes at the beginning of the year. Utah could be headed to the Rose Bowl — win-and-you're-in against Oregon in this weekend's Pac-12 Championship — and a win over a New Year's Six automatic bid program would do nothing but bolster BYU's case for its own. The Utes could also fall as low as the Alamo Bowl with a loss to the Ducks, according to conference seeding rules.
The Cougars would need to take an at-large berth into the top-four bowl games outside the College Football Playoff, which this year host the semifinals in the Cotton and Orange bowls. The Rose Bowl is contracted with the Pac-12 and Big Ten conference champions (or next-best teams therein), while the Sugar Bowl has tie-ins with the SEC and Big 12.
That leaves BYU's options in the Peach Bowl in Atlanta on Dec. 30, or Fiesta Bowl on Jan. 1. Both games are contracted to include the four at-large berths — or non-conference champions from the Power Five leagues, as it were.
Falling outside at-large consideration will likely land the Cougars in the Independence Bowl, which is scheduled to kick off Dec. 18 in Shreveport, Louisiana. ESPN could also shuffle bowl matchups for better television ratings, but many of BYU's options require conference tie-ins to not be able to fulfill their quota of contracts. As of right now, that isn't the case — there is one more bowl-eligible team than bowl slots available for the 2021-22 postseason.
See the complete CFP rankings below, or click here.
×
Related Stories