Estimated read time: 7-8 minutes
SALT LAKE CITY — Utah's mountain resorts weren't sure what to expect as they prepared to open last November.
The Beehive State was in the midst of its worst spike in COVID-19 cases, which could drive people away from the area or to public places. The pandemic also meant there wouldn't be any international travelers because of a U.S. travel ban. At the same time, there was an abysmal start to the "snow season," in what ended up being a below-average snow accumulation year.
"This time last year, we were wondering whether we were even going to open or not," said Nathan Rafferty, the president and CEO of Ski Utah, a nonprofit with the goal of promoting the state's ski and snowboard industry. "It was for sure a tricky time ... and it turned out to be a pretty fantastic ski season."
Despite those major uncertainties, the 2020-21 season went into the record books both in-state and across the country. Utah's 5.3 million skier visits broke a record. Meanwhile, at 59 million skier visits, it was the fifth-best year on record in the country. A record 10.5 million participants traveled to U.S. resorts too, Rafferty said.
Utah's record visits, packed parking lots and busy roads through canyons showed industry leaders that people were still very much interested in skiing and snowboarding at resorts despite a pandemic and even poor snow levels. With vaccines available now, that international travel ban has been lifted and this year's snow accumulation season is off to a much better start than last year.
It's why the resorts and those who promote them are optimistic heading into this season, which is slated to start this weekend for a handful of places.
Resorts respond to growing crowds
Utah's ski resorts figure that many skiers and snowboarders were just as unsure about the season this time last year. Nobody knew if and when pandemic-related travel bans would be lifted or if new bans would begin at any time.
The response last winter meant new trends to mull over. Since there were no international travelers, Utah's record 5.3 million resort visitors came from across the state and from across the country.
But the record number of participants nationwide is the statistic that grabbed Rafferty's attention. He believes that's partly the result of fewer activity options last winter but that could also be the sign that skiing and snowboarding are becoming more popular or that more people are "re-engaging" with it.
"I think that's going to benefit us, our industry, really in the long run. There were a lot of people who came off the couch — we call them 'lapsed skiers' in our industry, people who had maybe put it on the side and hadn't skied for a while," he said.
Andria Huskinson, the communications manager for Alta Ski Area, said Alta once opened late just because the patrollers who come in and open the gate for the day got stuck in Little Cottonwood Canyon traffic. That's how busy the resorts were last winter.
The interest appears to have carried over to this year. Huskinson said Alta's parking lot was more than half full recently before the resort has even opened just because people were driving in to ski in the off-resort backcountry.
There are two other factors that may increase visitation further this year. First, the U.S. began allowing international travelers into the country again earlier this month. Ski Utah projects an "uptick" in international travelers because of this.
Then there's the publicity. Ski magazine, for example, named six Utah resorts within its list of the Top 30 resorts in the West this year. Deer Valley Resort in Park City even came in second place on that list. Alta Ski Area and Snowbird Resort were also nominated by USA Today as one of the best resorts in the nation.
Utah's resorts are answering this growing attention in different ways. Rafferty said Snowbasin and Sundance have each either added new or updated lifts, or increased parking to accommodate the demand this year; Deer Valley plans on making parking lot adjustments in the near future. Brighton Resort is also in the process of adding lights to extend night skiing this season.
Alta Ski Area is trying a different approach to the crowds. Even with full buses bringing in skiers, its parking lots filled up quickly — too quickly. Unable to expand parking because it would have to be approved by the U.S. Forest Service, it is adding a $25 parking fee for weekends and holidays for the first time this year.
"It was just not sustainable so we had to do something," Huskinson said.
The fee, which begins Dec. 18, applies to backcountry skiers and resort skiers alike, she added. In addition to the fee, she said visitors can reserve a time when they come to Alta so they don't have to worry about not having a parking spot when they arrive to ski. As encouraging as the demand was for business, it's also had an impact on homeowners and those lodging in the area.
When the snow doesn't fall, make it yourself
Resorts in northern Utah are already experiencing much better conditions than this time last year. For example, the National Weather Service's Alta station has already received nearly 5 feet of snow since the start of October. That's nearly 1 1/2 feet of snow more than at the mid-November mark last year.
Still, several Utah resorts spent the offseason enhancing snowmaking equipment after last season's below-average snowfall. The equipment provides resorts an option to open sooner, something threatened by poor snowfall in recent years.
"In our business, snow drives visitation," Rafferty said.
---
One of the ski area guys once told me that the only thing more expensive than snowmaking equipment is not having snowmaking equipment.
–Nathan Rafferty, the president and CEO of Ski Utah
---
Alta is one of the resorts that enhanced its snowmaking equipment. Huskinson explained that snowmaking is usually conducted in "high-traffic" areas, such as its base. All of the manufactured snow at Alta is made by mid-December.
She added that the resort has expanded its operations not exactly because of last year but because of recent shifts in snowfall patterns.
"We definitely have seen a change from 10, 20 years ago," she said. "Like snow is just not falling, so I think everyone has to increase their snowmaking so we can open on time."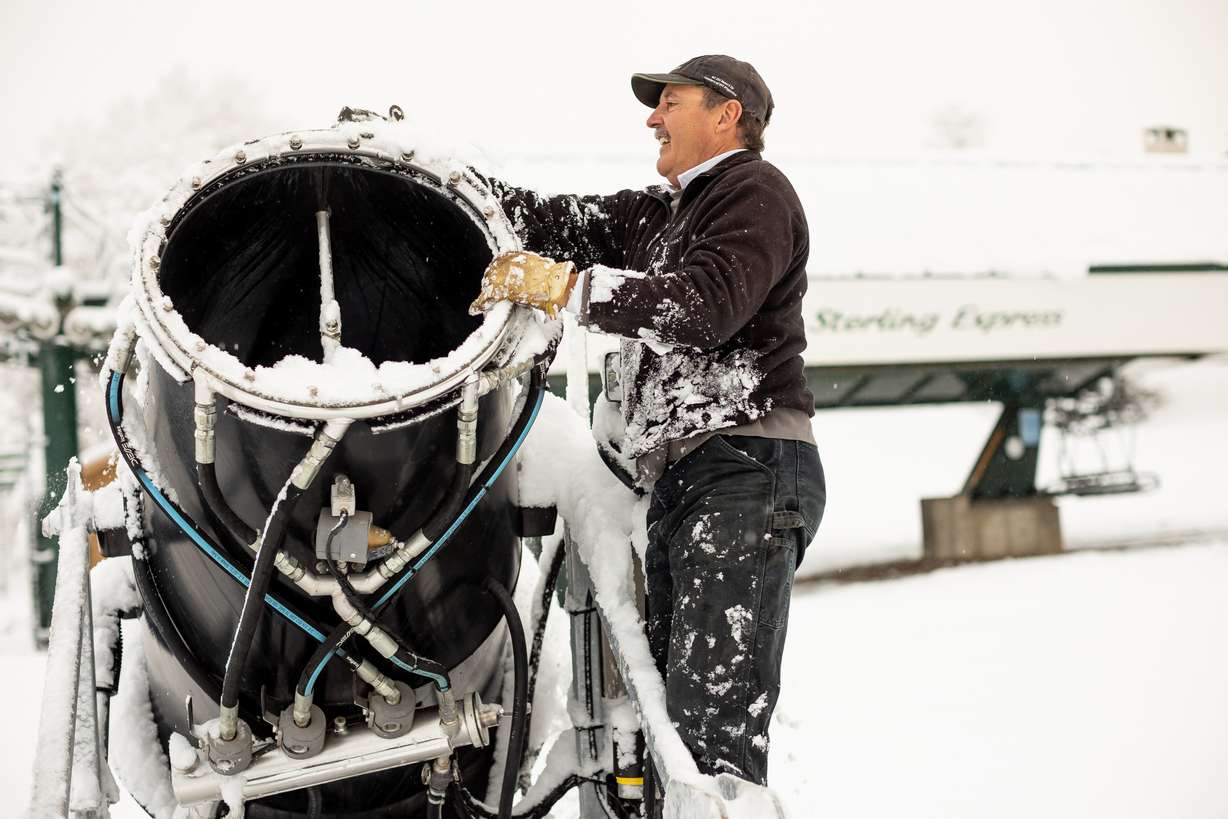 Snowmaking equipment is very expensive. Rafferty said resorts have spent "literally tens of millions of dollars" on "world-class" equipment.
But for resorts, that beats the alternative, which is waiting for enough snow to fall. That wait can be costly.
"One of the ski area guys once told me that the only thing more expensive than snowmaking equipment is not having snowmaking equipment," he said. "It's not a very sexy upgrade but it's a very necessary upgrade."
With cooler temperatures expected this week, many resorts plan to fire up their snowmaking equipment yet again to build on the snow already in the mountains.
"Know before you go"
Despite the severity of COVID-19 heading into the 2020-21 resort season, none of the resorts had to close at any point as a result of the coronavirus. Raffety credits safety protocols and the cooperation of visitors for that.
This year is different because of the widespread access to vaccines.
"This season is really, in many ways getting back to normal — I'd say back to normal, almost," he said. "The outdoor experience that you're going to see is almost exactly like we saw (before) COVID."
But Rafferty borrowed a phrase used by avalanche experts to describe COVID-19 protocols this season: "Know before you go."
That is, research a resort's COVID-19 policy before going to that resort because policies range from business to business. Some resorts will have capacity limits, some may not have many protocols and then there's Park City Mountain, which requires proof of vaccination for visitors using indoor cafeteria-style restaurants.
"I think it's a really safe bet to tuck a mask in your pocket and make sure you know what the protocols they really are going to vary this year," Rafferty said. "Most (will require) masks indoors, so take a look at that."
×
Photos
Related Stories