Estimated read time: 4-5 minutes
PROVO — BYU coach Kalani Sitake opened his Monday press briefing with local media like he always does, but added a quick caveat.
"Ready for our opponent this week — which is nobody," he said with a smile.
After a long, grueling 10 weeks of football that included six Power Five opponents in addition to regional rivals Boise State and Utah State, the Cougars (8-2) finally — mercifully, even — have an off week.
No. 15 BYU (No. 14 in Associated Press Top 25) won't play again until Nov. 20 when it travels to Georgia Southern in its penultimate game of the regular season. So what will the Cougars do between now and then?
A lot like every other week of the season, but with a change in the focus. Instead of game planning for an opponent this Saturday, the Cougars will do some early installation to prepare for the Eagles' option-based offense — the main focus will be on health and recovery.
"We're going to lift, and we're going to practice," Sitake said during his weekly press briefing. "We'll have three really good, full practices and then give them Friday and Saturday off. And it will all depend on if you've started and played a ton of reps, with how much you'll do in practice.
"I think it's important to take advantage of the time to heal. But we also can't get rusty. Some guys need to tackle this week and some guys need to stay fresh. You can kind of guess who might be tackling and who isn't. But everyone will be running, everyone will get stronger — mentally, physically and hopefully spiritually this week."
While Sitake didn't rule out getting an early start on Georgia Southern's unique option-based offense, most of this week's practices will likely go back to the fundamentals of football, he added.
"I think it's great to go back to the basics for our players," he said. "We've still got to work; this isn't vacation time. The 10 weeks were hard, but this is a work week, as well."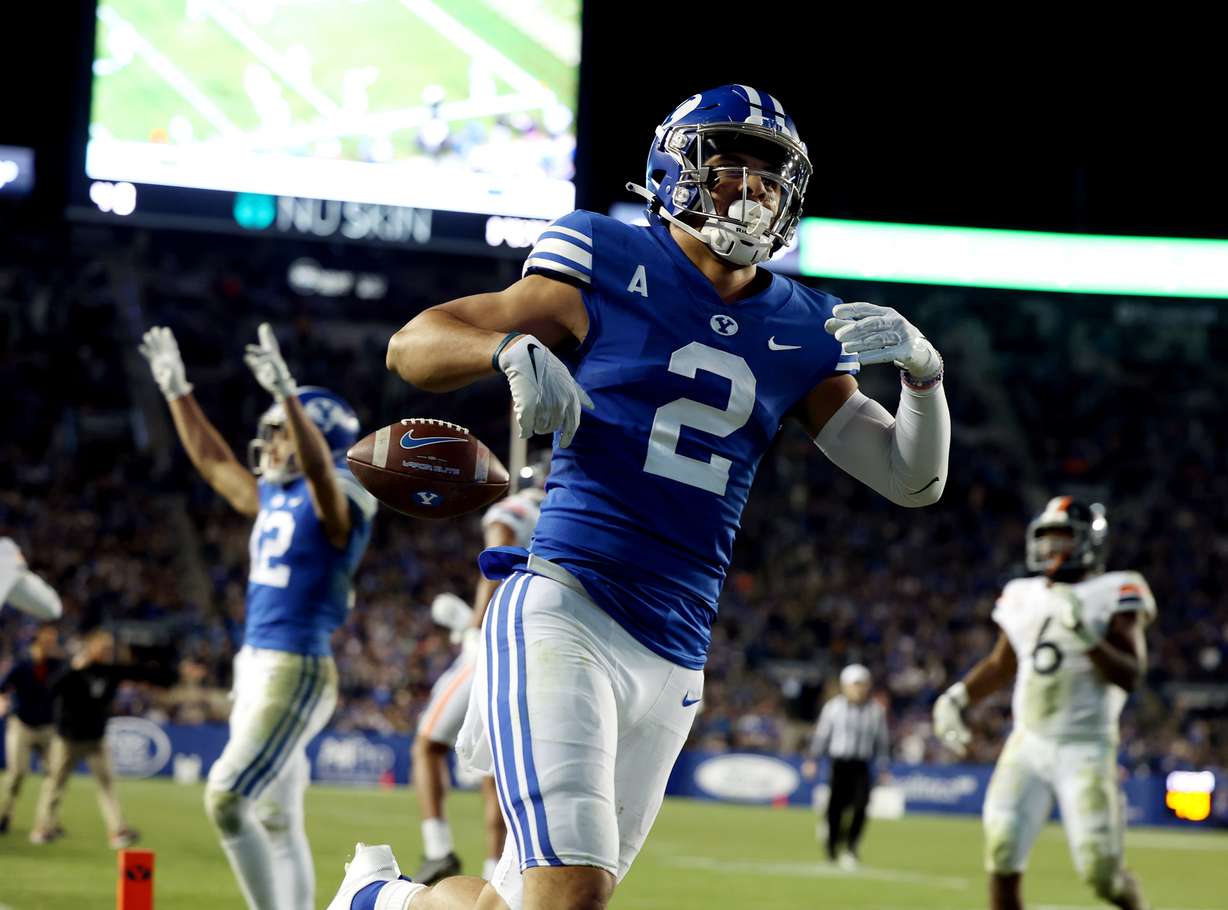 Injury update
Of course, health and safety are the top priority because the Cougars are banged up.
Quarterback Jaren Hall is finally back to full form after a rib injury early in the year, and running back Tyler Allgeier has been under an incredible load all season with 203 carries for 1,162 yards and 17 touchdowns, the most in the nation.
Those two will likely dial back the most physical parts of football. No doubt Gunner Romney will as well, as the junior wide receiver who was honored during Saturday's Senior Day celebrations has struggled with minor injuries for the better part of two years.
Another wide receiver who will likely take a load off is Neil Pau'u. The junior from Santa Ana, California, was injured on his touchdown catch in BYU's 59-14 rout of Idaho State on the weekend, and offensive coordinator Aaron Roderick said "it doesn't look good" for Pau'u on the injury front during his Coordinators Corner show on BYUtv.
Sitake didn't label the injury to Pau'u, the Cougars' top scoring receiver with 526 yards and six touchdowns who was spotted in a walking boot during the second half against the Bengals, as season ending. But it will likely cause him to miss some time in the limited regular season that also includes a bowl game.
"It doesn't look good for Georgia Southern," Sitake said. "We'll get more information today and tomorrow. I don't know all the details yet, but it's very doubtful for Georgia Southern. We'll try to confirm how long the injury will be."
So while the off week came later than most programs in college football, it's just as necessary for the Cougars — maybe even more.
"Playing that many Power Five teams, we got banged up," Roderick said. "But it's a good lesson for the future. You play in a Power Five conference and it's going to be physical every week.
"It'll be nice to get everyone's legs fresh and get some good work leading into that Georgia Southern game."
💥 BROADCAST UPDATE 💥

BYU vs Georgia Southern
Nov. 20 (Saturday)
4pm EST / 2pm MST

ESPN+ ➡️ https://t.co/QrgXudJTly#BYUFOOTBALL#GoCougspic.twitter.com/GkGGmCRtJp

— BYU FOOTBALL (@BYUfootball) November 8, 2021
New kickoff announced
BYU is on a bye this week but ESPN announced the kickoff and broadcast information for its next game against Georgia Souther.
The Cougars and Eagles (2-7) will kickoff Saturday, Nov. 20 at 2 p.m. MT (4 p.m. ET) at Paulson Stadium.
The game will be broadcast on ESPN+ — BYU's first of the season on the Worldwide Leader's subscription service. Broadcast rights are owned by the home institution, which in this case belongs to Georgia Southern and the Sun Belt Conference.
But ESPN+ also has a deal with the Big 12 — BYU's new conference home beginning in 2023 — so Cougar fans may want to be prepared for this digital streaming arrangement, at least 1-2 times per year.
×
Related Stories