Estimated read time: 3-4 minutes
OREM — The Knights had nearly three weeks to sit on it, stew on it, and be obsessed over it.
It was Senior Night in Highland, when Lone Peak's girls volleyball team hosted rival Pleasant Grove with the chance to go undefeated in Region 4 play.
And the Vikings upended those chances with a five-set victory.
The Knights didn't panic, though. After all, they figured they'd see Pleasant Grove again.
Nor did they panic when Pleasant Grove took a 26-24 win in the first set of the title match Saturday night in the 6A state championship.
Emeline Hudson and Jayda Tupea each had 11 kills, and Hannah Hawkins dished out 26 assists to help Lone Peak to a 24-26, 25-14, 26-24, 25-15 win over Pleasant Grove to clinch the Knights' fifth title since 2016 at the UCCU Center.
"We had a mentality that we were trying to maintain the whole night, and when they made plays at the end of the first set, we said it wasn't OK," Lone Peak coach Reed Carlson said. "We needed to make sure that the little details were in place on every single point.
"The little details made a big difference for us. In matches against great teams like Pleasant Grove, it's the little things that make the biggest difference."
The two had combined for 17 state titles, including each of the last five in Utah's top classification.
Saturday's rematch was another classic.
"We almost hate playing those guys in every final. They're a great team, a great program," Carlson said. "What Kim has done for that team is really impressive. That group of girls are awesome, very family-oriented; they love playing together.
"In order to play an opponent like that, you have to be a little bit more of that. Tonight we brought it."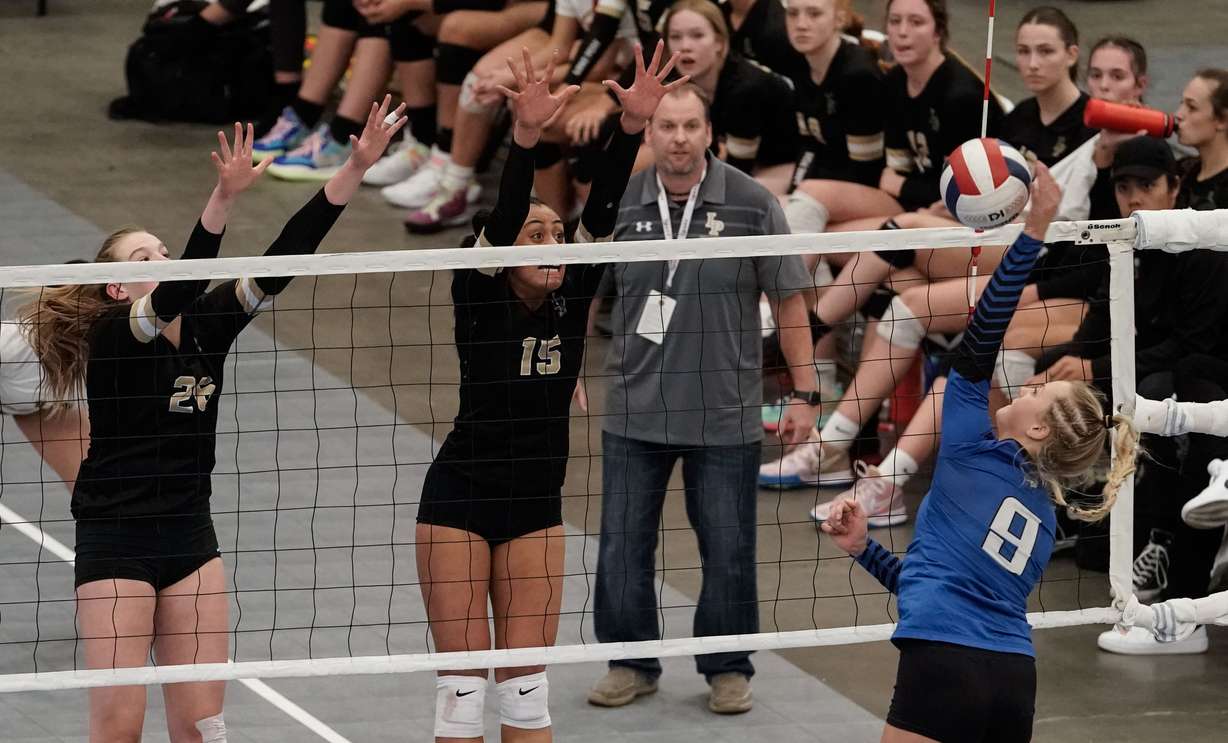 Lone Peak's blocking was key, including 10 blocks from Kelli Jo Burgess and six kills and four blocks from sophomore sister Zoey.
Every time KJ made a big block, her sister would pound her chest — like when she won the third set 26-24 to go up 2-1.
"This team is unstoppable when we block like that," Kelli Jo Burgess said. "But my sister probably hits harder."
Ashley Gneiting had back-to-back kills as Pleasant Grove rallied to take an 18-15 edge in the first set. Gneiting broke a 21-21 tie with a point off an extended rally, but the two sides dueled to a stalemate until Hannah Olsen's kill set up Sadie Scoville's late-rally killer to take the first set, 26-24.
Zoey Burgess had two blocks in the second set as Lone Peak stormed out to a 16-8 lead. The sophomore added a third as the Knights flirted with a double-digit lead en route to a 25-15 win to tie the match at a set apiece.
Lone Peak jumped out to a big early lead in the third set, but Gneiting pulled the Vikings back within three 15-12 on back-to-back points at the net. Scoville notched her third ace of the match to pull Pleasant Grove within one, 15-14.
The Vikings tied the set at 17-all on a double-touch violation, then again at 18 on a kill by Gneiting. The senior smashed a kill off the block to hand the Vikings their first lead of the set 19-18 before the Knights rallied to take the set on a block by Burgess 26-24.
Lone Peak took another 10-point lead at 15-5 in the fourth set, and Zoey Burgess made it 11 from the outside on the next play to help the Knights to the four-set victory.
"Sometimes we got a little frantic when we didn't need to," Kelli Jo Burgess said. "We needed to play as a team. And it meant a lot to me this year, because I used to go to PG. I wanted to prove why we moved to Lone Peak."
Gneiting finished with 16 kills for Pleasant Grove (22-9), and Bella Houtz dished out 39 assists. Sadie Scoville had 10 kills and three aces, and Brooklyn Fely supplied 10 kills for the Vikings.
×
Photos
Related Stories