Estimated read time: 6-7 minutes
LOGAN — What a difference a year can make.
On Nov. 20, Utah State receiver Deven Thompkins entered the transfer portal. Missing his children back in Florida, and reeling from the firing of head coach Gary Andersen, Thompkins wanted a "fresh start."
But when new head coach Blake Anderson and his coaching staff were hired in December, they weren't going to let Thompkins leave Cache Valley without a fight.
Wide receivers coach Kyle Cefalo called him on the phone nearly every day, begging him to stay. Anderson began to build a relationship with him and tried to convince him Utah State was a place and culture he should be a part of. Thompkins soon realized sticking around felt like the right thing to do.
"When coach Anderson came to Utah State, the things he was telling me he was going to make happen, especially with having such a diverse coaching staff, really sparked my interest a lot, and Utah State was home for me," Thompkins said. "This is where I started at and this is the one place that gave me a chance out of high school. I'm forever grateful for this place and I wanted to be able to allow myself to display my greatness here at this school."
To say he has displayed his greatness this season may be an understatement.
Nearly a full calendar year after entering the transfer portal, the senior continues to don the "U State" on his helmet and is taking the college football world by storm. After eight games, Thompkins boasts 63 receptions for 1,009 yards, the second most in the nation. With five (possibly six) games remaining, he's on track to break the Utah State single-season reception record of 1,531 yards, which was set by Kevin Curtis in 2001.
Thompkins, 21, who is determined to reach the NFL and create a "beautiful life" for his two children, appears to have made the right decision in returning to Logan.
He's one of the biggest reasons Utah State is 6-2 on the season and controls its own destiny for a shot at a Mountain West title.
Thompkins had the game-winning touchdown catch against Washington State to give the Aggies their first road victory over a Power Five opponent since 1971. In a win over Air Force, he had a 78-yard touchdown reception to give Utah State a fourth quarter lead. Against BYU, he flew by Jakob Robinson to catch a 28-yard touchdown, cutting a deficit to 7 points in the fourth quarter.
In his past four games, "DT" has posted 124, 180, 104 and 176 reception yards, respectively, despite being double teamed for the majority of games.
And he's done it all standing at just 5-foot-8 and 155 pounds. He's done it while raising a 2-year-old son in Logan and a 3-year daughter from afar (she lives with her mother in Florida). He is also majoring in interdisciplinary studies.
And he does it all in stride.
"I've been doing this for a couple of years, so it's starting to just be second nature, but it's really whatever you want to do whatever is really important to you, you'll find a way to do it," Thompkins said. "Whether it's managing time, also having great people around you — I've met a lot of great people on this journey that have taught me how to be a really great man — so I'm just really grateful for all those things."
His answer sounds mature beyond his years — in part because he's had experiences beyond his years. Yet it's a maturity that's juxtaposed with an easygoing nature you'd expect to see from a 21-year-old athlete.
He's seen goofing around and dancing with his teammate and roommate Justin McGriff after practice; he encouraged the student section with a wave of the arm while they chant "ref you suck" following a bad call in the Colorado State game.
After being the lead blocker on his buddy Savon Scarver's kick return against UNLV, he may have been the most animated player on the field, giving Scarver a bear hug and fist-pumping in the air.
A member of the video team mentioned that Thompkins knows right where the cameras are around Maverik Stadium, and he'll often flash grins in their direction throughout the games. His jubilance seems to prove one thing: his love for football. And it's a love he backs up with action every day.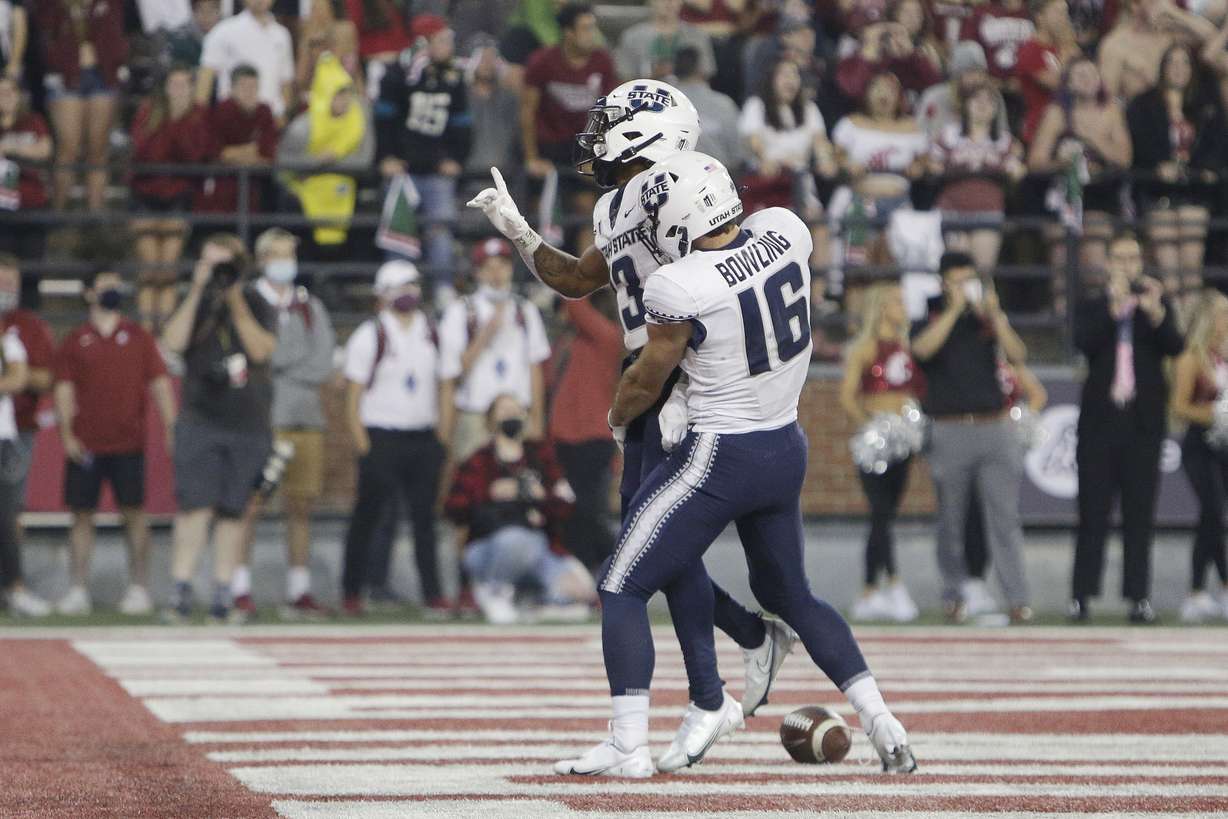 "The thing that makes him great is work ethic," Anderson said. "The guy is the hardest worker on the field every day at practice."
"I'm happy he's on my team," said quarterback Logan Bonner. "He's a great person. He's a great person to be around, a great teammate, and he works really hard."
Thompkins' efforts have paid off, too. Coming to Logan in 2018, the one thing that stood out was his speed. But in his fourth season as an Aggie, he has an arsenal of traits that make him successful, including his core strength, elite route running, webbed-like hands and unwavering confidence.
Beyond his six touchdowns on the season, he's made a number of eye-popping plays — one of which was against Hawaii Saturday.
In the third quarter, Thompkins took off on a post route down the sideline and Bonner launched him the ball. Rather than hitting him in stride, it hung in the air, which created a 50-50 jump ball for Thompkins and 6-foot-2 defensive back Kai Kaneshiro. Though six inches shorter, Thompkins timed his jump perfectly, got a full head higher than Kaneshiro, and caught the ball over him for a 40-yard gain.
"It just comes from doing it over such a long time," Thompkins said. "To me it's nothing new; that's all I used to do in high school, especially my senior year was just run a go route and throw the ball up and I would always come down with it. I just know how to high point the ball in the air and I know with the abilities God gifted me it gives me a better ability to make those plays."
Because of his own playmaking abilities, he's provided his teammates with opportunities as well. Teams have been "bracketing" him, putting a defensive back on him, then having a safety come from over the top to help stop him.
"They can take him away at times, but we're perfectly fine throwing the ball to everybody on the field," Anderson said. "Well you saw for Derek Wright, it put him in a single all day long and he worked them over and had two huge touchdown catches (against Colorado State) because he was able to get singled up."
Wright has three touchdown catches in the last two games, and McGriff has one — in large part because they've either been in single coverage or the safety has been late to help.
Whether it's through his own playmaking or by creating opportunities for others, Thompkins will look to continue to make an impact as the Aggies enter their November slate of games, beginning Saturday in Las Cruces against New Mexico State.
It's been quite the year for Thompkins: He's gone from choosing to have his name scrubbed off the Utah State roster to having a chance at etching it into the record books.
But according to McGriff, as the outside noise rises, Thompkins' mindset will stay the same.
"DT just wants to get better," he said. "He just wants to keep improving."
×