Estimated read time: 4-5 minutes
ROSE PARK — As Raygan Peterson approached the end of the first mile of the 5A girls cross country state championship race, she was in pain.
The Timpanogos harrier was surprised by the difficulty of the new course at the Salt Lake Regional Athletic Complex, and struggled as she rounded a turn. That's when her brother held up a large photo of her older brother Conner, who died when she was 5 years old, as motivation.
"I think that got me going. It gave me enough strength to make it to the end.
"He was like my best friend. I was 5, he was 4, and we just had that connection. I know he was cheering me on up in heaven. It gave me a lot of strength."
While Peterson relied on her opening mile and motivation from her late brother to win the individual title, Springville used its depth to cruise to its fourth consecutive title and fifth in school history Wednesday afternoon.
The Red Devils were led by freshman Savannah Galbraith, who placed fifth in 18:37.2, and added three more runners in the top 10 to hold off second-place Orem.
Timpanogos, Mountain View and Park City all finished in the top five.
"We're all really fast, but I feel like this team is so much more than that," Galbraith said. "It's truly a sisterhood. I'm so close to every single one of those girls on this team. I love them so much.
"We want to run together. In workouts, we try to pace each other and to run with each other. We were really happy to have such close gaps, and to finish in the same range."
Galbraith edged out her older sister Sarah, a junior who finished eighth in 18:54.6. Sandwiched around the older Galbraith were Springville teammates Emily Sumsion (18:52.9) and Adri Bird (18:57.3).
Another cousin, Lydia Templeman, placed 16th in 19:19.6 as every scoring runner placed in the top 20 for the Red Devils.
"I love running with my family. I have a cousin and a sister on the team; it really is family," Savannah Galbraith said. "Last year, we had two more cousins on varsity, too. It was really fun."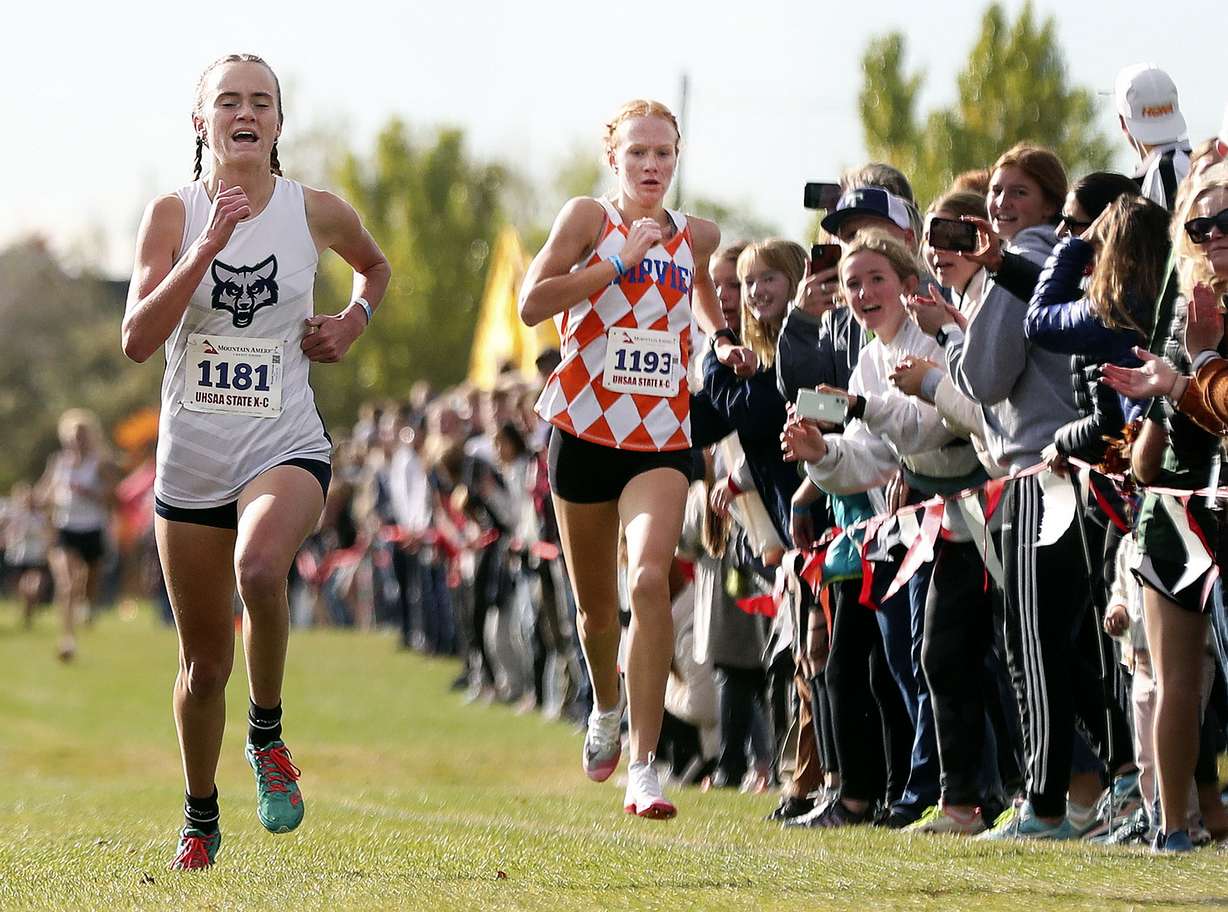 The new course, which is the same one that will host Thursday's Pac-12 championships, was troublesome for plenty of high school runners. The first mile stretched on, and the final 400 meters appeared to approach faster than in actuality. It led to a triage of fallen runners after the finish line as harriers collapsed before the end of the chute while receiving medical attention on the cold, windy day on Salt Lake's western edge.
"The straightaway definitely killed me," said Peterson, who also played for the Timberwolves' soccer team and went through three weeks of "hell week" to be ready for the divisional round, which she won. "Being able to see the end, you feel like you're there — and then you're not.
"But it was definitely worth it. It's nice."
5A Girls
Top 10 individuals
Raygan Peterson, Timpanogos (Jr.) – 18:15.0
Jane Hedengren, Timpview (Fr.) — 18:16.5
Julie Moore, Mountain View (Fr.) — 18:31.9
Mari Konold, Mountain View (Jr.) — 18:33.7
Savannah Galbraith, Springville (Fr.) — 18:37.2
Ari Trimble, Orem (Sr.) — 18:41.4
Emily Sumsion, Springville (So.) — 18:52.9
Sarah Galbraith, Springville (Jr.) — 18:54.6
Adri Bird, Springville (Jr.) — 18:57.3
Lydia Beus, Orem (Jr.) — 18:57.5
Team scores
Springville 44, Orem 87, Timpanogos 93, Mountain View 151, Park City 182, Timpview 222, Lehi 265, Wasatch 273, Box Elder 276, Skyline 281, Brighton 319, Viewmont 339, Bountiful 343, Maple Mountain 370, Spanish Fork 389, Olympus 399, Stansbury 407, Northridge 475, Payson 492, Woods Cross 507, Salem Hills 536, Highland 544, Provo 558, Jordan 623.
6A Girls
Avalon Mecham finished second to help American Fork to its first state title since 2018 in the 6A girls final.
The diminutive sophomore finished in 17:30.0, just three seconds before top finisher Addi Bruening of Herriman, to lead the Cavemen to their sixth state title in school history.
Abigail Barlow (17:55.8) and Avery Moore (18:16.9) added a pair of top 10 finishes for American Fork, which held off Lone Peak, Corner Canyon, Westlake and Mountain Ridge in the top five.
Top 10 individuals
Addi Bruening, Herriman (Sr.) — 17:27.7
Avalon Mecham, American Fork (So.) — 17:30.0
Hailey Low, Layton (Jr.) — 17:43.5
Taylor Rohatinsky, Lone Peak (Sr.) — 17:47.3
Abigail Barlow, American Fork (Sr.) — 17:55.8
Shelby Jensen, Westlake (Jr.) — 18:01.0
Boston Bybee, Lone Peak (Fr.) — 18:09.1
Natalie Swain, Bingham (Jr.) — 18:12.4
Taylor Jorgensen, Mountain Ridge (Jr.) — 18:13.4
Avery Moore, American Fork (Sr.) — 18:16.9
Team scores
American Fork 70, Lone Peak 89, Corner Canyon 132.5, Westlake 135, Mountain Ridge 147.5, Herriman 174, Farmington 202, Riverton 207.5, Layton 242, Davis 251, Weber 278.5, Skyridge 307, Bingham 329, Copper Hills 358, Fremont 387, West Jordan 443, Pleasant Grove 458, Syracuse 510.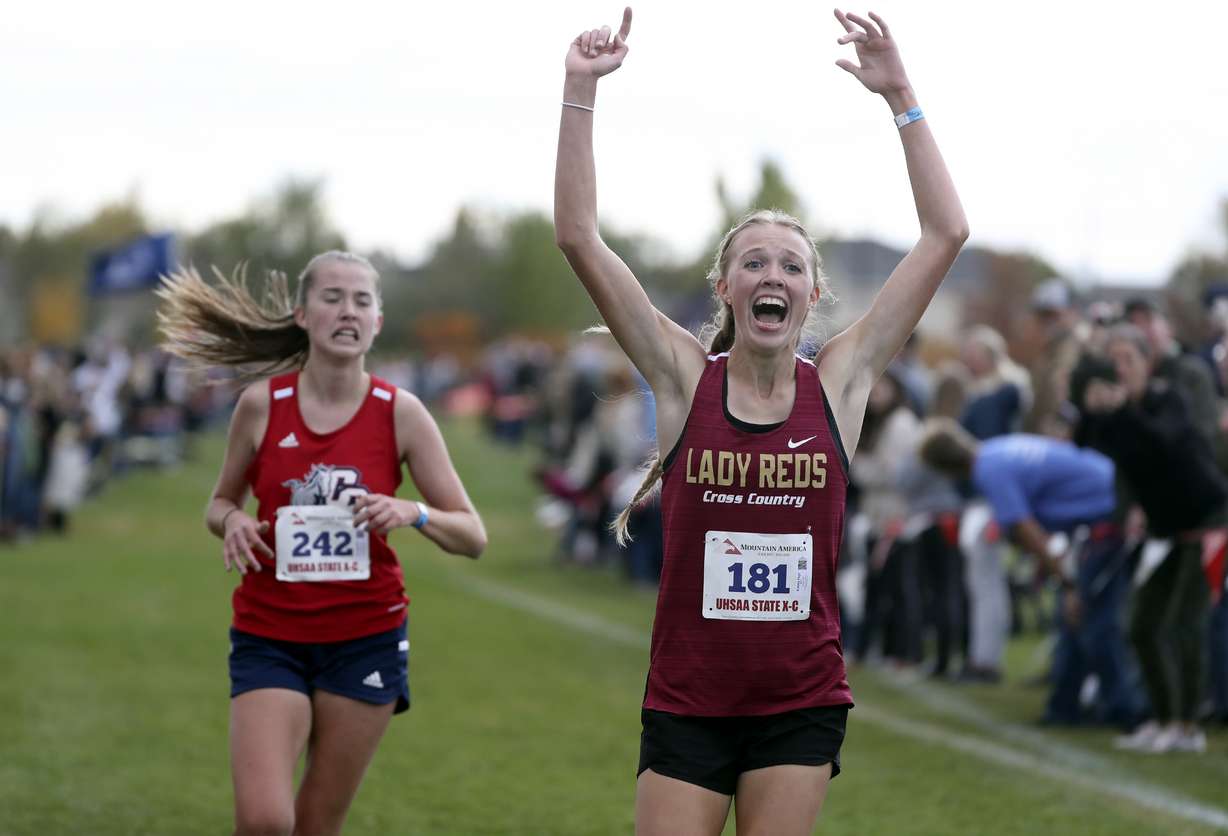 4A Girls
Cedar teammates Carissa Hofeling and Emma Page finished 1-2, but Pine View's Brooklyn Hill, Adri Baker and Kate Jones took three of the next 10 spots to the lift the Panthers to the 4A title at the Regional Athletic Complex.
Pine View rolled past Desert Hills, Cedar, Ridgeline and Bear River in the top five to claim the Panthers' third-straight title and fifth in school history.
Top 10 individuals
Carissa Hofeling, Cedar (Sr.) — 17:52.0
Emma Page, Cedar (Jr.) — 18:43.1
Sarah Ellis, Crimson Cliffs (Sr.) — 18:43.8
Brooklyn Hill, Pine View (Jr.) — 19:21.2
Elizabeth Phillips, Bear River (Sr.) — 19:15.0
Adri Baker, Pine View (Jr.) · 19:15.1
Addison Pettingill, Desert HIlls (Jr.) — 19:16.2
Kailani Zufelt, Desert Hills (Sr.) — 19.17.6
Abigail Case, Mountain Crest (Sr.) — 19:17.8
Annie Fuller, Hurricane (Fr.) — 19:18.0
Team scores
Pine View 60, Desert Hills 89, Cedar 89, Ridgeline 110, Bear River 133, Snow Canyon 184, Green Canyon 189, Crimson Cliffs 197, Hurricane 210, Mountain Crest 246, Sky View 265, Logan 316, Dixie 320.
×
Photos
Related Stories