Estimated read time: 6-7 minutes
WACO, Texas — The halftime score read 17-7, but it might as well have read 70-times-7 to 7.
The Bears were rolling in their first unofficial game against Big 12 rival BYU, and were quickly making whatever they wanted of the visiting Cougars.
The Bears averaged a staggering 7.7 yards per carry during the first half Saturday, and never looked back.
As if to add insult to injury, the Bears even went for an onside kick with less than four minutes left in the half, recovered it, and gave the ball back to BYU on a fourth-down play inside the final minute.
The Cougars did nothing with it. The Bears were simply asserting their dominance, as they did when they cut the Cougars' leading rusher Tyler Allgeier to 1.7 yards per play on nine carries before the break.
Baylor did whatever it wanted on offense, but in particular on the ground as it drove any of its cadre of running backs — including a former linebacker — through Jeff Grimes and Eric Mateos-sized holes on the offensive line with precision and perfection.
Gerry Bohanon recorded his first interception of the season, but also threw for 231 yards and a touchdown while Baylor piled up 303 yards on the ground that included Abram Smith's 188 yards and three scores in a 38-24 win over BYU on the banks of the Brazos River at McLane Stadium, handing the Cougars a second-consecutive loss for the first time since the end of the 2019 season.
Tristan Ebner ran for 95 yards on 11 carries and converted linebacker Dillon Doyle added a touchdown rushing and receiving for the Bears, who averaged 7.3 yards per carry until the game's final minutes and piled up 534 yards of offense for a total average of 7.1 yards per play.
"We were outphysical-ed today," BYU coach Kalani Sitake said. "That was really hard to accept.
"That's not our style. Credit to them for making plays; that's a really good team that we faced. It's a real gut-check for us."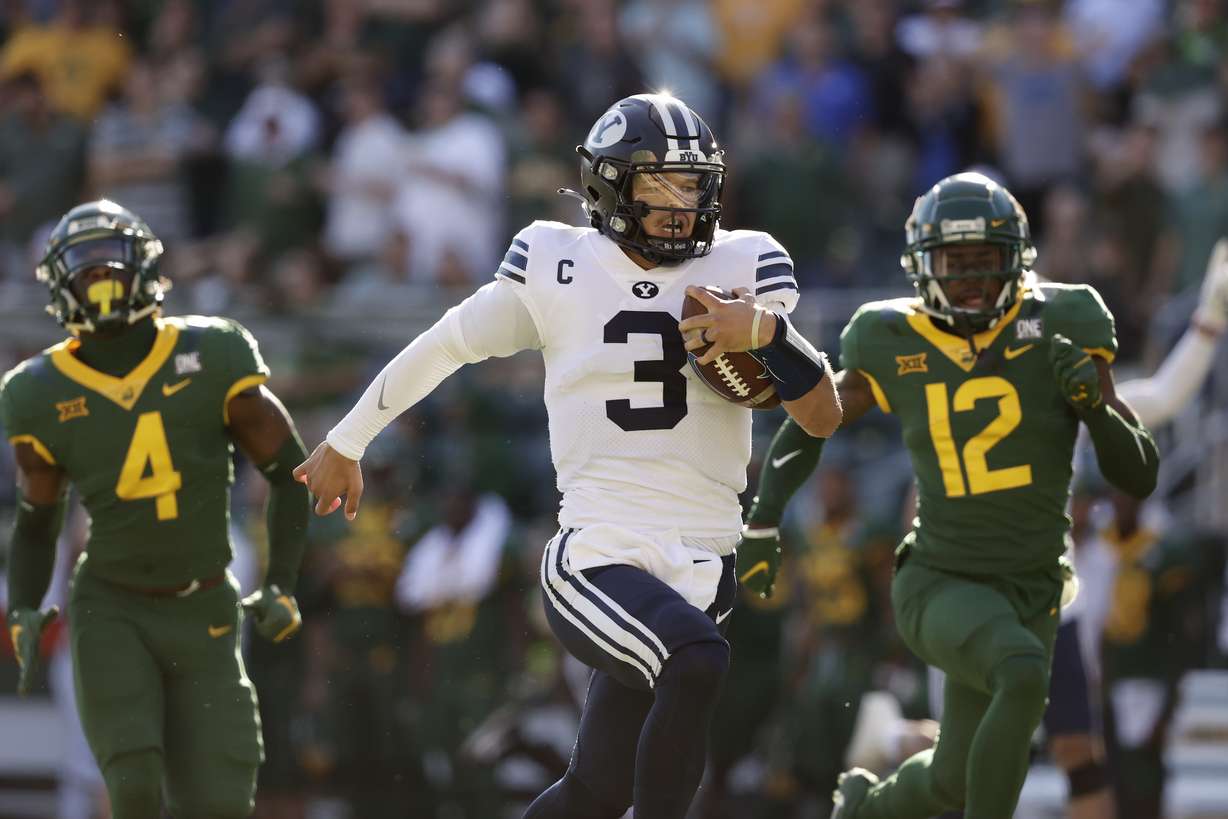 Credit to Baylor; it was as if the Bears had a copy of BYU's playbook, and took full advantage of it. In many ways, they did. But the two teams running some version of Grimes' offense — one a year removed from his departure from Provo, while another was less than a year into his emergence in Waco — mirrored each other in many ways, with a run-heavy attack and a quarterback option.
One team was simply able to complete it better.
"We like to hang our hat on how we like to be physical. It showed a little bit of our inexperience and youth up front," Sitake said.
"But with that being said, it was little things like not tackling well enough; we drifted off some tackles. We played a clean game — we had two penalties, and they had zero. We just didn't do enough to stress them, and I think it goes back to the fundamentals of the game."
BYU, which prides itself on playing physically and won three games against Pac-12 South opponents to start the year by being the more physical team, was out-matched where it matters most: in the trenches. The Cougars are scheduled to join Baylor in the Big 12 Conference in two years, but were shown just how far they have left to go until then.
"In our team room, we call it Bully Ball. We played Bully Ball today," said Smith, who carried the ball on 27 of Baylor's 47 carries. "Our offensive line was very physical, moved people left and right and did what we did best. I tried to get to the line of scrimmage, get to the safeties and make them feel it."
Jaren Hall completed 22-of-31 passes for 342 yards, and also ran for a 56-yard score that (briefly) pulled the Cougars within 3 points, 17-14 of the Bears. But the rally was short lived as the redshirt sophomore from Maple Mountain was sacked four times.
Puka Nacua caught five passes for 168 yards for BYU (5-2), and Tyler Allgeier had just 33 yards and a touchdown on 15 carries.
Nacua, the Washington transfer from Orem High who topped his previous BYU career-high of 102 yards against South Florida, took advantage of one-on-one coverage and exploded for a 33.6 yards per reception average, while Gunner Romney added 81 yards on three catches.
Baylor gave up the big play, to stuff BYU at the line of scrimmage. And it worked to perfection — Nacua's career night notwithstanding.
"We knew they were going to put guys in the box, and see one-on-one matchups," Nacua said. "They were giving us the looks that we wanted.
"I just tried to do the best that I can when the ball came my way."
Ben Bywater had nine tackles to lead BYU, which had just two tackles for loss and one sack or less for the second-straight game. Held without a sack this week, the Cougars only had three quarterback pressures — two from Atunaisa Mahe and one from Tyler Batty, both off the defensive line.
That was the only pressure BYU sniffed against Bohanon and an offensive line that brought in two of the Bears' four transfers in the offseason.
"It is what we pride ourselves on, playing a physical game," said Batty, who made three tackles, "and I would say today we did not do that. We did not play our game.
"Baylor's a great team. But that is something where we did not show up today as much as we would've liked to."
Payton Wilgar picked off Bohanon for the Baylor quarterback's first interception thrown of the season early, but BYU had just 14 yards on its opening two drives, but trailed just 3-0 after the first quarter — while in the middle of a drive that included Jaren Hall's 52-yard strike to Nacua.
That set up Allgeier's 1-yard touchdown plunge to give the Cougars a 7-3 lead with 12:17 to go in the half.
But the Bears reacted with back-to-back touchdowns through Abram Smith and Dillon Doylen en route to a 17-7 advantage at the break. Baylor held the Cougars to 0.6 yards per rush through the first series of the second half.
Hall cut loose for a 56-yard sprint-and-score to open the second half, rushing to his right and with an acre of space in front of him to cap a six-play, 75-yard drive that pulled the visiting Cougars within 17-14 three minutes into the half.
But Jalen Pitre, who had a team-high 10 tackles, 2.5 tackles for loss and a sack for Baylor, recovered the Cougars' first lost fumble of the day on the next drive, and Smith cashed it in for six from seven yards out to immediately restore the Bears' double-digit lead and help salt away the win.
Nacua found the end zone late, capping a seven-play, 75-yard drive with a 16-yard strike from Hall with 1:51 remaining to pull the Cougars within 14.
"I've been in this position before, where we felt like we got physically handled," Sitake said. "Now we have to see what the response is going to be."
×
Photos
Related Links
Related Stories