Estimated read time: 3-4 minutes
SALT LAKE CITY — Here are 10 stories you may have missed over the weekend. As always, click on the headline to read the full story.
1. 'It just turned terrible': Trail runners near Francis Peak are rescued amid a foot of new snow
The approximately 87 stranded runners along the DC Peaks 50 ultra trail route Saturday are safe, after they became endangered by winter weather at the peak. Several of the rescued runners were treated for hypothermia and one runner sustained injuries in a fall, according to Davis County Sheriff Kelly Sparks.
2. Edgemont Elementary School moves to remote learning after 'Test-to-Stay' event
For the first time this school year, a Utah public school is going to exchange in-person learning for online classes, albeit temporarily, for the first three days of next week before Provo School District's fall break begins. Edgemont Elementary School, according to information posted by the school district had a high number of positive COVID-19 tests in both students and employees during its "Test to Stay" event held Friday morning.
3. Search for missing Ogden man at Yellowstone National Park scaled back
Search and recovery efforts for Ogden man Kim Crumbo, 74, are being scaled back after nearly three weeks of using helicopters, boats, sonar technology and ground crews.
4. 2 girls taken to hospital after accidental shooting in Pleasant Grove
Two girls were taken to the hospital after they were accidentally shot by a friend in Pleasant Grove, police said.
5. Police: Syracuse church vandalized, damaged after fire
A 16-year-old boy vandalized and started a fire inside a Syracuse church building Saturday morning, according to Syracuse police.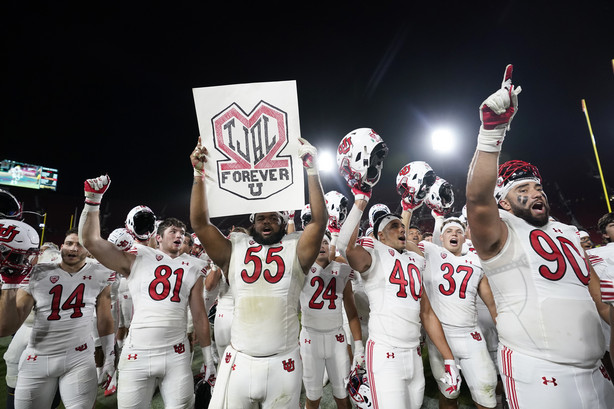 Sports
1. Streak over: Utes dominate Trojans for first-ever win in the Coliseum
With Rising's leadership on the field, Utah (3-2, 2-0 Pac-12) ended a losing streak on the road in Los Angeles that dates back to 1916. And most importantly for the team, it keeps them undefeated in conference play with a vital matchup against Arizona State next week.
2. BYU falls 9 spots to 19th in AP Top 25, No. 20 in Coaches Poll after stumbling to first loss of season
BYU dropped nine spot to No. 19 in the latest Associated Press Top 25 when the latest votes were revealed Sunday, two hours after the USA Today Coaches Poll dropped the Cougars 10 spots to No. 20.
3. Boise State upends BYU's undefeated season, handing No. 10 Cougars first loss
Cyrus Habibi-Likio ran for 75 yards and a touchdown, and Andrew Van Buren added 60 yards and a score as Boise State upended BYU 26-17 to hand the Cougars their first loss of the season Saturday afternoon in front of a sellout crowd of 63,470 fans at LaVell Edwards Stadium.
4. Boosted by 'Uncle Tony,' Team Utah wins PGA Junior national championship
Team Utah of Jack Summerhays, Mo LeCheminant, Jaxon Erickson, Jordan Ofahengaue, Austin Shelley, Ryder Huish, Will Pedersen and Tyse Boman won three points off the third flag in the championship match to hold off Connecticut 7.5 to 4.5 Sunday afternoon at Grayhawk Golf Club in Scottsdale, Arizona.
5. Hassan Whiteside says Jazz are uniquely close for an NBA team
The surprises just keep on coming for Utah center Hassan Whiteside.
×