Estimated read time: 4-5 minutes
LAYTON — Traci Nickerson, a single mom of two disabled adult boys, stood in an entryway holding a lanyard up to a group of people gathered at the bottom of the steps leading up to a home. The lanyard held a single silver key that would open "a dream come true."
The key opened the door of Nickerson's new home, making her a homeowner for the first time. The home had been built by Layton High School construction students, one of which stood in the crowd, in partnership with Davis Technology College and Layton City.
"I currently live in a two-bedroom duplex in Bountiful ...," Nickerson wrote in her application for the home. "We are grateful for a roof over our head and the ability to make ends meet. The hard part has been creating space for all of us to live. My living room is one boy's bedroom; therefore, we do not have a lot of space and privacy."
The Davis School District employee by a board from over 20 applicants. Layton Mayor Joy Petro said the process of selection was hard but the board felt that Nickerson "needed to have this home."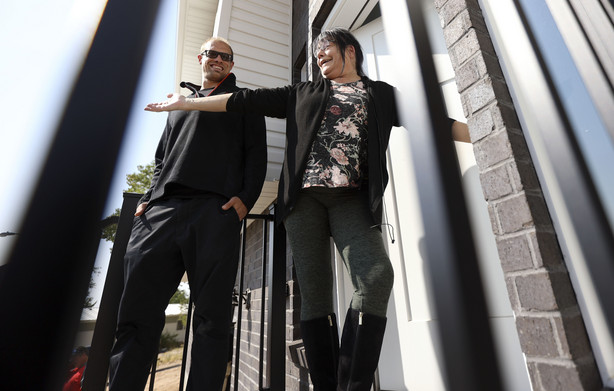 Following her selection, the process began. The city purchased the property and building permits, allowing the district to sell the home at a reduced price. Layton High School students began to construct walls that would be later installed in the home with the help of Davis Technical College. Slowly, through community efforts and partnerships, a home emerged.
"I really love the fact that it was so many hands coming together to make it happen. Nowadays, everyone seems so isolated and there seems to be a lot of divisiveness but you see programs like these where everyone comes together and it makes you think of what America is all about," Petro said.
While driving down the road leading up to her new home, Nickerson said she began to cry.
"I did not know how many people were involved," Nickerson said tearfully. "Just knowing that there's this many people that are involved and care about this project is super overwhelming and I'm eternally grateful."
She continued, "This is like a dream come true for me and I know there are other people that are in my same position so I feel like this is a true gift."
Petro said she felt that this year's increase of applicants was partially because of increased knowledge of the program but also due to the current housing market.
The home construction project utilizes federal housing funds from a Community Development Block Grant from the U.S. Department of Housing and Urban Development. Layton is considered a viable city by the department, which allows it to access grants annually to develop its community through affordable housing and expanding economic opportunities for low- and moderate-income people.
"It shows how committed we are as a city and as an organization to try and take care of our folks," Petro added.
And while the program creates an impact on people like Nickerson, it also serves as an educational opportunity. Students have been building homes in Davis County for the last 30 years through the program, learning practical experience in residential construction.
Through a partnership with Davis Technical College and supervision of high school teachers, students are able to participate in electrical and plumbing programs.
"It's near and dear to my heart. I know the impact of homeownership, what it does for our families and what it does for our community," Darin Bush, Davis Technical College president, said of affordable housing. "Bringing it as a part of an educational opportunity is like the perfect world for me."
Before leaving, Davis School District members gifted Nickerson with a frame with pictures showing the progression of the home being built. "Welcome home," a district member told her.
After 18 years of working for Davis School District, Nickerson's first home is now in the district that she works for as an office manager in the computer technology support department.
"I just want to thank everybody, I would say this is an opportunity of a lifetime and you all helped me obtain it," Nickerson said.
×
Photos
Related Stories