Estimated read time: 8-9 minutes
SALT LAKE CITY — Corner Canyon was behind.
After what the Chargers have done the past few seasons, that in itself was notable.
But after Devin Brown rushed for four touchdowns to lead a 51-15 surge, American Forks' short-lived lead in the first quarter on Friday over the unquestioned No. 1 team in the state was less a "he's cut" moment and simply a case of a slow start.
Still, for 12 minutes, the Chargers looked mortal. Did that provide a glimmer of hope for the rest of 6A that has spent the last three years looking up at Corner Canyon?
This week might offer some more clarity. Next up for the juggernaut Chargers? A matchup with No. 2 Skyridge, the team that gave Corner Canyon its best game last season.
With a victory this week, the Chargers can roll their winning streak to 47 — one shy of Duchesne's state record of 48. The Falcons might just be the state's best chance of ending that long winning streak, too.
Here's the rest of the top 20 teams after Week 6 of the Utah high school football season.
1. Corner Canyon (6-0, 1-0 Region 4)
Jaxson Dart was slinging touchdowns for USC, but Devin Brown did fine in his stead last Friday, scoring four touchdowns to help the Region 4 favorites overcome a first-quarter shutout for the first time since 2019 before pulling away from American Fork 51-22.
It doesn't get any easier for USC commit Brown and the Chargers, who host No. 2 Skyridge in the top projected game of the season (so far) on Friday.
2. Skyridge (6-0, 1-0 Region 4)
McCae Hillstead threw for three touchdowns and ran for three more as the Falcons' defense was back up to par, holding the Thunder scoreless until a safety with 4:54 remaining in a 44-2 rout.
Get to Draper early Friday or you may be parking next to In N' Out.
3. Lone Peak (3-1, 1-0 Region 4)
The Knights still haven't lost to an in-state opponent after Friday's 52-7 win at Pleasant Grove, but the distance between them and fourth-place American Fork is narrow.
So how did we decide between these two? We flipped a coin. Sorry, Cavemen.
That'll be decided on the field soon enough.
4. American Fork (4-1, 0-1 Region 4)
Evan Agor's 1-yard TD plunge and a clock-controlling first quarter gave the Cavemen an early advantage on the three-time defending state champion Chargers.
Don't let the final score of that one fool you, though; American Fork is still a quality team, led by quarterback Maddux Madsen, who threw for a 7-yard touchdown that pulled the Cavemen within 37-22 with 2:59 left in the third quarter. But they could get no closer.
It doesn't get any easier for American Fork, which plays Friday at rival Lone Peak.
5. Timpview (4-2, 1-0 Region 6)
Don't let those two losses fool you; the Thunderbirds laid claim to their "best team in 5A" moniker with a thorough 62-21 win at Alta to open Region 6 play.
Besides, those two losses come to the teams ranked No. 2 and No. 3 in the current poll.
A week after Friday's home tilt with Highland, Timpview hosts region rival Orem in a possible state final preview on Thursday, Sept. 30.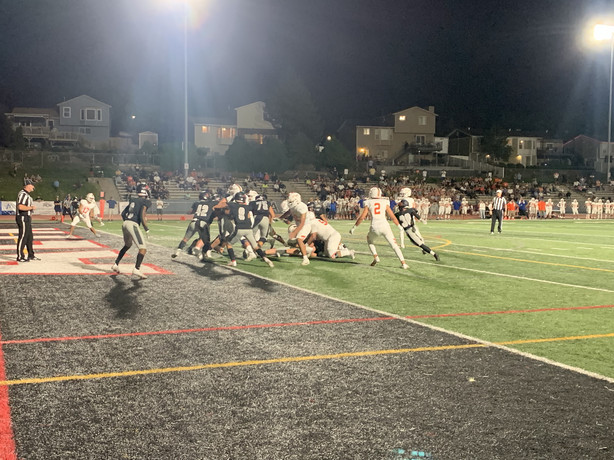 6. Orem (4-2, 1-0 Region 6)
Speaking of the Tigers (or Golden Tigers, for fans of a certain generation), Mack Hixson scored three touchdowns as Orem scored 42 unanswered points in a 42-7 win over Jordan.
The win snapped a two-game losing skid by the Tigers, first to 6A contender Skyridge and then to Las Vegas' Desert Pines a week later. They can send a message Friday against Alta before that showdown with the Thunderbirds.
7. Weber (4-2, 3-0 Region 1)
After starting the season with back-to-back losses (to Bingham and American Fork, no less), the Warriors capped off their fourth-straight win by blasting Clearfield 63-27.
Jake Lindsay scored five touchdowns in the win, and BYU commit Cannon DeVries caught two touchdown passes and ran for another in the win.
The Warriors host a sneaky Layton team on Friday.
8. Mountain Ridge (6-0, 1-0 Region 3)
Jordan Day caught two touchdown passes as the Sentinels shut out Copper Hills 42-0 in their Region 3 opener.
The new kids in Herriman can cement themselves as contenders Friday with a win at Bingham.
9. Bingham (3-3, 1-0 Region 3)
The same can be said of the Miners, who shrugged off a brutal non-region schedule that included losses to Corner Canyon, American Fork and Timpview with a 27-10 win at Herriman.
Four different players found the end zone for Bingham, which shrugged off a 7-6 halftime deficit with 21 unanswered points in the fourth quarter to secure the win.
10. Ridgeline (6-0, 2-0 Region 11)
Kaden Cox threw three touchdown passes and ran for another score as the Riverhawks stayed unbeaten with a 35-10 road win over reigning champion Sky View.
Ridgeline heads to Hyrum to face Mountain Crest on Friday.
11. West Jordan (6-0, 1-0 Region 3)
Quarterback Boston Farmer accounted for all three Jaguar touchdowns in a 20-14 win over Riverton to keep West Jordan's undefeated season alive.
West Jordan improved to 6-0, but that flawless record will soon be tested. After this coming Friday's matchup against Herriman, the Jaguars will play No. 8 Mountain Ridge and No. 9 Bingham in consecutive weeks.
12. West (4-1, 1-0 Region 2)
Sesi Vailahi scored three touchdowns as West rolled over Hunter 30-14 for the Panthers' third straight victory. The Region 2 favorites will host winless Taylorsville this week.
13. Springville (5-1, 1-1 Region 9)
The Red Devils responded from a surprising loss to open region play with a convincing 34-14 win over Provo. Ryder Burton tossed three touchdowns for Springville to back up a strong defensive performance.
Now, the Devils set their sights on Friday's pivotal region showdown against Wasatch.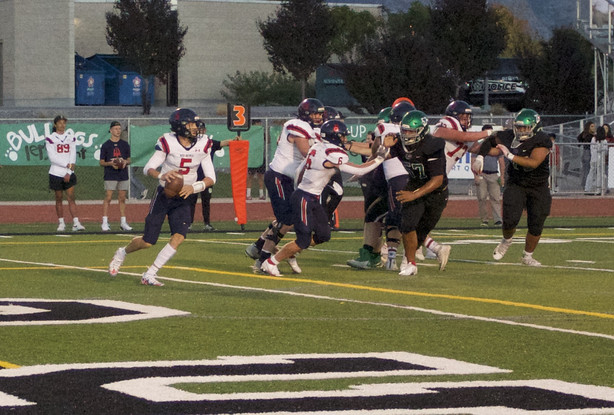 14. Syracuse (4-2, 0-2 Region 1)
It may be hard for Syracuse not to dwell too heavily on its last two losses. After starting the season with an impressive four victories, the Titans have fallen in consecutive weeks on the game's final play.
Davis's Ty Hoagland hauled in a 40-yard Hail Mary from Jackson Stevens to beat Syracuse.
The Titans will look to regroup against Clearfield.
15. Pine View (5-1, 2-1 Region 10)
The Panthers responded from their first loss of the season with a resounding 62-29 win over Cedar.
Keith Adams ran for four touchdowns, including three long house calls. Adams had touchdown runs of 45, 50 and 67 yards.
Pine View will be at Crimson Cliffs this week.
16. Wasatch (5-1, 2-0 Region 9)
The Wasps have seemingly adjusted to life without star quarterback Adarius Edwards, whose senior season was cut short due to injury — or at least they are finding ways to score without him.
Wasatch won its third straight contest by dropping a 50 burger on Maple Mountain in a 54-16 win.
The Wasps will try to keep things rolling against Springville in a top 20 matchup.
17. Brighton (4-2, 2-1 Region 6)
The Bengals' up-and-down season continued on Friday with a 14-7 win over Skyline. Brighton's defense led the way against the Eagles, who only scored on a fumble recovery in the end zone.
This week, the Bengals get an East team that finally looked like the squad many were expecting in the preseason.
18. Beaver (6-0, 1-0 2A South)
Beaver just keeps on winning. Four different players scored for the Beavers in a 28-13 win over Delta as they improved to 6-0 on the season.
It's likely to be more of the same this coming Friday with Beaver traveling to winless Grand.
19. Layton (4-2, 2-1 Region 1)
Layton's resurgence hit a bit of a speed bump on Friday. The Lancers led 17-3 heading into the fourth quarter only to lose 27-20 to Farmington. Still, Layton's success this season was good enough to keep them just in our Top 20.
They'll have a chance to make a big move up the rankings this week at No. 7 Weber.
20. Northridge (5-1, 2-0 Region 5)
Northridge scored 12 points in the final five minutes to come back and beat Woods Cross 19-14. With the win, the Knights improved to 5-1 on the season.
Northridge will welcome in Viewmont this week.
Plus-1. Morgan (4-2, 1-0 3A North)
After falling behind 28-9 late in the second quarter, Nick Despain mounted a furious rally as the Trojans used a 25-0 run to edge Juan Diego, 41-28 in their 3A North opener.
Despain threw for 166 yards and a touchdown and ran for another score, and Will Lance paced an 18-0 fourth quarter with two touchdowns in addition to his 65 yards to help Morgan hand Juan Diego just their second loss of the season.
"Tonight was a great game. Juan Diego is a quality team that plays great football," Morgan coach Jared Barlow told the Deseret News of the Soaring Eagle, which 3-2 on the year with wins over Skyline, Taylorsville and East. "They came out fast and got up early and made great plays. Our team battled and kept within striking distance. We were confident that if we could shut them out the second half that we could battle back and win. Our coaches made some great adjustments, athletes executed, and we earned a hard fought victory. Proud of how the team battled for four quarters."
The Trojans may not be a perfect team, but their in the drivers' seat (albeit very early) in the six-team 3A North, and the No. 1 RPI in 3A, to boot.
×
Related Stories