SALT LAKE CITY — Here are 10 stories you may have missed over the weekend. As always, click on the headline to read the full story.
1. Police identify 3 dead after overnight SWAT situation at Millcreek
Police have identified the three people found dead after police were able to enter a Millcreek home at about 3:30 p.m. Saturday after an overnight SWAT situation, police said.
2. 1 dead, 2 injured after car rolls early Saturday near Riverton
A 23-year-old woman died and two men were injured after their vehicle rolled on Bangerter Highway on Saturday morning, Riverton Police Chief Don Hutson said.
3. 2 injured in Salt Lake drive-by shooting, police say
Two males were transported to the hospital with serious but not life-threatening injuries after a drive-by shooting in Salt Lake City on Saturday, police said.
4. Police identify man killed in motorcycle crash in Logan Canyon
Police have released the identity of the man who died after a motorcycle crash in Logan Canyon about 11 miles east of Logan on Saturday.
5. 2 firefighters injured at South Ogden condo fire Saturday night
A fire affecting two condos at 864 East and 866 East on 5500 South on Saturday night injured two firefighters and caused an estimated $500,000 in damage, South Ogden Fire Department officials said.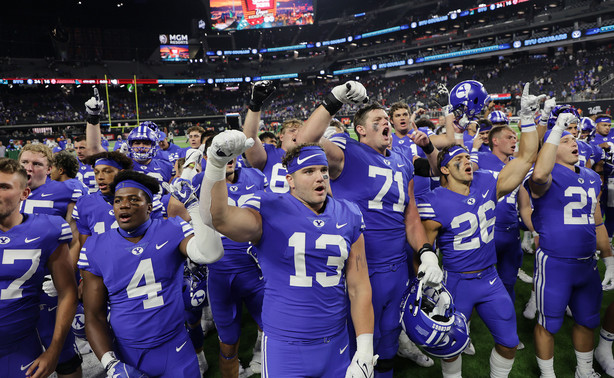 Sports
1. Is BYU a Power 5 team? OK State's Mike Gundy thinks so as Big 12 mulls expansion
"The interesting thing is, coast to coast, people see BYU as a Power Five team," said Gundy, whose school is 2-0 against BYU — the last meeting coming in 1976. "They see that logo — and you would, too — because you've watch them forever. If you see that logo, they don't know they're an independent; they think they're tied into a Power Five conference."
2. Viva Las Vegas: Pau'u's big night helps BYU hold off Arizona in season opener
Jaren Hall threw for 198 yards and two touchdowns for BYU (1-0), and Tyler Allgeier added 94 yards and a score on the ground for a Cougars squad that limited the Wildcats to 3 points until quarterback Gunner Cruz found BJ Casteel for a touchdown with 7:28 left in the third quarter.
3. Bonner's late TD pass lifts Utah State over Washington State
The Aggies scored 15 unanswered fourth quarter points to pull off the upset in Pullman, Washington, and to defeat Washington State 26-23. It's the first time Utah State has defeated a Power Five team on the road since 1971, and the first time a new Utah State head coach has won their first game since 1973.
4. 'We're in this together': RSL responds to give Pablo Mastroeni first win as interim manager
Behind goals from Justen Glad, Jonathan Menendez and Albert Rusnak, RSL made a comeback from an early deficit for a 3-2 win Saturday at Rio Tinto Stadium.
5. Primetime Performers: Ogden rallies around head coach battling ALS
Friday night was a night to honor Ogden coach Erik Thompson, who was greeted by a sea of orange, T-shirts that read "Thompson Tough" scrawled across each chest, and hundreds of friends and family during a special ceremony in his honor on the Ogden campus.
×