SALT LAKE CITY — The emotions were still raw as Shaka "Compete" Browne stepped to the mic. His Jazz Gaming team had just won the 2021 Western Conference championship but his thoughts, understandably, were still somewhere else.
Last week, just before the NBA2K League playoffs were about to begin, Browne's brother Chinny was fatally stabbed following a long-running workplace dispute.
"It was hard to play," Browne said through tears. "It's still hard to play. I told my team it's hard but I'm gonna fight for y'all. They told me they were going to go fight for me, to go fight for my brother, go fight for my family."
His team rallied around him and now the third-seeded Jazz will play for the franchise's first title Saturday. The best-of-five series will begin at 3 p.m. MT and will be streamed on Twitch and YouTube.
Even with the devastating circumstances, Jazz Gaming was in a good position to overcome such an emotional week. There's benefits to having continuity in games, but familiarity can be even more crucial when trying times occur off screen.
"I think today I learned really what the definition of the team is," Jazz Gaming star guard Kimanni "Splashy" Ingram said.
Did you miss our win in the Western Conference Finals yesterday? Relive the best moments in our @AFCU highlight video! pic.twitter.com/sko2Z9ZEYn

— UtahJazzGaming (@UtahJazzGaming) August 29, 2021
Coming into the 2021 season, Jazz Gaming was tabbed as one of the favorites. It was coming off a 14-2 season and had struck gold with Ingram, who had an electrifying rookie campaign.
Combine him with Spencer "Ria" Wyman, a member of the inaugural USA E-National team, and the Jazz had a duo that could stack up against just about anybody.
You wouldn't have guessed that early on during the 2021 season, though. Jazz Gaming started just 7-7 and were looking mediocre. It turns out, they needed the whole group back together.
Due to retention rules, Jazz Gaming wasn't able to bring back the entire 2020 roster to 2021 — at least not to start with. The Jazz gamers lost Lytel "Lotty" Martin in the offseason, but that didn't stop them from trading for him in the middle of the season.
"We call him the point guard whisperer, big culture guy, big vocal leader," Jazz Gaming coach Jelani "Comp" Mitchell said.
With Martin back in the fold, Jazz Gaming began to resemble the 2020 version that ran through much of the league until falling in the second round of the playoffs (apologies to Jazz fans if that sounds too similar to what happened to the on-court NBA team this season).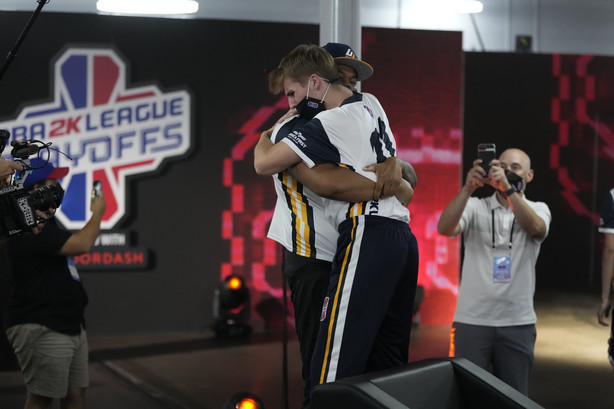 "Last year we should've won it at all. It was all me," Martin said. "I told everybody that, but they believed in me and brought me back and I told them, I've always got your back, your back, your back, I've got the whole team back, and that's what I always preach: family first, team first."
When word started to trickle out that the playoffs would once again be "on stage" and not from different remote locations, Mitchell was more eager to get Martin back. Mitchell felt he could be an extension of himself on the gaming stage, offering advice and keeping his young stars in Wyman and Ingram calm — or at least help and encourage them to speak up.
And, well, this Jazz Gaming team isn't shy when it comes to trash talk.
"I think that fuels us because if everybody didn't know, they'll learn soon: This team was specifically built for the stage," Ingram said.
And maybe no one more than Ingram, who never lets a good play go by without letting the five players sitting across from him know about it.
Considering he's an MVP candidate who averaged 31.5 points per game this season, he usually has a lot to say.
And he and the rest of Jazz Gaming are hoping to have plenty more to say come Saturday.
×