Estimated read time: 5-6 minutes
PROVO — When first-year Arizona coach Jedd Fisch revealed the Wildcats would start two quarterbacks Sept. 4 in their season opener against BYU in Las Vegas, it may have given Cougars offensive coordinator Aaron Roderick a sneaky idea.
"I thought about playing a three-quarterback system," Roderick said with a wide smile across his face as he ebulliently met with the media Wednesday to officially proclaim Jaren Hall as QB1 in Provo.
Then he stopped chuckling.
"I thought we had enough team reps in practice that we were able to settle it on the field," Roderick said. "Kalani was great, our defense was great; we had to sacrifice, I think, one individual period or two — but I thought it was well worth it. And it gave us a large enough body of work to see who will play."
The "who" — at least for now, Roderick stressed — is Hall, the redshirt sophomore from Spanish Fork's Maple Mountain High who will be entering his fourth season with the BYU football program.
That leaves fellow sophomore Baylor Romney — the most recent backup to previous starter Zach Wilson, who was selected with the No. 2 overall pick in April's NFL draft by the New York Jets — and freshman Jacob Conover, who ran the scout team last year, as the top backups.
An official depth chart will be released Monday, the first full day of game week ahead of next Saturday's season opener in Las Vegas. Roderick said if BYU lined up against Arizona tomorrow that Romney would be the designated No. 2 quarterback on his depth chart. But that situation is fluid enough that it may be a week-to-week, or even day-to-day, rivalry between the backups.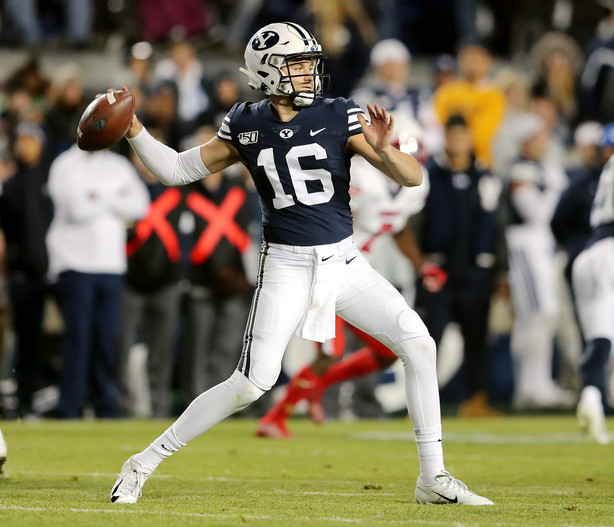 "We'll keep competing all season," Roderick said. "That goes for the starter, too. Jaren isn't dumb; he knows that competition is ongoing all the time at every position in this program."
That may explain why neither quarterback has any revealed plans to leave BYU, at the moment. If they do, neither Roderick nor head coach Kalani Sitake has heard them, at least. Neither one of them immediately entered the NCAA's transfer portal, either.
That may seem like a premature supposition — and maybe it is. But in the modern world of college football, one heavily influenced by the portal, such a move has yet to become uncommon.
In BYU's case, when Sitake and Roderick met with the trio to deliver the final verdict, the reaction from both Romney and Conover was handled "with pure class."
"Those guys are great young men with great character," Sitake said. "They were classy. When we told them the breakdown (a week ago), it was an opportunity for them to change our minds. They made a really good case for themselves, too. When handling these types of situations, I thought they handled it like mature adults.
"They're guys who are about the team first. They understand, and they know their role now. We really got them to be their best selves. We need both of those guys, not just on the field, but off the field with the way they've handled themselves so far."
Within seconds of revealing the final decision, BYU's official Instagram account had already posted a graphic with "QB1" and "Jaren Hall" in the marquee. Conover was among a long list of players who liked it within seconds, a group that also includes defensive leaders Chaz Ah You and Tyler Batty, receiver Chase Roberts, and long snapper Austin Riggs, to name a few.
'He's been through a lot'
Romney is famous on his team for not spending much time on social media, a situation for which his younger brother Gunner has teased him in the past.
So all outward accounts point toward a positive reception at the end of a tense three-way quarterback derby that started in the spring, was narrowed down from four, and became the longest split-rep training camp in Roderick's 22-year career in college football.
Hall is equally as comfortable with Romney or Conover leading the Cougars as they are of him.
Just consider what he said during training camp about BYU's fab freshman.
"He makes plays. He's one of the most exciting young freshmen playing quarterback that I've seen since I've been at BYU," Hall said of the former four-star recruit from Arizona who turned down Alabama (among others) to come to his dream school. "He plays like he's three years beyond his age and experience, and he's a fun player to watch."
But what about Romney, the product of the Mormon Colonies in Mexico who came to BYU after initially signing with Nevada prior to a two-year mission for The Church of Jesus Christ of Latter-day Saints in Carlsbad, California?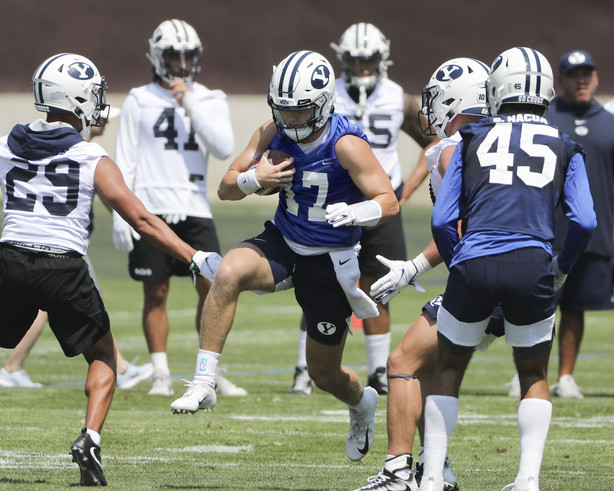 "Baylor is a consistent game manager," he added. "He's the most consistent guy on the field, and you've seen it every time he goes out the last two years. He's always ready to go, and he knows what he's doing. He commands the field, and controls it very well."
But when it came down to the end, the other two stepped back and congratulated Hall for winning the job. They didn't give up; they just took the moment with class.
"Those two guys, from my experience with them, are high-character, competitive guys," Roderick said. "They understand this game; it's not easy to go through 12 games with one quarterback. It doesn't happen very often. And these guys are all young — we're talking about two sophomores and a freshman."
BYU won't run reckless with its quarterback, but the signal caller will be required to run on occasion. The days of the stand-up, drop-back passer are likely over in most of the country, and Roderick said he won't recruit anything but a dual-threat quarterback — or the potential to be one — to run his system.
All three quarterbacks are classified as such, meaning all three could step in and run the offense at any time. That's by design, even if coaches won't expressly put Hall on a short hook.
"We want to protect our quarterbacks as much as we can," Roderick said. "But everybody knows that our quarterbacks are going to run; that's part of the game.
"I don't consider (Hall) an injury-prone guy, but I do have a system where I can give reps to both backup quarterbacks during the season."
No sane person roots for injuries, especially to the starting quarterback.
But that doesn't mean Romney and Conover won't be ready, just in case.
×
Related Stories