SALT LAKE CITY — As members of Salt Lake City Public Lands packed up supplies from an event on monarch butterflies at Fairmont Park Tuesday, they were excited by who decided to drop by.
A male monarch butterfly landed in a section of plants just 30 feet from where Rachel Taylor, a research associate for the Southwest Monarch Study, had concluded a presentation on the species. It may have seemed ridiculous that a group would be excited to see a monarch butterfly at a public park 30 or 40 years ago, but the status of the monarch butterfly has significantly changed in just that period of time.
"The monarchs are in such serious decline since the 1980s when they started tracking the numbers," Taylor said.
The decline of the monarch butterfly
Xerces Society, an environmental nonprofit that conducts annual counts of monarch butterflies, reported in January that the monarch butterfly populations in the West continue to drop off at alarming rates. They recorded just 1,914 butterflies among 246 survey sites across California and Northern Baja, which is a 99.9% decline from populations as recently as the 1980s.
The society's estimate was based on observations made around Thanksgiving 2020 in a process Xerces has sponsored since 1997. The number of sites recorded has more than doubled since that first Thanksgiving count, but the number of butterflies dropped from over 1 million to less than 2,000 over the span of 23 years.
Taylor explains that the Rocky Mountains divide up monarch butterfly populations and the West's count is usually much smaller than counts east of the mountain range. Still, that West population has fallen from over 4.5 million in the 1980s to less than 2,000 by the start of 2021. The population of monarch butterflies has also dropped 80% in the eastern U.S. over the past two decades, according to the Center for Biological Diversity.
The monarch butterfly's decline has made it a candidate to be protected by the Endangered Species Act, Taylor added.
"We're at risk," she said. "You may wonder what is the importance of this particular species and really I consider it our conservation ambassador. ... It kind of tells you what's going on with the (environment) as well. Think of it as the canary of the modern-day coal mine."
Experts point to plenty of causes for this dramatic downfall. They pinpoint pesticides and herbicides as big contributors to the demise of pollinators like the monarch butterfly. But they say the loss of native habitats and plant species is another key factor.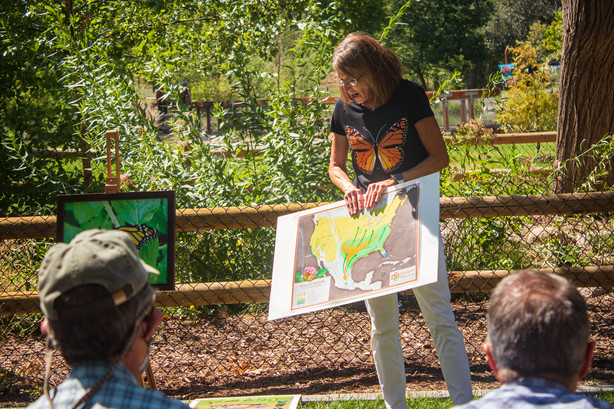 Milkweed and other native plants play a vital role in the reproduction and development of monarch butterflies. For example, caterpillars can only eat milkweed before they turned into butterflies. Utah is home to more than a dozen native milkweed species.
In Utah, most of the habitat decline is tied to development along the Wasatch Front and other growing areas in the state. According to Blake Wellard, a trails and natural lands botanist for Salt Lake City Public Lands, there are about a half-dozen remaining sites along the Wasatch Front where people can find 100 or more native plant species in one location.
Places that used to be big, open spaces filled with milkweed have been replaced with buildings, pavement and turfgrass.
"And so these guys have no habitat or it's so fragmented that they can't get to it," Taylor explained.
Turning a park into a haven for the monarch butterfly
It wasn't that long ago that Fairmont Park was about the same. It featured grass, a pond and some trees. There wasn't much that made it stand out and it didn't provide much ecological benefit, said Libby Snethen, trails and natural lands program assistant for Salt Lake City Public Lands.
That all changed in 2017 when Taylor approached city leaders about planting milkweed in the park. Over the past few years, Salt Lake City grounds crews have planted all sorts of native plants that existed in Utah before pioneer settlers arrived in the Salt Lake Valley, Wasatch Front and northern Utah, among other changes to the park.
"The pond was here but it was concrete-lined, so they decided they would daylight the springs on both sides and redo the pond to make it more wildlife-friendly and then they turned it into a community fishing space," Wellard said.
Four years later, the park is now home to more than 5,000 individual plants and over 70 native plant species, which makes it one of the city's most biodiverse locations, according to Snethen. They've seen all sorts of pollinators come during that span of time.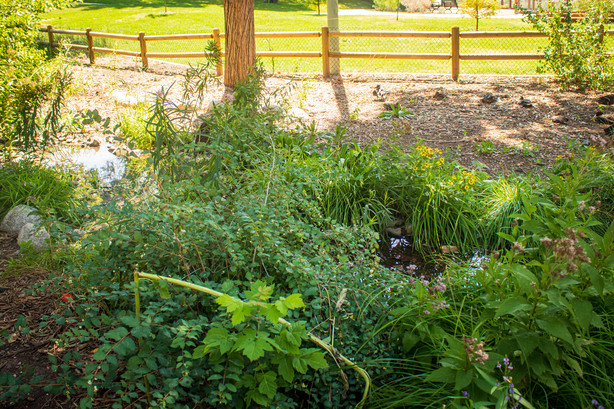 It's even become an official monarch habitat site. About two years ago, experts finally spotted what they hoped would happen with the park transformation. A male monarch became the habitat's first resident.
"He would mate with females, they would lay their eggs here and (those would) hatch," Snethen said. "It was just a whole network of monarch butterflies that wouldn't have been possible without (the project)."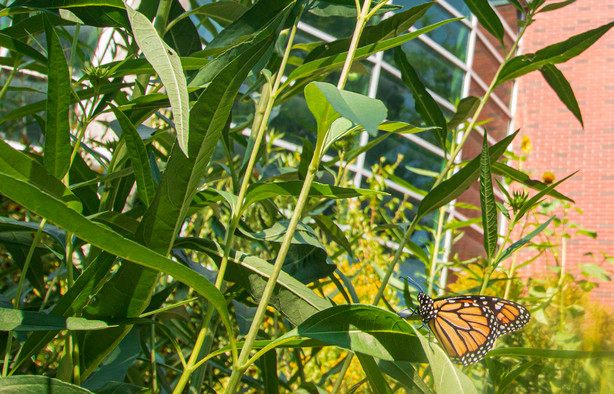 The male butterfly spotted in the habitat Tuesday — the one that captured the attention of butterfly enthusiasts and park officials — had been seen in the area already this summer. It marks three straight years monarch butterflies have made the habitat their home.
Biodiversity is something that's now in nearly all of the future Salt Lake City Public Lands plans, according to Snethen. For instance, the recent Three Creeks Confluence park includes plants native to the area.
They also plan to post signage at Fairmont Park to better educate about what type of plant someone is looking at and why it's important. While the plants help pollinators in the park, the other goal is that it helps inspire people who visit to be inspired to replicate similar efforts at home.
"I'm hoping that people can see that native plants can be very beautiful, they can be very floriferous," Wellard said. "I think native plants are often associated with sagebrush or junipers or some grasses you see up in the foothills, but native plants are so much more. And the plant communities (people) see before, they aren't what they used to be so I'm hoping they can see this and get some ideas and inspiration for things to take to their own yard spaces."
How you can do the same at home
Taylor said she often encounters people who believe hatching butterflies on their own will help the butterfly population but she encourages a much simpler route: just plant native species.
She herself started by growing milkweed at home back when she first got involved in trying to help monarch butterflies. She grew it for friends and neighbors, for Salt Lake City and Salt Lake County entities and anyone else who would take it. She just wanted people to plant milkweed for the butterflies.
Wellard recommends people plant Asclepias incarnata, which is often referred to as swamp milkweed. Don't let the name fool you. It's not a weed and doesn't need to be in a swamp.
"It can do just fine with the average amount of irrigation that Utah homeowners are used to providing some of the other flowering species in their space," he said.
---
"We need wild landscapes like this to support pollinators and monarchs ... It is a lot more beneficial than just grasses and things like that."
–Libby Snethen, trails and natural lands program assistant for Salt Lake City Public Lands
---
You don't need to plant just milkweed either. He recommends sunflowers, Rocky Mountain bee plant and any other native plant that can provide nectar or resources for pollinators. Utah Pollinator Pursuit, a joint venture between the Utah Department of Natural Resources, Wild Utah Project and Utah State University, provides a list of native plants and other ways to help pollinators.
At the same time, Wellard also recommends alternatives to pesticides. That's because the sprays may be used to target one particular bug but end up impacting all the others, including monarch butterflies and bees.
The same goes for herbicides. Wellard said people should research the weed they are trying to remove and see if it can be removed using anything other than herbicides first.
Snethen said she understands why people tend to back away from planting native species because it can end up looking a bit "messy" compared to the non-native species homeowners are used to planting. However with monarch butterflies and other pollinators in distress, she urges people to embrace it.
"We need wild landscapes like this to support pollinators and monarchs," she said. "It is a lot more beneficial than just grasses and things like that."
×
Photos
Related Stories