Estimated read time: 6-7 minutes
LOGAN — After playing at Utah from 2016 to 2019, running back Devonta'e Henry-Cole decided he needed a change.
The Florida native, who rushed for a total of 469 rushing yards and averaged 5.2 yards per carry for the Utes, had shown flashes of greatness but was still receiving significantly fewer carries than the elite rushers in front of him.
So he transferred to BYU, then to Utah State for the 2020 season with hopes of leading the rushing attack at a competitive Group of Five program in his final year of college eligibility.
Things didn't quite go as planned.
In a season that was shortened due to COVID-19 and was headlined by losing and coaching changes, the Utah State offense was ravaged by ineptitude. It averaged just 265.8 total yards of offense per game and 140 rushing yards per game.
Henry-Cole himself never quite got it going. Averaging 8.2 carries in five games played, he finished the season with 41 rushes for 180 yards – good for 4.4 yards per carry.
"Last year was a big hiccup," Henry-Cole admitted. "We had COVID and coaches getting fired and all that stuff. It didn't feel like I was playing D1 football anymore."
The good news is the six-year rusher's college tenure isn't over yet.
Due to nobody losing a year of eligibility by playing last season, per NCAA rules, Henry-Cole, who often goes by the nickname "DHC," gets another chance to make a major impact in an Aggies uniform in 2020.
And in his final season, he thinks he still has something to prove.
"I just feel like I haven't had the chance to show everyone what I can do," Henry-Cole said. "This year my mindset is just focusing on just football as my last year. So you know, I have to give it my all."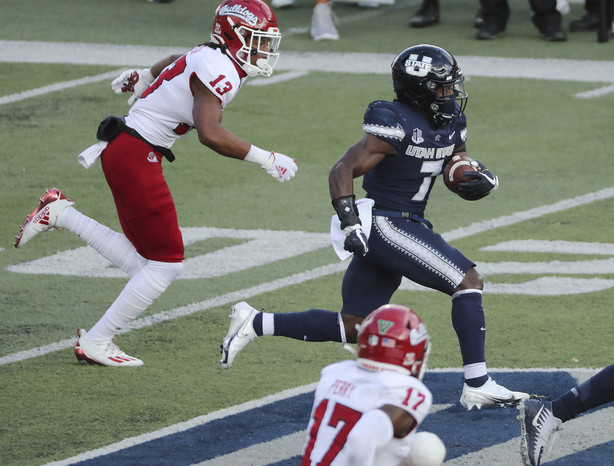 Henry-Cole recognizes that putting in his best effort won't be enough. It will take a collective team effort to get him where he wants to go.
He's surrounded by a new coaching staff that has brought things back to "D1 caliber" and a talented running back room that's anxious to get the Aggies back in the win column.
The leader of the room is new running backs coach Chuckie Keeton, the former standout Aggies quarterback that left Matt Wells' staff at Texas Tech to join Blake Anderson in Logan. Described by Henry-Cole as "The GOAT," Keeton is poised to help the running back room get what they want out of the upcoming season.
"The big thing that I tell those guys is, for this entire team, we're all unproven until proven otherwise," Keeton said. "And so for me, it's all about growth."
Much of the growth was done in the offseason training with the strength staff and with personal workouts over the summer. Keeton pleaded with each guy to "be a little bit better."
Other focuses of the improvement were more technical. Keeton had each running back self-evaluate their individual reps from spring camp. And during fall camp, which started last week, every player has an aspect of their game that Keeton assigned them to focus on.
Every player fine-tuning their individual skills before the season starts will be crucial.
Because with the Aggies focused on running a fast-paced offense, which, according to offensive coordinator Anthony Tucker, will be a balanced passing and rushing attack, several different running backs will have to play. And with a variety of roles at the running back position beyond running the ball, such as pass protection and route running, each guy will "have to find their niche" in order to fit into the offense, according to Keeton.
"It's gonna be a fast offense," Henry-Cole said. "We're gonna have a rotation so I'm not really worried about depth or anything. I know I'm going to get my playing time. But we have different types of running backs, you know, different types of run style and everything. So that's going to be good for the offense."
How things shape out remains to be seen, but what we know is there are several capable playmakers in the backfield that will be a part of the rotation.
Standing out thus far in fall camp is 5-foot-10, 190-pound sophomore John Gentry. The Houston, Texas, native, who had just seven carries his freshman year, has reportedly been taking the majority of reps with the "first team" in practice and has performed well. In Tuesday's practice, he had several runs out of the backfield in 7 on 7 and 11 on 11 while catching two passes out of the backfield.
Calvin Tyler Jr., a 5-foot-8, 210-pound junior transfer from Oregon State, played in 14 games and rushed for 124 yards on 30 carries for the Beavers. Similar to Henry-Cole, he brings speed and Pac-12 experience to the Aggies roster. He reportedly got banged up in practice on Tuesday but the significance of his injury is unknown.
Henry-Cole, who is 5-foot-8 and 195 pounds, has split second- and third-team reps in practice. With his versatility and leadership, he will have a pivotal role. Tucker has mentioned him as a guy he feels "really good about."
And then 5-foot-8, 200-pound sophomore running back Eleyon Noa, who had 81 rushing yards on 31 carries last season, has had a good camp early on. On Monday, Noa broke out for a "would be" touchdown run in the 11 on 11 stretch of practice. The USU offense has reportedly been practicing "read options," and Noa has found success with that.
Junior Pailate Makakona, the largest running back at 5-foot-10 and 220 pounds, is also in the mix for playing time in the fall. Last season, he rushed for 47 yards on 10 carries.
Saturday's 11 a.m. scrimmage, which will be open to the public, will be an opportunity to see how the running back group has progressed since spring camp and see who stands out physically.
Overall, the running back position appears to be a deep, competitive group, with plenty of speed to match opposing Mountain West defenses.
While there won't be a "feature back" on the team, the rusher that best fits the mold may be Gentry, as he can rush aggressively downfield while proving capable of catching passes out of the backfield.
That's not to underestimate the abilities of everyone else. Noa has shown his worth in play-action while also rushing up the middle. Henry-Cole has proven ability to cut through the tackles and can be lethal getting to the perimeter and finding open space. The heaviest back on the team, Makakona, can be effective in short-yardage situations powering through tackles.
"Everyone has to figure out how they can contribute to the team," said Keeton. "From my man Cooper Jones who's a walk-on all the way up to my man DHC who's now in his fifth or sixth year in college. ... I think that they can produce, it's just a matter of time and it's a matter of their will and pushing themselves to do it."
For Henry-Cole, someone who has battled for a role his entire college career, this is a mindset he aligns himself with. He's aware of the surrounding depth at running back and recognizes he won't get all the carries, but that doesn't matter. He wants to be a part of turning Utah State back to a winning program in his final season.
"You just have to always have the mindset that we're dogs," he said. "We're just going to keep fighting until we can flip it around."
×