AT THE GAMES — Eddy Alvarez shed tears Thursday night when the United States' baseball team beat South Korea 7-2, and he likely felt some heartbreak Saturday when the same U.S. team lost 2-0 to Japan in the gold medal game of the Tokyo Olympics.
Through triumph, tears and pangs of disappointment, the former Salt Lake Community College middle infielder accomplished one of the rarest feats in all of sports.
With his parents watching from Universal Orlando Resort and storm clouds threatening over Yokohama Baseball Stadium, Alvarez became the sixth-ever athlete, and only the third American all-time, to win an Olympic medal in both the Summer and Winter Games by securing silver against the host nation.
"Yeah, I got emotional because it was a lot of sacrifice," Alvarez told NBC after the win over South Korea, while also joking that speedskating and baseball have little in common but requiring a series of left turns. "I still can't believe it. I know the job's not done yet because at the end of the day, one of the only reasons why I came out here is for redemption, to win a gold medal."
In the final against Japan, Alvarez went 1-for-4 for Team USA, which posted six hits in its second loss to Japan at the tournament. Nicknamed "Skates" by his USA baseball teammates, the Miami native had a base hit with two outs in the third inning for the United States — one of just three hits scattered by Japanese starter Masato Morishita to go along with five strikeouts in five innings. Four pitchers combined to give up three hits and a walk with three strikeouts in relief for Japan.
SILVER MEDALISTS! 🥈@USABaseball | #TokyoOlympicspic.twitter.com/G6RjUxVpui

— #TokyoOlympics (@NBCOlympics) August 7, 2021
Learning to accept that silver medal after what he initially observed to be a disappointing Winter Olympics helped Alvarez appreciate the medal opportunity in baseball — despite the final-game result.
"Feels like déjà vu," he told the Associated Press. "It's just as heavy as the other one. Same color, little different design, but it's still an incredible journey, an incredible experience.
"It's hard to describe it, because it's like bittersweet, but at the same time, it's an unbelievable feeling," he added.
Japan's Munetaka Murakami opened the scoring with a solo shot over the centerfield wall in the bottom of the third inning, giving the hosts all the scoring they would need.
One of the better fielders on Team USA with just one error in the tournament, Alvarez also had two putouts and an assist, including a remarkable sweeping tag to catch Seiya Suzuki stealing on a called third strike in the sixth inning.
Nick Allen went 3-for-4 with a double for Team USA, including a base hit with two outs in the top of the ninth. But Ryoji Kuribayashi induced a ground ball to Ryosuke Kikuchi for the final out to lift Japan to its first gold medal in program history.
Starting pitcher Nick Martinez allowed just one run on five hits with seven strikeouts in six innings of play.
The Dominican Republic clinched bronze with a 10-6 win over South Korea, the country's first-ever team medal in the final guaranteed Olympics for baseball. The sport will not be played in Paris 2024 as the International Olympic Committee adds new events like breakdancing to the program.
The Triple-A infielder in the Miami Marlins' organization won silver in the 2014 Winter Olympics in Sochi, narrowly losing to Russia as part of the four-man short track team. While training with USA Speedskating, Alvarez was a regular at the Olympic Oval in Kearns and lived and trained in the Salt Lake Valley.
Alvarez is the first U.S. double-medalist in Winter-Summer Olympics history since track and field star Lauryn Williams followed up on medals in 2004 and 2012 with a silver medal in the two-woman bobsled in 2014.
Eddie Egan also won a pair of medals, first in boxing in 1920 and then a dozen years later in bobsled in 1932.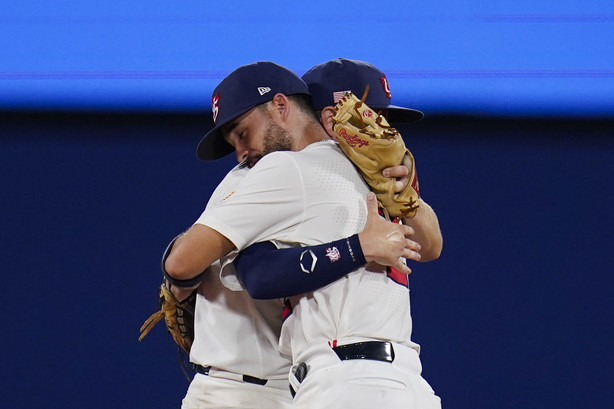 In a nation of premier athletes, the fact that only three have accomplished the impressive feat is astounding. Equally amazing, Alvarez is the first to move first from the Winter Olympics to the Summer Games and earn a medal.
The 31-year-old infielder is currently with the Marlins' Triple-A affiliate Jacksonville Jumbo Shrimp after making his Major League debut last summer for his hometown club that was decimated by the coronavirus. Alvarez hit .189 with no RBI in 12 games with the Marlins.
The son of Cuban immigrants became the first baseball player to carry the U.S. flag during the Opening Ceremonies when he joined basketball star Sue Bird as co-flagbearers in Tokyo.
"My family came over to this country from Cuba in search of opportunity," Alvarez told NBC's TODAY Show after hoisting Old Glory through the ceremonies. "If it wasn't for them doing that, I wouldn't be in the position I am now, the privilege I had to hold the flag and lead the USA in the opening ceremonies, it's been such a whirlwind of emotions."
Alvarez joins a list of former and current Utah Olympians to win a medal that includes former Cottonwood High swimmer Rhyan White, who won silver as part of the U.S. women's 4x100 medley relay squad; former Utah gymnast MyKayla Skinner, a late replacement who won silver on the vault; sport climber Nathaniel Coleman, the Murray native who won silver in the emerging sport's debut Olympics; former Weber State star Damian Lillard, who won gold with Team USA basketball; and Utah Jazz center Rudy Gobert, who won silver with France.
— Sean Walker, KSL.com
Lillard, USA top Gobert, France in men's basketball gold-medal game
Rudy Gobert sat with his elbows on his knees as he stared at the ground. It was easy to see the pain in the Utah Jazz center's eyes as the finality of the moment settled in. There would be no gold medal for him or his country.
Gobert was France's best player in the 87-82 gold medal game loss to Team USA, finishing with 16 points and eight rebounds.
He was his typical dominant self on defense, and he caused headaches for the Americans on offense, too. He used his size to seal off smaller U.S. defenders for easy buckets and drew foul after foul. France actually outscored the heavily-favored Team USA by 3 points in the 30 minutes Gobert was in the game.
That begs the question: Did he really need to rest for 25% of a gold medal game? There was no doubt there was some curious coaching decisions, but that's not the only reason this game will haunt Gobert.
He dominated inside but was just 6 of 13 from the free-throw line, and he started the fourth quarter with two consecutive turnovers. Those ended up weighing large at the end.
"It's just an amazing experience," Gobert told reporters after the game. "Whether it's Team USA, whether it's us, there's nothing like playing for your country.
"I hope we were able to inspire people, inspire kids, and I think it's great for the game, in general."
The silver medal tied the best finish for a France team, and is Gobert's first ever Olympic medal. France finished sixth in the 2016 Olympics in Rio in his first Olympic Games.
Former Weber State standout Damian Lillard had 11 points and three assists to help Team USA to gold. He did almost have his own costly mistake, though. Lillard missed two free throws in the closing minute of the game that gave the French some hope late, but Team USA was able to hold on.
"It was a great journey; it was fun. It was great to get to know guys as teammates," said Lillard, who became the first Weber State gold medalist in athletic department history. "The ups and downs of it, still pushing the guys to our ultimate goal, it was great."
— Ryan Miller, KSL.com
🥉 HISTORY MADE 🥉

The Boomers have done it- Australia have secured their first ever men's basketball Olympic medal!

The bronze is coming home! 💚💛#Tokyo2020pic.twitter.com/ngxiYRwHdk

— Basketball Australia (@BasketballAus) August 7, 2021
Ingles, Boomers break through with bronze medal
After years of heartbreak, Patty Mills poured in 42 points and nine assists on 48% shooting to help Australia win its first-ever Olympic medal with a 107-93 win over Slovenia in the bronze medal game.
Playing in his fourth Olympics, Utah Jazz wing Joe Ingles added 16 points, nine rebounds and four assists for the Boomers, including four of Australia's 14 3-pointers.
Former Utah Jazz guard Dante Exum added 12 points and two assists for Australia.
NBA star Luka Doncic had 22 points, eight rebounds and seven assists to lead Slovenia, but also had seven of the team's 23 turnovers in the loss.
— Sean Walker, KSL.com
×
Photos
Related Stories