AT THE GAMES — On the 15th day of the Tokyo Olympics, a Utahn surged onto the podium.
It was the first-ever Olympiad for Murray High alumnus Nathaniel Coleman. But it was also the first-ever Olympiad for his sport, that of the recently induced sport program.
Coleman finished second in the inaugural rendition of the sport, claiming a silver medal after a personal-best time of 6.21 seconds on the speed run, a top-five finish in bouldering, and a fifth-place run at lead at the Aomi Urban Sports Park while his family watched from their Salt Lake suburb home in the early hours of Thursday morning.
Fellow American Colin Duffy, a 17-year-old from Colorado, finished seventh in sport climbing's Olympic debut.
"This is a goal that, I couldn't have even really acknowledged it. So to have achieved it, it's insane," Coleman told reporters after receiving his medal.
That his best discipline came in speed is perhaps the biggest surprise, after finishing in 10th place during Tuesday's qualifying round. The 24-year-old who studied at the University of Utah while training in Utah's canyon country had to rally through the other two disciplines just to make the eight-man final, which he did largely with a fifth-place score of 39 in lead.
On Thursday, it all came together for Coleman, who has competed internationally since he was a teenager. He raced up the 50-foot wall with excitement and a new energy to capture the best run of his life — twice — then added two of the three tops in bouldering, normally his strongest discipline.
In the lead competition, climbers ascend a 50-foot wall while clipping in their safety rope as they go. Coleman finished fifth, trailing just behind Austria's Jakob Schubert in a route that secured the European a bronze medal.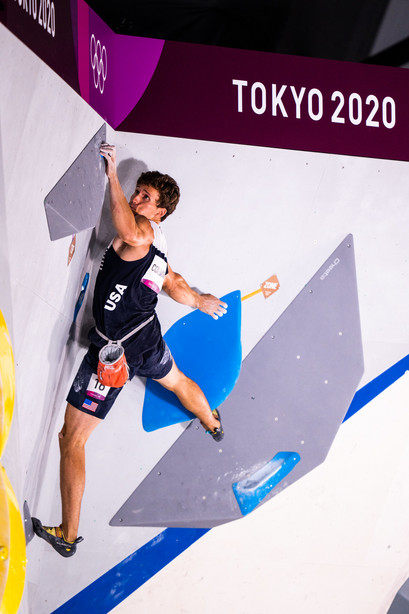 It didn't matter; with the run, Coleman had a hand on a silver medal, and with it, Olympic history. Spanish teenager Alberto Gines Lopez won the gold medal, and Coleman, who first started climbing at 9 years old and overcame a fear of heights to become one of the top competitive climbers in the United States, is more than happy with the silver.
"It's an honor," Coleman said. "I'm really excited for the future of climbing in the United States and the future of climbing in the Olympics."
Men's basketball: Damian Lillard and Rudy Gobert will meet for gold
Midway through the second quarter, Jazz forward Joe Ingles' long-time dream of a gold medal looked to be growing more realistic.
For more than a decade, a core group of players has elevated Australia to among the best in the world; and in the semifinals of the Olympics they were sure playing like it. The Boomers had taken a 15-point lead over the United States, clearly outplaying the team full of NBA All-Stars.
The dream, though, quickly faded.
Kevin Durant had 23 points and eight rebounds to lead a 48-14 run as the Americans beat Australia 97-78 to advance to the gold medal game.
Weber State alum Damian Lillard had a quiet night for Team USA, scoring just 5 points on 2-for-4 shooting; he missed his only two 3-point attempts.
Ingles had 9 points, two rebounds and two assists for Australia.
The goal was obviously to be named Olympic champions, but the Boomers still have a chance to accomplish a first for their country: a men's basketball Olympic medal. The best Australia has ever finished in an Olympic games is fourth.
Lillard, though, gets a crack at gold.
Lillard and Team USA will play in the gold medal game Saturday at 8:30 p.m. MDT. Ingles and Australia will play for bronze Saturday at 5 a.m. MDT.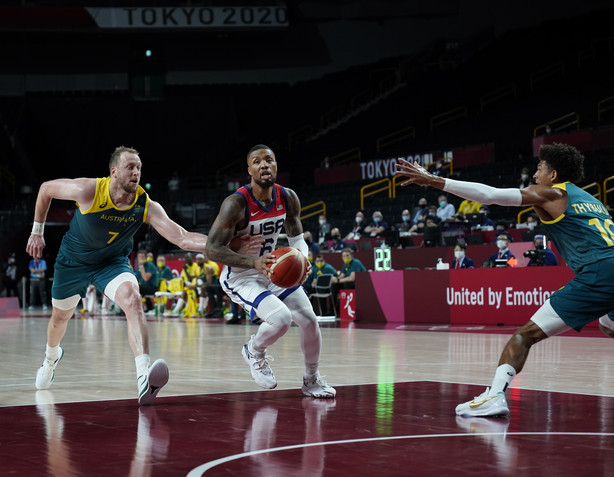 Men's basketball: France 90, Slovenia 89
The French National Team had a strange change of roles down the stretch in its semifinal win over Luka Doncic and Slovenia Thursday.
Nicolas Batum made a game-saving block in the final seconds. It was a block, though, that would have been meaningless without a Rudy Gobert pass. Wait, what?
With the clock ticking below a minute to play and France nursing a 2-point lead, Gobert caught a bounce pass as he rolled to hoop. Two defenders converged to the paint, so as Gobert slipped through them, he turned and fired a pass right into the shooting pocket of Timothe-Luwawu Cabarrot, who buried a 3.
Timothe-Luwawu Cabarrot hits the clutch three to give France a 5 point lead! pic.twitter.com/lT1vo46h2A

— hoops bot (@hoops_bot) August 5, 2021
Considering the moment, it was arguably the best pass of Gobert's career. That Cabarrot triple marked the last points from France as they just held off Slovenia to get to the gold medal game.
Gobert finished with 9 points, 16 rebounds, three assists and four blocks.
France will be looking to make history on Saturday against the United States, a team it beat in the group stage of the tournament, and win its first-ever Olympic basketball gold medal. The French have finished with a silver medal twice.
Baseball: USA 7, South Korea 2
Former Salt Lake Community College middle infielder Eddy Alvarez scored a run and added two assists in the field as the United States earned a berth in this weekend's gold-medal game against host nation Japan.
With the win, Alvarez became just the third American all-time to clinch medals in both the Summer and Winter Olympics. The former U.S. speedskater and silver medalist in Sochi 2014 switched to baseball after retiring from the short track years ago.
Alvarez went to college at Salt Lake, then signed a minor-league deal with the Chicago White Sox in 2014. In 2019, the Miami native was traded to the Miami Marlins organization, and made his Major League debut with his hometown team in September 2020.
This season, the 31-year-old infielder has been designated to the Marlins' Triple-A affiliate, the Jacksonville Jumbo Shrimp, and he became the first baseball player to carry the U.S. flag during the opening ceremonies when the son of Cuban immigrants joined basketball star Sue Bird in the honor three weeks ago.
Upcoming schedule
All times listed below are in MDT.
Baseball: South Korea vs. United State 4 a.m. — Eddy Alvarez, SLCC alum
×
Photos