SALT LAKE CITY — Salt Lake police on Wednesday released body camera videos from three officers who responded to a report of a suicidal man and ended up exchanging gunfire with him.
Nevada Escholt, 42, was found dead inside his apartment, 1660 W. 800 North, following a nearly four-hour standoff with SWAT team members. A cause of death has not been released.
On Wednesday, police released bodycam videos from the officers who were first to arrive at the scene. The officers were responding to a report that Escholt was suicidal and had a gun, according to police.
In one video, an officer is heard talking to Escholt's estranged wife on the phone. She told the officer that Escholt had been having suicidal thoughts and had overdosed about a month earlier. She said she had talked to Escholt about an hour prior to police arriving and that he had told her he was going to shoot himself because he wanted to see his daughter in heaven.
After the phone call, the officer tried to call Escholt himself, but the call went to voicemail. Three officers then walked to Escholt's apartment and knocked on his door, but no one answered. The officers are seen on video knocking on the door and then moving to the side of the building for safety.
After failing to make contact with Escholt, the three officers moved to the sidewalk and took cover behind a row of trees as they talked about what to do next.
Related:
While one officer was on the phone with Escholt's estranged wife again to update her, the two others kept an eye on his apartment. That's when one officer saw Escholt peeking through his blinds and the front door opening.
"There he is," an officer says.
But almost immediately after the door opens, the officers spotted a gun in his hand.
"Oh (expletive)!" one officer yells as he starts to run for cover. A shot is heard almost simultaneously.
"Shots fired, shots fired!" an officer tells emergency dispatchers. "Subject is firing at us."
Another officer standing behind a tree returned fire. A minute later, a second shot was fired at officers from inside the apartment. According to Salt Lake police, the officer behind the tree could hear the bullet fly past him.
"That first one, I could smell the gunpowder," an officer is heard saying on the video.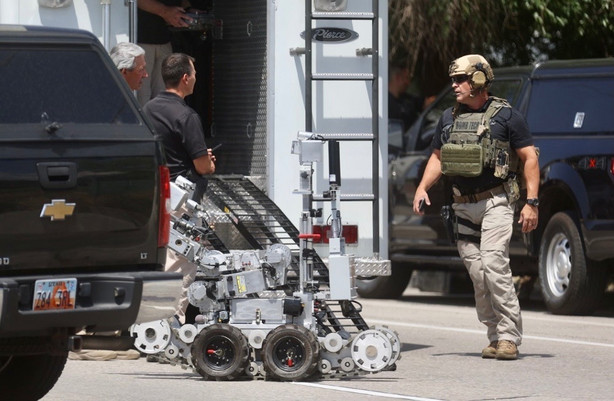 All the officers are able to take cover behind nearby vehicles. They confirm with each other that Escholt fired two rounds and one of the officers fired one round.
A SWAT team was called and surrounded the apartment. After several hours, a robot was sent inside and it found Escholt deceased.
The Salt Lake County District Attorney's Office will now determine whether the officer who fired a shot was justified in using deadly force.
Salt Lake police also noted Wednesday that while the initial 911 call for the incident was received at 11:32 a.m., every available officer was already on another call. Two officers weren't freed up to respond until 11:57 a.m. and arrived at the scene at 12:06 p.m.
×
Related Stories