SALT LAKE CITY — On July 23, Ashley Paulson crossed the finish line of the Deseret News Marathon as the top female finisher in a time of 2:48.20.
As she did, the tears that dripped from Paulson's eyes met with the sweat that had accumulated on the cotton T-shirt that she ran the entire race in — it was the shirt, she said, that kept her moving forward.
According to Paulson, all of this stemmed from a memory she has of watching her dad run and cross the finish line at the 1988 Deseret News Marathon.
"My mom loaded all 11 of us kids in the van, and I remember watching my dad looking so miserable," she said. "I didn't know why anyone would do something that would cause so much pain. But that experience sparked something in me, and I knew that I wanted to run a marathon someday."
Not only has Paulson run a marathon; she's run 91 of them. In fact, she recently ran at the 2020 U.S. Marathon Olympic Trials clocking a 2:40:07 and finishing 44th overall for women. However, she said this year's Deseret News Marathon wasn't even on her schedule. It wasn't until after a talk with her dad a couple of months ago that she started considering competing at the race this year.
"I was talking to my dad about the experience watching him run the marathon in 1988, and he said, 'You know, I still have the shirt from that race.' He told me that I could have the shirt, and I told him that I didn't want to take it but that if he gave it to me, I was going to win the race while wearing it."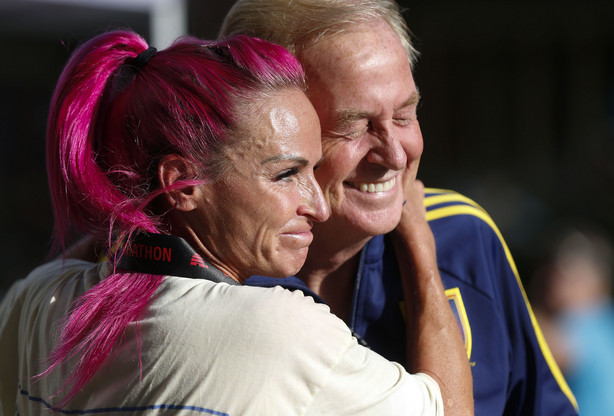 Paulson said that she had always wanted to go for the win at the Deseret News Marathon, but the timing of the race had never been in the cards. But things started to fall into place, and she soon found herself toeing the starting line while adorning an extra-large cotton T-shirt from 1988.
"I've run so many races before, but wearing that shirt and having the goal to win for my dad was a different type of pressure," she said. "I wasn't training for this, and my body wasn't as prepared or rested as it should be for a race, but I kept telling myself that this race wasn't for me, but for my dad."
Although Paulson admits that running in a cotton T-shirt for 26.2 miles isn't something she'd recommend, it was all worth it when she crossed the finish line.
"When I crossed the line and saw my dad, I just melted into his arms," she said. "This was the most emotional and meaningful race I have ever run. I will forever be grateful for the memories I made during this race."
As for the cotton shirt, Paulson says she has nothing but love for it. Still, she says she'll likely keep with more modern, moisture-wicking apparel moving forward.
Speaking of moving forward, Paulson will be competing in Ironman Hamburg in Germany on Aug. 29. To follow more of Ashley Paulson's journey, find her on Instagram @ashkickn.
Related:
---
×
Photos