SALT LAKE CITY — With COVID-19 infection rates soaring in Utah to levels similar to those seen last summer, Salt Lake County leaders said Thursday it's beginning to feel like the same thing is happening all over again.
But with the availability of the vaccines, there's some hope, said Dr. Angela Dunn, the executive director of the Salt Lake County Health Department.
"It is a bit of a Groundhog Day," Dunn said during a press conference, referring to the 1993 movie in which Bill Murray is forced to relive the same day over and over. "But we have really amazing vaccines that are effective."
The Utah Department of Health reported 815 new COVID-19 cases Thursday — the second day in a row the state has reported at over 800 cases. The department also reported one more death and 5,847 vaccinations, as well as 291 current COVID-19 hospitalizations.
This time around, it's a "pandemic of the unvaccinated," Dunn said.
Since January, 97% of new COVID-19 cases in Salt Lake County have been among unvaccinated people, she said. Overall in Utah, people who are unvaccinated are four times more likely to catch the disease than people who are fully vaccinated, she added.
About 51.1% of Utah's total population — or a total of 1,637,910 residents — has received at least a first dose of the vaccine. About 45.5% of the population — a total of 1,459,208 Utahns — is now fully vaccinated. For vaccine-eligible Utahns age 12 and older, 63.2% have received at least a first dose of the vaccine, and 56.3% are fully vaccinated. A total of 2,969,138 vaccine doses have now been administered in Utah.
Over the past week, Salt Lake County has seen a 20% increase in its case rates, with some areas experiencing an even higher increase, Dunn said. On Wednesday, the county alone reported 273 new cases — the highest single-day total since March 2.
Salt Lake County has done an excellent job of making the vaccine accessible to county residents, Dunn added. But there are still some pockets of the county where vaccination rates are only 30%, particularly where there is more potential for the disease to spread and potentially mutate.
She pointed out that because they're not currently eligible for the vaccines, 100% of kids under age 12 are unvaccinated. The best way to protect that population, especially as school starts again this fall, is to make sure other people who are eligible are vaccinated, Dunn said.
"We need to surround our kids with vaccinated adults," she said. "This will keep them safer."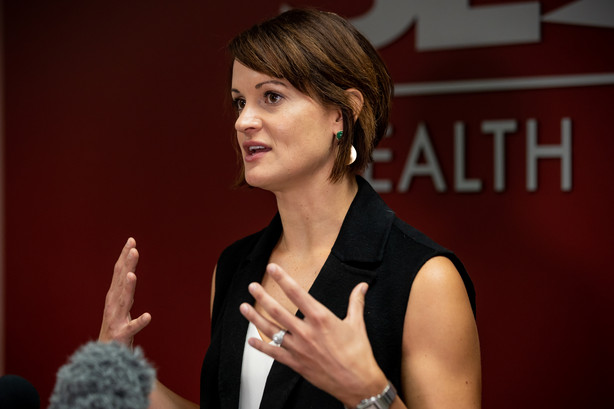 To further protect kids who can't get vaccinated, Dunn recommended that school children wear masks when they return to school this fall. Throughout the last school year masks were required in Utah K-12 schools, and there were virtually no COVID-19 outbreaks in schools, she added.
The Utah Legislature has outlawed any statewide mask mandates in schools for the upcoming school year. But Dunn said state legislators and health officials have been discussing how to proceed through the school year.
She added that her children, who attend private school, will be wearing masks when they return to the classroom this fall. Many private schools in Utah have elected to mandate masks for their students for the coming semester, she said.
Legislators are talking with health officials, including Dunn, Salt Lake County Mayor Jenny Wilson said. County leaders are making sure to keep legislators informed of their plans on how to move forward through the pandemic so they avoid a situation where the Legislature would override a county decision, she added.
Health leaders and public officials now have a better framework to understand COVID-19 and respond to it, Wilson said. But the disease is still present in Salt Lake County communities, so the county needs to keep making progress instead of regressing, she said.
"If we don't take the next step in this community, I fear that some of the things we've been able to do could be reined back," Wilson said. "We all want you to get vaccinated."
Of the 291 COVID-19 patients who are hospitalized, 128 are in intensive care units. About 84% of ICU beds at Utah hospitals are now occupied, including 87% of ICU beds at the state's 16 referral hospitals. Above 85% capacity, ICUs at the referral hospitals are essentially out of staffed beds, according to the health department. About 63% of Utah's non-ICU hospital beds are now occupied.
Dr. Patrick Carroll, the medical director for Intermountain Healthcare's St. George Hospital, said his facility's ICU has been at 90% capacity or higher for almost every day in July.
"We've seen a significant increase in the number of hospitalizations," he said during a Thursday news conference.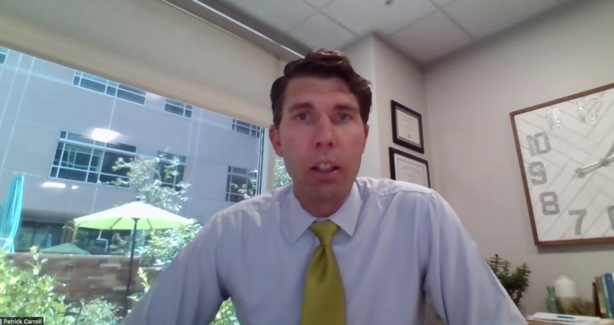 Staff at the hospital have stepped up to care for patients, but they are getting fatigued, Carroll said. The hospital is facing some of the same health care workforce shortage concerns that many hospitals across the state and country are experiencing, he said.
"They'd like a break," Carroll said. "They'd like to be able to exhale."
Carroll said he hopes that the southwest Utah community will step up to show their support of the health care industry, like it did last winter when the state experienced another surge in COVID-19 cases.
"Help us be a part of the solution," he said. "The No. 1 thing that has been effective has been vaccination."
Utah's rolling seven-day average for positive COVID-19 cases now stands at 640 per day, according to the health department. The positive test rate for that time period calculated with the "people over people" method is 13.4%, and the test rate calculated with the "tests over tests" method is 9.2%.
Of the 2,877,532 people who have been tested for COVID-19 in Utah, 14.8% have tested positive for the disease. The number of total tests conducted in Utah since the pandemic began is now 5,245,157, up 8,483 since Wednesday. Of those, 5,079 were tests of people who hadn't previously been tested for the disease.
Thursday's totals give Utah 426,418 total confirmed cases, with 18,249 total hospitalizations and 2,425 total deaths from the disease. The death reported Thursday was a Salt Lake County man who was between the ages of 45 and 64 and was hospitalized when he died.
The health department won't be reporting COVID-19 case counts on Friday due to the Pioneer Day holiday. Since the health department also does not provide COVID-19 case reports on weekends, the next case count report is expected on Monday, July 26.
×
Photos