Estimated read time: 7-8 minutes
This archived news story is available only for your personal, non-commercial use. Information in the story may be outdated or superseded by additional information. Reading or replaying the story in its archived form does not constitute a republication of the story.
PROVO — As position battles go, every team in college football across America has been waging them since March, searching for the next generation of athletes to build on past success or turn around a floundering situation.
BYU is no exception.
But at the once self-described "Quarterback U.," no position battle ever looms larger than the top signal caller. And coming off an 11-1 season, top-15 national ranking and the highest NFL draft pick in program history when quarterback Zach Wilson was selected by the New York Jets, the battle has been magnified.
The competition, which started as a four-man wave that included two freshmen in Jacob Conover and Sol-Jay Maiava-Peters, has already been fierce. Maiava-Peters has bowed out, and Conover joins Jaren Hall and Baylor Romney — the closest thing to incumbents the Cougars have on their roster since Wilson's departure.
At BYU, the quarterback is one of the most popular figures on campus.
This year, they're also best friends.
"That's what's special about BYU and the quarterback room," said Hall, the redshirt sophomore and former three-sport athlete from Maple Mountain. "We're a bunch of mature guys who love the game of football and want to be professional at it. But off the field, we're also professional; we understand that we're brothers and we spend all day together.
"It's a pretty fun dynamic."
All three candidates have similarities and commonalities both on the field, where all three are dual-threat passers, and off it, where all three are returned missionaries for The Church of Jesus Christ of Latter-day Saints. Each of the three remaining candidates has his own unique skill set and his own reasons to be considered the frontrunner.
The Athlete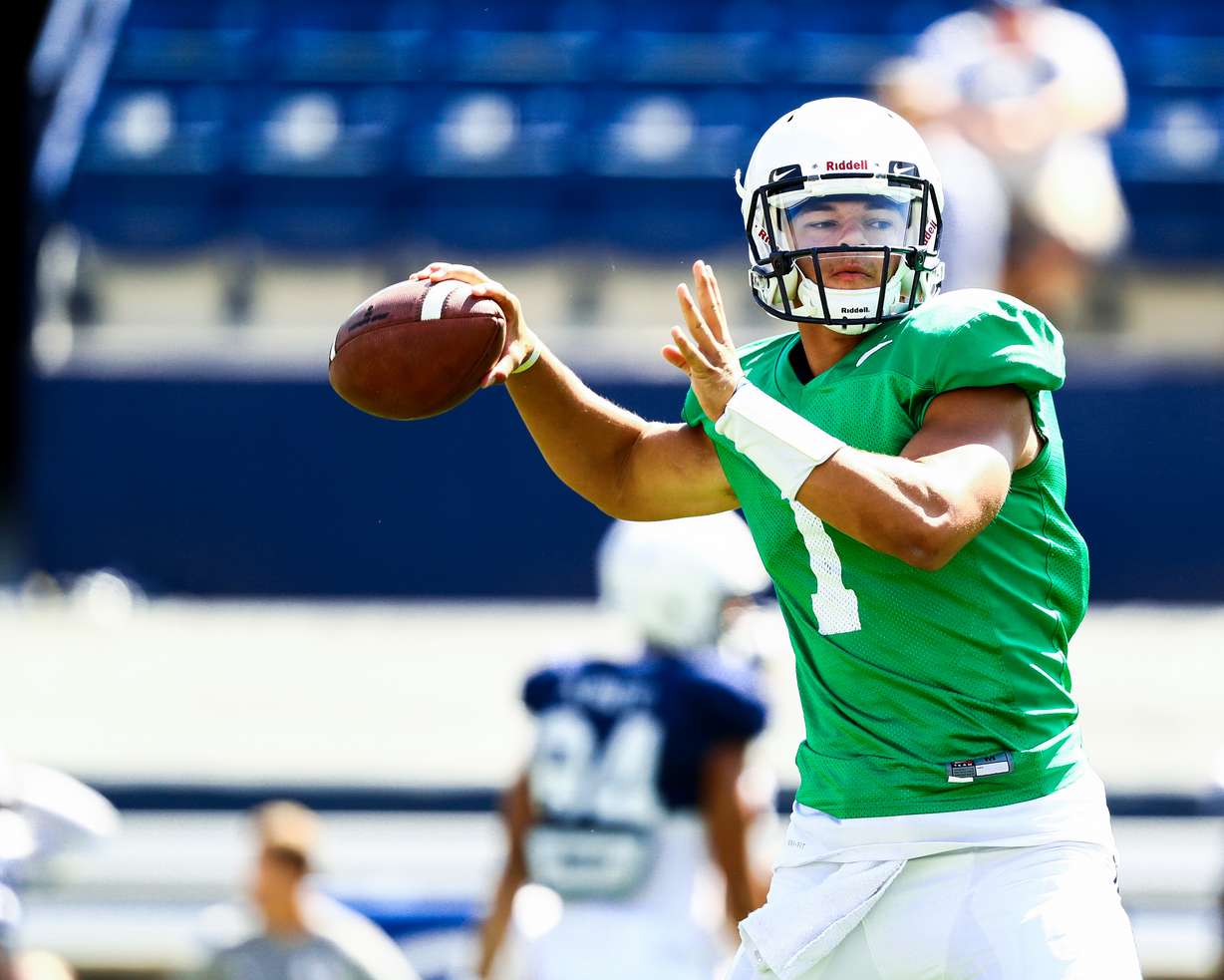 Hall's athleticism makes him a natural fit for the position, with the signal-caller's running and throwing ability on display two years ago against Utah State and South Florida. The first-ever Black starting quarterback in BYU history, Hall was a clear contender with Wilson when healthy, but he missed the entire 2020 season due to a handful of injuries that also curtailed his baseball career in Provo.
The 6-foot-1, 205-pound passer from Spanish Fork has regained his health, and he's also spent time since April working with former BYU quarterback John Beck. It's not a story that will be repeated ad nauseam on ESPN this fall — or will it? — but Hall's health will certainly play a key role in determining the overall fate of the current quarterback competition.
Off the field, Hall is also an example to both Conover and Romney. One of two married quarterbacks on the team, Hall and his wife are expecting the couple's first child this summer — and soon-to-be fatherhood has played a role in the professional way he takes care of his business on the field.
It's similar to Romney, whose wife, Elise, recently graduated after spending four years on the BYU track and field team as a pole vaulter.
"To see how important the game is to them but also how important their family is, it shows that they can have love for the game but also be able to step away from all that, go home, and just be present as the family guy," Conover said. "Both of them were so mature in helping me understand the offense and making me feel like part of the team. They really helped me to become better."
Hall boasts athleticism, leadership and a command of the offense. But because of injuries, he wasn't the one tasked as Wilson's primary backup during the Cougars' breakout 2020 season.
The Veteran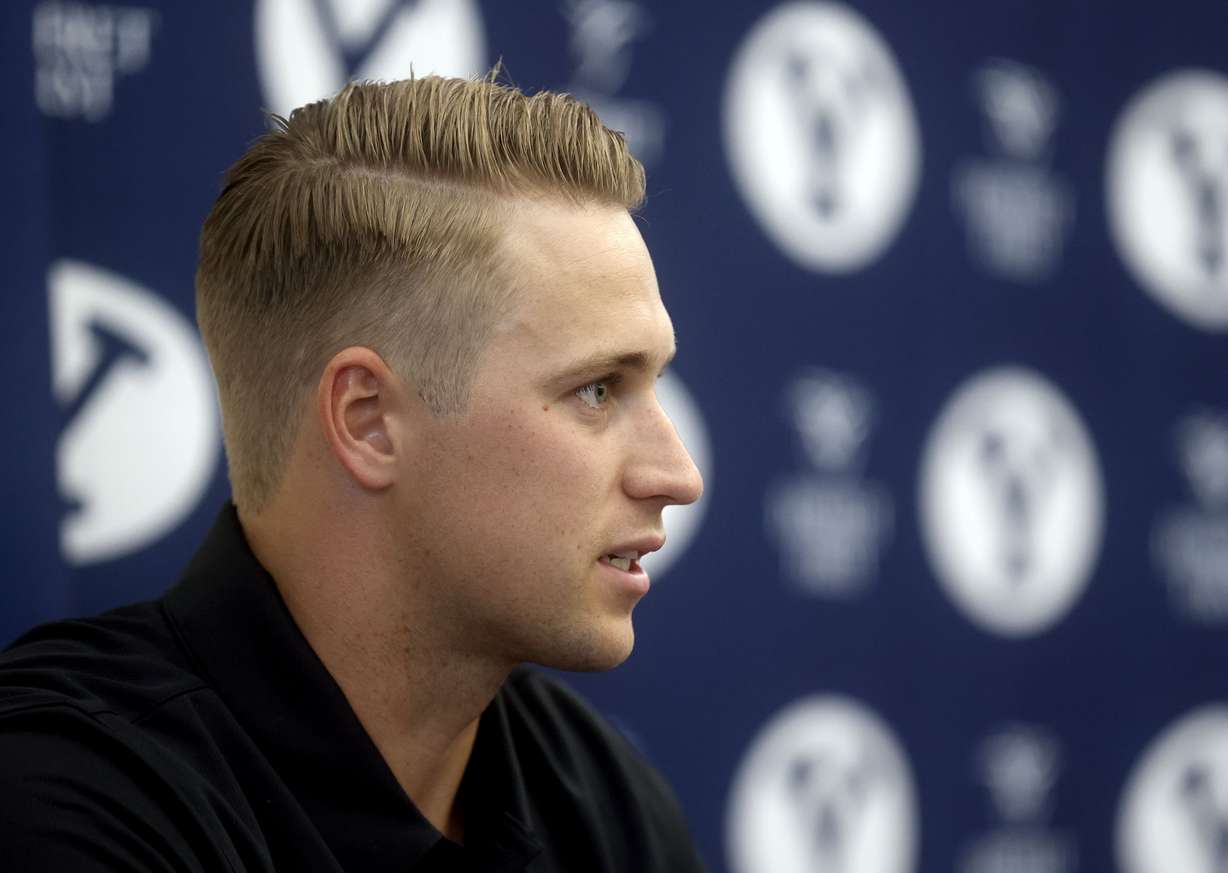 Romney may be the safest bet of the three. Wilson's backup during the 2020 campaign, the 6-foot-1 Romney is 3-0 as a starter — each win from the 2019 season while Wilson and Hall were injured, including a 28-25 win over then-No. 14 Boise State — that inspired his teammates then and now.
The older brother of rising senior wide receiver Gunner Romney has talent, experience and the work ethic of a former walk-on from the Mormon Colonies in Mexico who has found his way in Provo. It's why he's earned the respect and command of the BYU offense — and the feeling is mutual.
"They're explosive, and it doesn't matter who's on the field when we're throwing right now," Romney said of his offensive weapons. "They're all looking really good. It's good for all of the quarterbacks that there are so many weapons on the perimeter this year."
The thinking from those around BYU is that Romney presents the safest choice in the quarterback derby. While the Mexico-born signal-caller who grew up in El Paso, Texas, has roughly the same years in Provo as Hall, he's more than doubled Hall's production simply because he's been able to stay healthy.
Then there's Conover, who probably boasts the highest upside of all three.
The Freshman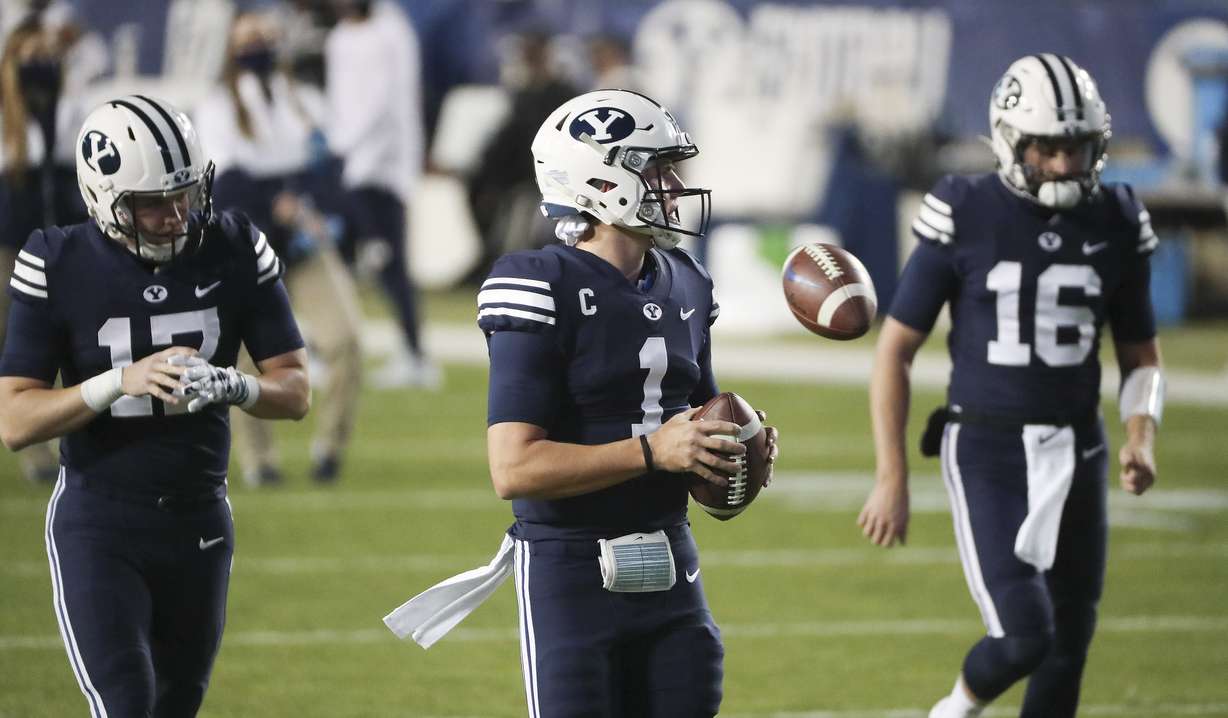 A former four-star recruit from Chandler, Arizona, who turned down Alabama, Arizona State and others to attend BYU prior to serving a two-year mission, Conover threw for more than 10,000 yards with 102 touchdowns in winning three state championships in Arizona's top classification.
He's scarcely taken a regular-season snap in Division I play but earned the respect of his teammates by guiding the scout team as a true freshman a year ago. Some have even joked that Conover may have been the best quarterback the Cougars faced in 2020.
"He torched them, man," Hall said. "I had some chances to go watch him when I was hurt, and he looked good. He definitely got our defense ready. He might've been the best quarterback our defense saw all year. He was giving them all they could handle."
The experience wasn't just good for BYU's defense, either. He also received valuable reps every day against a defense ranked in the top-30 nationally in most major statistical categories.
"I was able not only to get used to the game again," Conover explained, "but also to play every day against our first-team defense — one of the best defenses in college football last year. It was huge for my game.
"It's been a dream to be the guy, and so I'm going to practice like it and train like it until it manifests itself," the freshman added. "I'm super excited to be in this quarterback competition with two great guys like Jaren Hall and Baylor Romney; we all have tight relationships, but once we cross those white lines on the field, it's a competition. I think we're all excited."
It adds up to preparing Conover for his team leading BYU's offense as soon as this year, or after Hall and Romney have phased through the program.
It leaves BYU's coaches of offensive coordinator Aaron Roderick, passing game coordinator Fesi Sitake and the rest of the assistants — presided over by head coach Kalani Sitake — to make a difficult decision. But in this case, the more difficult the better.
"I'll involve the offensive staff in the decision," said Roderick, a former BYU wide receiver. "I've got Fesi, who's been a coordinator before. (Tight ends coach) Steve Clark has been a coordinator before. (Offensive line coach) Darrell Funk has been a coordinator before. We'll all be involved in coming up with who we think the best option is, and then we'll run it by Kalani, who is always chiming in during practice.
"I take this responsibility very seriously. I feel an obligation to our team and our fans to make the best decision I can. And I feel a great obligation to the quarterbacks. I love those guys, they're great guys, and I want to do right by them."
The Cougars have a lot of questions to answer in the post-Wilson era. The quarterback who provides the best answers — either by experience, athleticism, skill or a mixture of everything else — will be the one who gets the job.
"This offensive team has a great foundation of guys who have played and are really experienced," Conover said. "For newcomers like me, it really helps them because there's already a level of expectation that needs to be met. It helps us grow."
×
Photos
Related stories
Most recent BYU Cougars stories