Estimated read time: 9-10 minutes
This archived news story is available only for your personal, non-commercial use. Information in the story may be outdated or superseded by additional information. Reading or replaying the story in its archived form does not constitute a republication of the story.
OREM — Fardaws Aimaq never imagined he'd be in this position when he was growing up in Vancouver, British Columbia.
Truthfully, he barely imagined himself in a starting role on a Division I American university — a feat he barely reached after transferring to Utah Valley from Mercer, where he averaged 5.0 points and 5.9 rebounds in 14.9 minutes off the bench as a freshman in 2018-19.
Just two years later, Aimaq is a legitimate NBA prospect, the nation's leading rebounder and one of just five early entrants from the state of Utah in the NBA draft prior to the league's withdrawal deadline of July 7 to maintain collegiate eligibility, a list that includes draft combine star Neemias Queta of Utah State.
If reading those words feels like a stretch for the UVU center, you're not alone; Aimaq feels the same way.
"If you had asked me my freshman year if I see myself being an NBA guy, I would've said no way," Aimaq told KSL.com after one of his workouts on campus in Orem. "Even during my sit-out year, it wasn't something I was thinking about. I just wanted to be a better basketball player. Then towards the end of that year, and through last year, it started to become a reality. I was putting up big numbers, and the hype was starting to build up. Then teams started to reach out to coach.
"I was somebody who had no idea who I was. Now NBA teams do. It's something that I can't take advantage of. A lot of people would love to be in my shoes right now."
In one eligible season with the Wolverines, Aimaq put up big numbers — marks that weren't just unfathomable before last year at Utah Valley or in the Western Athletic Conference, but in college basketball.
Aimaq's 15.0 average rebounds per game in the 2020-21 season led all players nationally — nearly 2.0 rebounds more than second-place Jayveous McKinnis of Jackson State, who averaged 13.2 boards — and the first Division I player since the 1985-86 season to average 15 rebounds per game across a full season.
The 6-foot-11 Canadian international was named Western Athletic Conference player of the year — in large part because of and also in spite of UVU's 11-11 overall record that included a 9-4 conference record that tied for a WAC regular-season title and ended with a loss to New Mexico State in the Wolverines' first game at the WAC Tournament in Las Vegas.
Even before that, head coach Mark Madsen's phone was ringing incessantly as he spoke with scouts and front-office personnel from a variety of NBA teams.
So when Aimaq came to Madsen and said he wanted to test the NBA draft waters, to see if the 22-year-old prospect really had a future in the association, the second-year UVU coach was quick to help him try to achieve those goals.
"He's a special and unique talent, and NBA front offices have taken note of it," Madsen told KSL.com. "I've had a lot of conversations with NBA teams about Daws, because they're interested in him."
An NBA prospect in Orem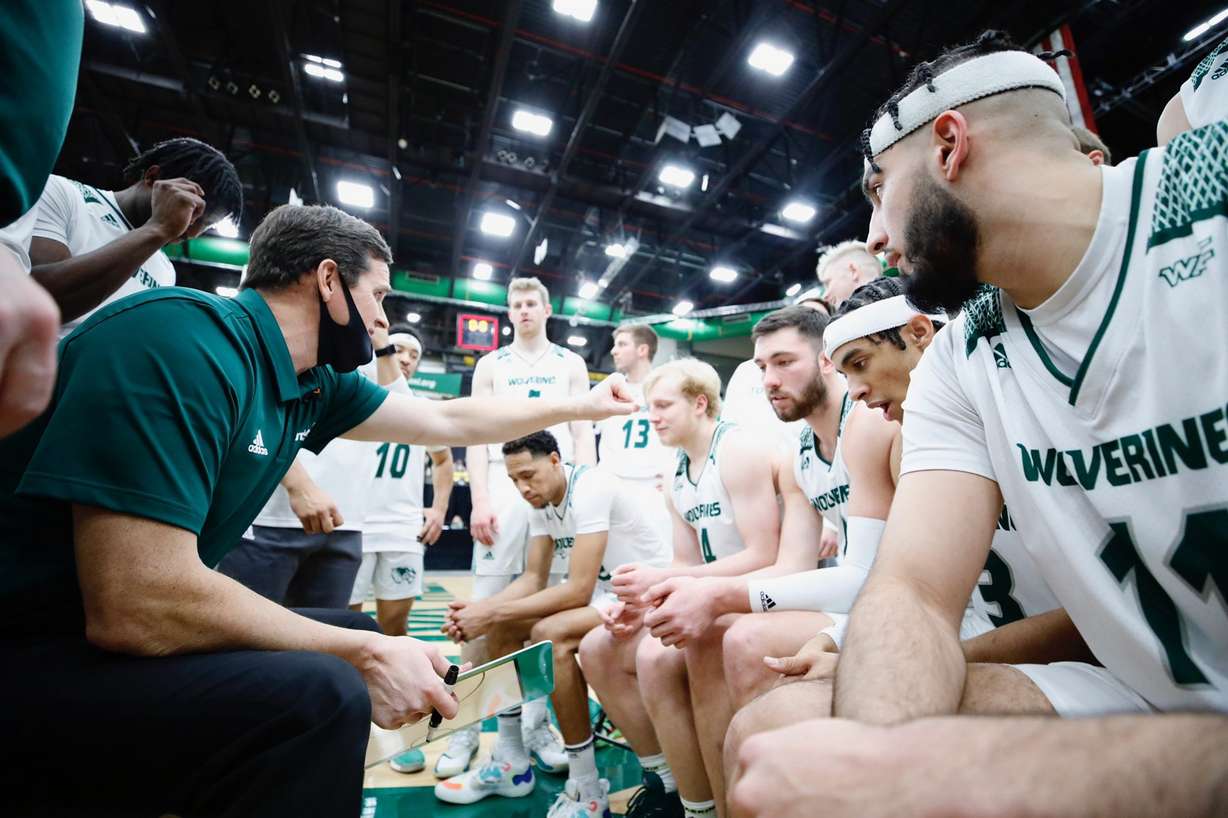 Madsen, the 45-year-old first-time college coach who spent nine years in the NBA and won two championships with the Los Angeles Lakers, understands a thing or two about wanting to play in the league. But the former Stanford star also has his own priorities with the Wolverines, as he's explained to Aimaq.
"I'm doing everything possible to keep him here. But my job is also to help Daws do everything possible to fulfill his dream of going to the NBA," Madsen explained. "In a way, I think the two goals are linked. He sees how much we want him to be successful.
"He knows where my heart is; I want him to stay. But I'll never stop a player from progressing, ever. Fardaws is a young man who is a great decision maker, and he's going to have options."
Born in Vancouver, Aimaq didn't play organized basketball until the eighth grade. He started out in swimming and mixed martial arts, where he earned a black belt.
But the son of Faramarz Aimaq, who was born in Afghanistan and fled to Germany to escape the Soviet-Afghan War before eventually he settled in Canada, found his true love as he kept growing. And growing. And growing.
He could be on the cusp of making it a career, too.
Entering the draft isn't a zero-sum game — for Aimaq or the Wolverines, either. And that's no matter which direction he takes after July 7.
Unlike scoring, rebounding is a skill that translates well from college to the NBA. At least, that's what scouts have already told Aimaq and what Madsen learned during his decade-long pro career.
If Aimaq puts himself in position to be drafted, or even earn a two-way contract with the G League or some more lucrative offer overseas, the dividends are obvious to a program like UVU. The Wolverines pride themselves on development — from Madsen down to recently hired director of player development Ronnie Price, an 13-year NBA journeyman who recently returned to his alma mater in a non-coaching role on Madsen's staff.
"Our whole program is based on development," said UVU assistant coach Todd Phillips, the former national championship-winning coach at Salt Lake Community College. "We know we aren't getting the five-star guys, so how do we compete with those teams? We do that through development. Kind of like Daws; he was a backup his freshman year at Mercer.
"We want guys who put the work in, and then we try to put them in position to blossom. That's how you survive at this level. You've got to get kids who the Pac-12 passed on, and then develop them to be good enough at that level."
Redefining and refining his role
If he stays, the former 265-pound center has already proven himself to get better. Instead of returning home to Canada during the offseason, Aimaq remained in Orem and hit the gym. He lost nearly 25 pounds, cutting down to 240 (depending on the day) while slimming down to 8% body fat from his previous high of 18%.
In short, the UVU center looks more like a toned and slender power forward.
"Fardaws has taken a huge step this spring," said Madsen, whose staff isn't allowed to conduct formal workouts with their players during the current phase of the offseason but can drop in and watch (from a distance) as they scrimmage during the Wolverines' annual basketball camps. "His body composition is very different; his body fat is lower, his strength is up, his quickness is up. There's no question in my mind that Fardaws could play some four now for us, certainly in some situations."
That, too, has attracted NBA interest. Aimaq flew to the east coast over the weekend to work out with several non-playoff teams, and he has invitations lined up to work his way back through the midwest and west coast well before the withdrawal deadline.
He also has plans to attend pro day with his agency on June 26 in Chicago. By the end of the month, plenty of NBA personnel will know the name of Fardaws Aimaq.
We are excited to welcome @FardawsAimaq to the BEYOND family!

Fardaws led the nation in rebounding for Utah Valley St, becoming the first D1 player to top 15 RPG in 30 years. Fardaws won WAC Player of the Year and Defensive POY, leading UVSU to a 1st place finish in conference. pic.twitter.com/GEPjsasvTb

— Beyond Athlete Management (@beyond_am) May 24, 2021
Even if he opts to return to UVU, Aimaq finds benefits in the process.
"Now, you're on everybody's radar," he said. "When they look at guys for next year, your name is on their board. They're sending guys to your games. They know about you, and they can see me play even more."
It's also a benefit for his Utah Valley teammates. Aimaq spent more than a week drilling young campers with his teammates before flying off to a workout with the New York Knicks, his first of at least three or four as teams turn from the end of the season toward the draft. From there, it's off to Chicago for pro day — where all 30 NBA teams are expected to attend, his agent Daniel Poneman told KSL.com.
It's all made possible by signing with an NCAA-certified agency — in this case, Poneman's Beyond Athlete Management, which he co-founded three years ago — to help Aimaq gather as much information and establish as many relationships with NBA personnel as possible.
"The NCAA has done a phenomenal job of making clear criteria for making NCAA-certified agents," Madsen said. "I'm totally at peace, because I know he chose someone who is NCAA certified, and he's in great hands. I think it's helped college basketball a lot.
"If he wants to come back, there won't be any issues, either."
'It's a win-win'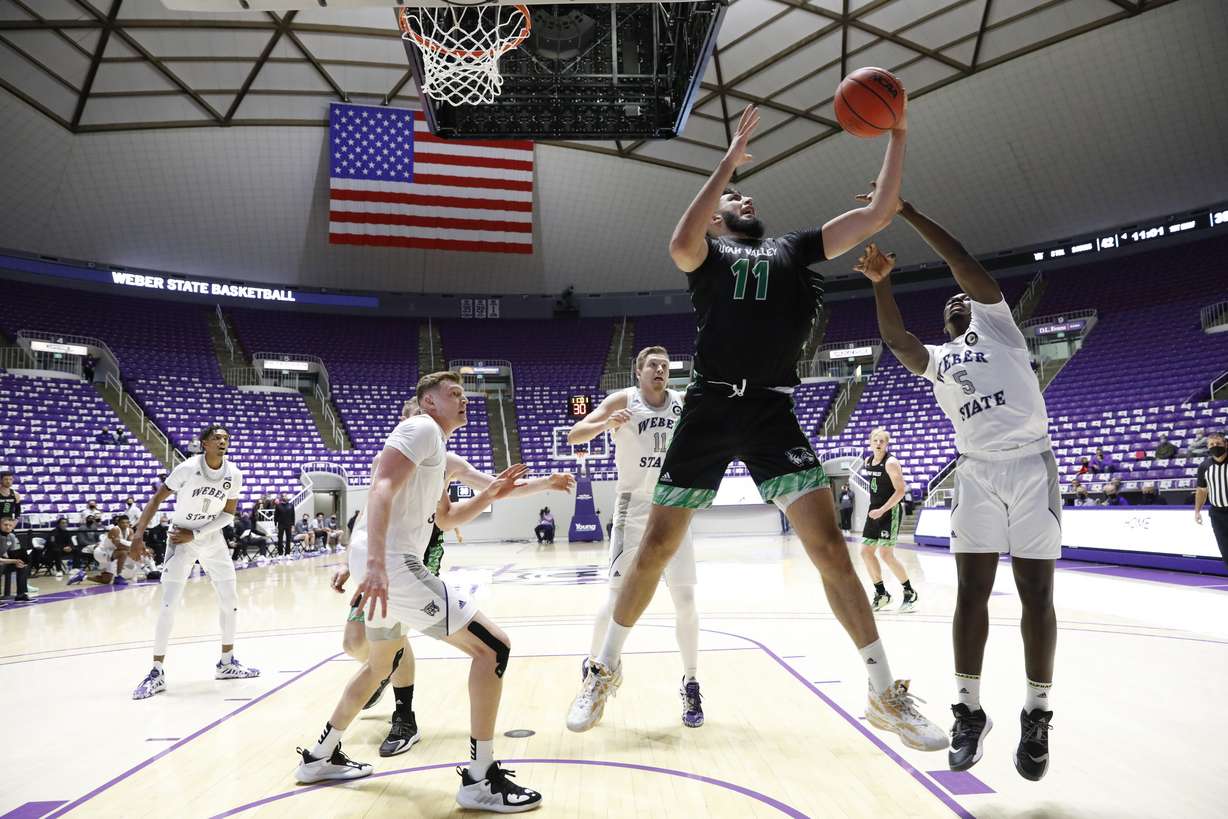 Crouching his nearly 7-foot frame into a chair on campus in Orem, Aimaq takes a swig from a water bottle that appears tiny in the Division I center's hands.
He can't believe how far he's come since those days at Mercer, either, when the transfer just wanted more playing time, found it in the WAC, and embraced the role carved out for him by Madsen and the new coaching staff in Orem. He'd be a fool to pass it up and try for a professional career.
And yet ... there's something alluring about the NBA, about finally playing for a paycheck. Can you blame him for taking it seriously?
There's no downside to Aimaq's venture into the draft. Whether the 6-foot-11 big man opts to stay in the draft, return to the WAC, or opt for overseas ball (where he will count as a Canadian import, not a limited U.S. player contract), the options are open and the ceiling is high.
Thanks to a brief stop from Macon, Georgia, to Orem, Utah.
If Aimaq comes back, he'll be a 22-year-old sophomore, courtesy of a redshirt season while transferring and last year's free season of eligibility granted by the NCAA due to the COVID-19 pandemic.
"At the end of the day, it's a win-win, whichever way this goes," Aimaq said. "Either you get drafted, obviously, or I can come back for my sophomore year again, so there are a lot of ways this can go. It's going to take time.
"I've just got to be patient with it."
×
Photos
Related stories
Most recent Sports stories