SALT LAKE CITY — Before Tony Finau was a top-15 golfer in the world, and well before he was regularly competing for PGA Tour major championships and Ryder Cup berths, he was a golf fan.
And even with all of his other titles — No. 14 in the World Golf Rankings, more than $23 million in career earnings, and $3.6 million in the 2021 season — he's still a golf fan at heart.
And as a golf fan, there's one thing that Finau wants to see this weekend. As a competitor, he wants to win — and Finau has as good of a chance at his first major title as nearly anyone (we'll get to that in a moment). But as a golf fan, he wants to see the same matchup that everyone else wants.
He wants to see Brooks Koepka in the same group as Bryson DeChambeau, the current prize-fighting feudists of the PGA Tour. If any press is good press, then what the two prolonged long-drivers are bringing to the Tour is nothing but good news.
"Seeing everything that they're getting into, I think it's good for the game," Finau told CBS Monday. "They're two grown men that have their differences, but I thought the video of Brooks rolling his eyes during that interview was pretty funny.
"I hope the golfing world and the sports world gets what they want — them playing together this week at the U.S. Open. I think it's created a lot of buzz for our game, and positive or negative buzz is still buzz."
Ask to clarify by follow-up, Finau repeated himself, with a laugh: "That would be must-see TV. Make it happen, USGA."
DeChambeau and Koepka will carry the headlines into this week's U.S. Open at Torrey Pines. But Finau is among a select group of golfers projected to finish at or near the top of the leaderboard in the San Diego suburbs, as well.
For good reason, too. With respect to the rest of the field, a win for Finau would be a pretty good story, as well.
Finau, who will tee off with Abraham Ancer and Daniel Berger at 7:02 a.m. MT Thursday, is coming off a practice round and quick visit to his hometown of Salt Lake City, where the former Lehi resident played with his son and family members on the community course at Rose Park. It's a special place for Finau, who has never strayed far from his roots — even when he moved his family to Scottsdale, Arizona a year ago so that he can better train year-round and be closer to his swing coach, Boyd Summerhays.
Playing at Rose Park reminds Finau of where he came from — and could put him in the right frame of mind entering the season's third major.
"We call this Rose Park Country Club," Finau told the Deseret News of the 6,791-yard par-72 course that is often overshadowed by other nearby courses at Bonneville, Mountain Dell and Glendale. "I still play here at least once a year."
Finau also has experience on his side at Torrey Pines. He tied for second at the Farmers Insurance Open in January, and is coming off a T8 at the PGA Championship — his 39th top-10 finish since his lone win on Tour, the 2016 Puerto Rico Open.
Indeed, Finau ranks as the most successful golfer since his last win over five years ago — what could be considered an honor and a frustration, at the same time. Torrey Pines is as good of a spot as any to break that hex, right?
Finau is currently among the projected favorites by the oddsmakers to win the tournament, a sturdy +2,200 that is down from +2,800 Monday. Jon Rahm is the betting favorite at +1050, according to GolfBet.
"I've got a great track record here at Torrey; the only thing missing is the W. Hopefully we can knock that off this week," Finau said. "The U.S. Open tournament always presents its challenges. Mentally, physically, you've got to be ready to play. But this is a golf course I have a lot of experience on, and I'm looking forward to navigating it and playing it the best that I can."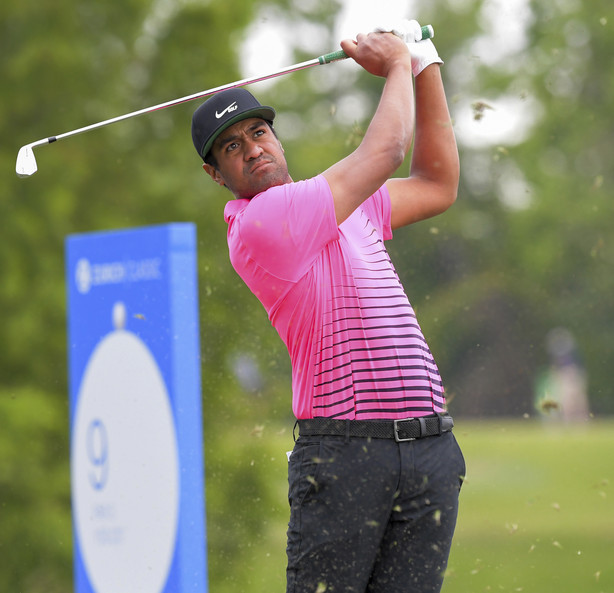 If nothing else, that should put Finau in contention. He finished in the top-20 in four of his previous five starts before a tied for 32nd finish at the Memorial week ago, so he's playing as good of golf as he's been all year.
Finau is listed at +205 to finish in the top 10.
"If you want to fade Finau as an outright, I can certainly understand that, but don't ignore him for prop bets and other formats," GolfBet's Jason Sobel said. "I've always liked how his game matches up with Torrey and it could – finally – all come to fruition this week."
If he doesn't win, Finau — who has been described as the ultimate "nice guy" on the PGA Tour by most golfers and observers — will be cheering for good stories, including Koepka and DeChambeau's current feud. He was similarly aplaudive of Phil Mickelson's PGA Championship win that made Lefty the oldest major champion in the Tour's modern era.
"It was unbelievable," Finau said. "I don't know if you could draw up a better storyline at the PGA Championship than for Phil Mickelson to win it.
"It was, I think, the best thing that could've happened for our game."
×
Related Stories