SALT LAKE CITY — Here are 10 stories you may have missed over the weekend. As always, click on the headline to read the full story.
1. Why director says homeless camps 'made sense' for Salt Lake City
Despite a series of recent violent crimes and other incidents at Salt Lake's homeless camps, the city's director of homelessness says small camps have been one of the only options to handle the area's ever-growing number of homeless amid the pandemic.
2. Sugarhouse office building blaze injures firefighter, displaces 6
Six people were displaced and one firefighter was injured during an overnight fire at an office building in Sugarhouse.
3. Man shot during Provo police brutality protest last year now wants to be mayor
Ken Dudley, who was shot during a police brutality protest in Provo last year, has now decided to run for mayor of the city.
4. 8 deaths in 1 week prompt warnings of reckless driving
As we head into the deadliest time of year on Utah's roads, things aren't looking good. In just the last week, at least eight people have lost their lives.
5. Israel approves new coalition, ending Netanyahu's long rule
Israel's parliament on Sunday narrowly approved a new coalition government, ending the historic 12-year rule of Prime Minister Benjamin Netanyahu and sending the polarizing leader into the opposition.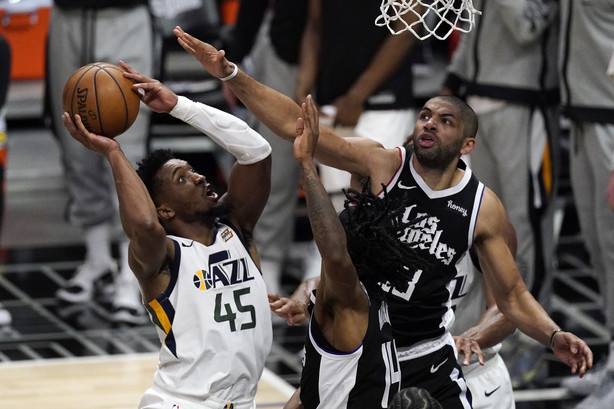 Sports
1. Donovan Mitchell limps off the court as Jazz fall to Clippers in Game 3
Leonard scored 34 points, Paul George had 31 points and the Clippers won Game 3 in a 132-106 rout at Staples Center Saturday. The Jazz now lead the best-of-seven series 2-1.
2. Anna Camp-Bennett's national title paces BYU women's best finish at NCAA track and field meet in 16 years
Camp-Bennett beat her own personal-best time by about a half-second, clocking a winning time of 4 minutes, 8.53 seconds Saturday to win the 1,500-meter national championship Saturday at the NCAA women's outdoor track and field championships in Eugene, Oregon.
3. Djokovic claims 19th Slam with 5-set comeback at French Open
Aided by flawless serving down the stretch, a determined Djokovic summoned his imperious best and came all the way back to beat Tsitsipas 6-7 (6), 2-6, 6-3, 6-2, 6-4 for his second championship at Roland Garros and 19th Grand Slam title overall — one away from the men's record shared by Roger Federer and Rafael Nadal.
4. Paul George won't talk 'relationship' with Joe Ingles — just his 31 points, win over Jazz
In the City of Stars, the Clippers got the best moments from their two biggest to remind the small-market Jazz why the No. 4 seed in the West may have been eagerly awaiting this second-round matchup.
5. MVP Nikola Jokic ejected, Suns sweep Nuggets 125-118 to advance to Western Conference finals
Chris Paul scored 37 points and Devin Booker added 34 in a physical game marred by MVP Nikola Jokic's ejection for a flagrant foul in the third quarter.
×