Estimated read time: 2-3 minutes
This archived news story is available only for your personal, non-commercial use. Information in the story may be outdated or superseded by additional information. Reading or replaying the story in its archived form does not constitute a republication of the story.
SALT LAKE CITY — Utah Highway Patrol troopers and Utah Division of Wildlife Resources technicians had a busy Memorial Day weekend.
Utah Highway Patrol numbers
UHP officials tweeted Tuesday that state troopers handled 41 arrests involving intoxicated drivers, as well as 2,027 speeding citations or warnings over the course of the holiday weekend. Troopers also handled 66 cases of motorists speeding 100 mph or more; another 298 citations were issued for seat belt violations while eight were for reckless driving.
Troopers also responded to 177 nonfatal and two fatal crashes on Utah freeways and highways during the holiday weekend.
There were no fatal crashes on highways throughout the 2020 Memorial Day weekend but the number of DUIs and excessive speeders declined from last year. The highway patrol reported 54 DUIs and 119 cases of motorists traveling at least 100 mph in 2020.
Following the holiday weekend this year, Zero Fatalities reports there have been 23,459 crashes since the start of 2021, which is nearly 5,000 more crashes than the same point in 2020. The number of fatal crashes is also up 21% and the 112 fatalities reported as of Tuesday is 20 more than what the state reported at the start of June 2020.
DWR boating citations more than double from last year
Meanwhile, Utah Division of Wildlife Resources conservation officers cited 138 people over the weekend for violations tied to quagga mussel concerns, which was 2½ times the number of citations issued during the holiday weekend in 2020. Most of the citations — 114 overall — were issued in the Lake Powell area. Of those citations, 79 were violations tied to nonresidents who did not complete the state's mandatory education course or pay its fee that was created from a bill that the state legislature passed last year and another 24 came from boaters who failed to stop at mandatory inspection stations.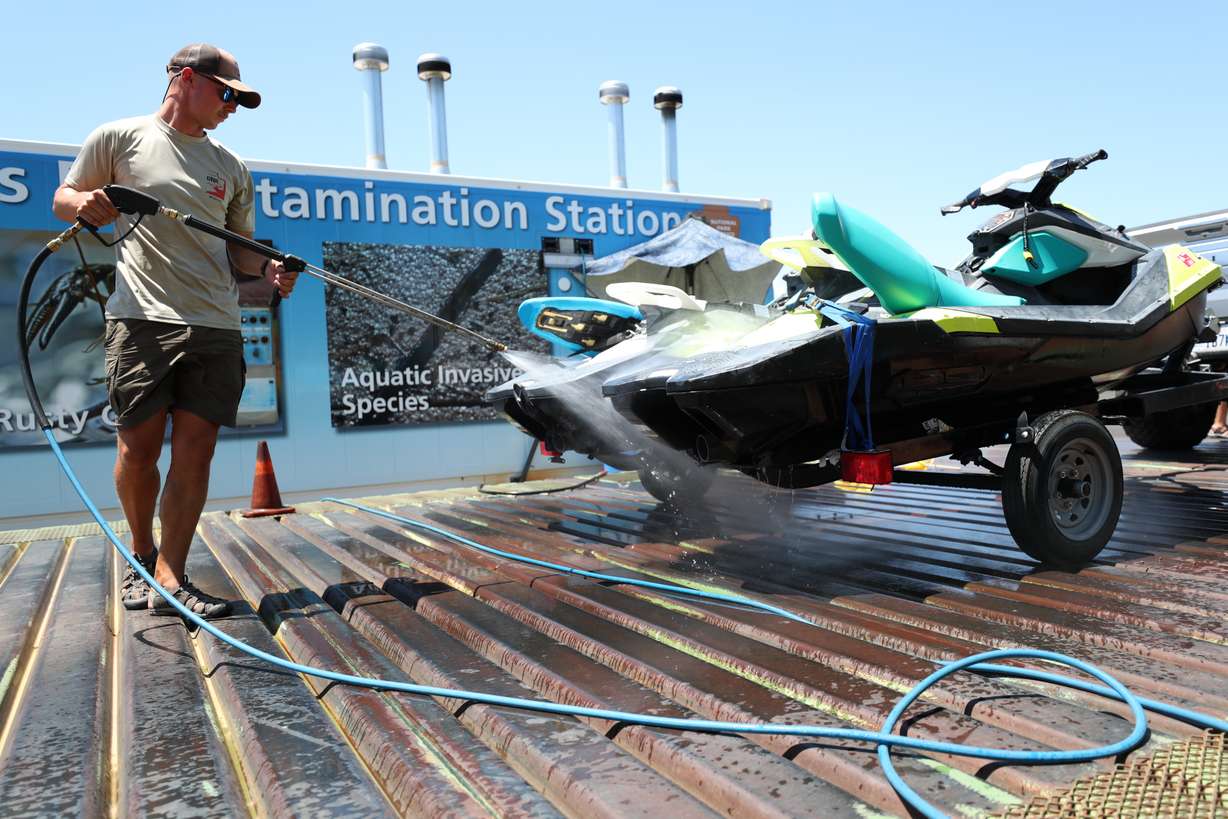 In all, 11,403 boats were inspected throughout the weekend in Utah, which was a 6% increase from 2020. The division conducted 171 decontaminations, which was a 24% decrease from last year.
The division checks for invasive quagga mussels because they can spread from waterbody to waterbody through boats and other watercraft. It poses a potential problem because the species can alter food webs, as well as clog water-intake pipes and other water infrastructure, which can cause extensive damage. It has been an ongoing problem as Lake Powell.
Lt. Bruce Johnson, with DWR's aquatic invasive species operations team, said there were some boaters who tried to leave Lake Powell with mussels that had attached to their vessels.
"This is illegal," he pointed out, in a statement. "Whether it's in your hand or attached to your boat, you can't transport these aquatic invasive species. Please leave them at Lake Powell."
×
Related stories
Most recent Utah stories