TAYLORSVILLE — As Dixie High golfer Annabelle Millard rolled into the final nine of the second day of the Class 4A girls golf state meet, she might as well have been on autopilot.
If nothing else, she was on Cloud 9.
But even she didn't expect to see the final score of her round.
Likewise for the team champion Pine View Panthers.
Millard blasted a career-low 65 to finish at 8-under-par 136 to claim medalist honors, and Pine View placed three golfers inside the top-11 to roll to its first team title in program history by 26 strokes Thursday at Meadow Brook golf course.
"I was shocked," Millard said after screaming with joy at her teammates waiting for her by the 18th hole. "I was trying not to look at my scorecard, just make the putt and get off the green. But I've never played like that before, and hopefully I can play like that more often."
Millard fired a birdie on the par-5, 372-yard second hole with a tap-in after missing a 20-foot putt for eagle. She then proceeded to card birdies on fourth, fifth, sixth, ninth, 10th, 14th and 18th holes — the final one marking her tournament-low eighth birdie on the scorecard.
The junior beat her previous best round of her career by three strokes, and there was no better time to do so than at the state meet, with all the pressure that goes into it.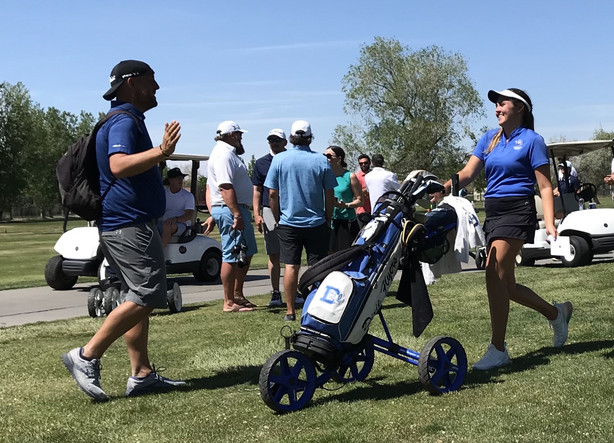 "Mentally, I was in a whole other world," Millard said. "I had the mentality to go out and don't play against your opponent, but play against the course and against your score."
Pine View freshman Alyssa Butterfus tied for second with Hurricane's Ellie Johnson at 7-over 151, leading four scoring golfers in the top 25 for the Panthers. Hallie Wieland finished fourth with 161, Kenzie Owen added an 11th-place finish with 172 and Katelyn Leavitt was tied for 24th with 186.
Butterfus carded a career-best 73 Wednesday, then added 78 — tied for the best round of the day from anyone not named Millard — to pace the Panthers, even though she entered the state meet as their No. 2 golfer.
"She actually struggled a bit today. But she stayed composed, and hit the shots when it counted," said Pine View coach Matt Wieland, who is also Hallie Wieland's father. "She had a turning point on the back nine where she bogeyed some holes, then made three or four birdies in a row.
"Off the tee, she's so stinking good that it makes it a lot easier when you're driving most greens and chipping in the rest. She's really special, especially as a freshman."
Even Skyeli Millward and Anique Shirts shot career-best rounds for Pine View, finishing in 31st and tied for 38th place, respectively.
"Everyone contributed a round," Wieland said. "My No. 6 broke 100 both days, and that's never happened for her. When you look at one through six, they've all contributed all season and it was no different the last two days."
3A state meet
Wieland said the team usually celebrates big wins by getting a team pedicure — he just pays for it rather than join in, the long-limbed coach was quick to add.
But the Panthers did that Wednesday night after the first round, so they'll have to find a new celebration. They'll figure it out on the four-hour drive back to St. George — a drive that will feel a little better with their historic trophy in tow.
They'll even leave merely impressed by the one golfer that beat them — a Region 9 rival who had her own career day, much like the Panthers.
"We spend a lot of time with Annabelle; we're all very close to Annabelle," Wieland said. "So you want her to do well, and to cheer for her, but then you're also just slamming your head with that girl.
"We're all incredibly proud of Annabelle, though; she's incredibly special."
Class 4A state meet
Meadow Brook GC, Taylorsville
Team scores
Pine View 668, Dixie 694, Juan Diego 706, Desert Hills 708, Ridgelline 714, Green Canyon 736, Uintah 749, Stansbury 767, Mountain Crest 776, Cedar 783, Logan 803.
Top 10 individuals
137 — Annabelle Millard, Dixie
151 — Alyssa Butterfus, Pine View; Ellie Johnson, Hurricane
161 — Hallie Wieland, Pine View
162 — Rylee Payne, Desert Hills; Maicee Smuin, Uintah
165 — Grayson Gagnon, Juan Diego
166 — Alyssa Buist, Ridgeline
167 — Cabria Walters, Juan Diego
170 — Sammy Spackman, Green Canyon
For full results, click here.
×
Photos
Related Stories