PROVO — One day after his starting quarterback Zach Wilson was selected No. 2 overall in the 2021 NFL draft, BYU left tackle Brady Christensen heard his own name called.
Albeit with much less fanfare.
With the No. 70 pick of the third round, the Carolina Panthers selected Christensen, the former Bountiful High three-sport athlete who excelled at left tackle for the Cougars and went on to earn consensus All-American honors during the most recent 11-1 campaign in 2020.
Christensen was one of three picks by the Panthers during the second day of the draft, including LSU receiver Terrace Marshall Jr., who was selected in the second round with the No. 59 overall pick.
All of them had one thing in common, head coach Matt Rhule said.
"They're elite athletes," he said. "Brady Christensen with his 10-foot broad, 4.92 (40-yard dash), 6-5, 302; besides a really good player, he's a really good person and an elite athlete.
"They have the physical abilities to continue to develop this level."
With Christensen at left tackle, the BYU offensive line ranked No. 8 nationally in 2020, allowing just 12 sacks in 12 games and two quarterback pressures in 293 pass-blocking snaps. The Cougars also ranked No. 4 in scoring (43.5), No. 7 in total offense (522.2) and No. 8 in passing offense (322.1).
After blocking for the Jets' new presumed starter for three years, Christensen will be tasked to protect the Jets' former quarterback Sam Darnold, who was recently traded to the Panthers to make room for Wilson. In the Panthers, Christensen will also be reunited with former BYU teammate Micah Simon.
BOOM 💥

📺: 2021 #NFLDraft on NFLN/ESPN/ABC pic.twitter.com/jaVpjJyN7X

— BYU FOOTBALL (@BYUfootball) May 1, 2021
Carolina signed Simon to a multi-year, minimum-salary contract last month after the 2019 graduate flashed a 4.3 40-yard dash during the Cougars' pro day in March.
Christensen is the second draft pick from BYU this year, joining presumed New York Jets starter Wilson, and the third pick from the state of Utah, alongside Desert Hills tackle Penei Sewell. The move marks the first time since 2010 that the Cougars have had multiple drafted selections, and the first year since Doug Jolley (Raiders) and Ryan Denney (Bills) in 2002 that two BYU players were drafted in the first three rounds.
"I am so excited for Brady to see all his hard work pay off with an All-America college career and a well-deserved opportunity to play in the NFL," BYU coach Kalani Sitake said of Christensen, the 33rd offensive lineman to be drafted in BYU history and first since 2005. "The Panthers are getting a great football player and an amazing person. I'm looking forward to seeing him excel at the next level."
The Panthers have had eight different starters at offensive tackle in the last eight years, and Christensen could reasonably expect to be a ninth. At the very least, he'll have a chance to compete for playing time right away.
One step at a time, though. Rhule said the Panthers haven't even decided if he'll play guard or tackle at the next level.
"We think he's a versatile player, a guy who can play outside and inside," Rhule said. "We'll wait until he gets here to see where he fits. But he comes from a pro-style offense at BYU, so the things we'll ask him to do, he's been doing.
"Again, a great athlete, intelligent — the whole package."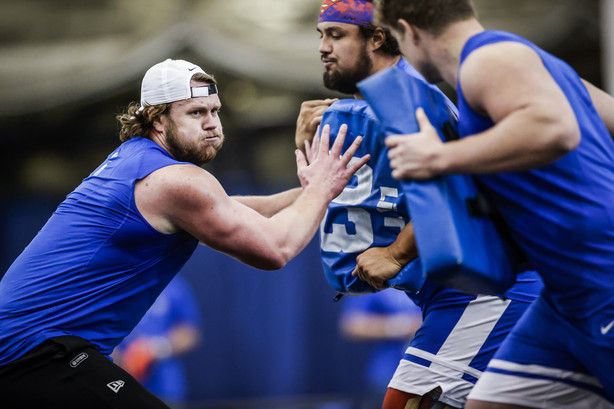 The Panthers traded with Philadelphia, swapping the No. 73 pick and adding a sixth-round selection, to move up three spots to draft Christensen. The team recouped a fifth-round pick Saturday and a fourth-rounder in 2022 by trading the No. 83 pick to Houston, one of three picks held by Carolina in the third round.
In addition to Christensen, Notre Dame tight end tommy Tremble will also join the Panthers, who previously selected South Carolina cornerback Jaycee Horn at No. 8 overall Thursday. Carolina traded out of the 26th pick in the third round, No. 89 overall.
"There was a lot of trading tonight, and coach was so cool during the whole process. It was great," Panthers general manager Scott Fitterer said. "People were calling, and we were communicating to be in a position that takes guys."
But when Carolina picked up Christensen, the urgency through the rest of the third seemed to diminish.
The 6-foot-6, 300-pound left tackle spent four years at BYU, including a redshirt season in 2017 that followed a two-year mission for The Church of Jesus Christ of Latter-day Saints in New Zealand.
Christensen returned to play in all 13 games of his freshman season, earning an all-freshman citation from Pro Football Focus and being elevated to a full-time starter as a sophomore in 2019.
A consensus All-American a year ago, Christensen rose from a two-star prospect who chose BYU over Air Force, Weber State and Southern Utah to an NFL draft prospect with a third-round ceiling and major praise from several draft analysts — and many rating him among the top left tackles in the draft, alongside Penei Sewell, the Desert Hills product via Oregon who was selected with the No. 7 overall pick Thursday by the Detroit Lions.
Sewell is barely 20 years old, while Christensen will turn 25 when he opens his rookie season in September. It's a stark difference, and may help explain why Christensen left a year early to declare for the draft. But Panthers general manager Scott Fitterer said it didn't play into the team's decision to take the athletic tackle in the third round.
"It's not about that. We just like the person," Fitterer said during a late-night press conference following Carolina's picks. "We like the athlete. I was at the BYU pro day, and he was really impressive in person. Then you hear about the character, the toughness, the person. That really sold us."
Much of that surge was Christensen's athleticism. He showed off a 4.89 40 during BYU's pro day in March, when he also posted a 34-inch vertical jump and a 10-foot, 1-inch broad jump — marks that would've ranked him among the top linemen at the 2020 NFL combine.
"I've known for quite some time that I'm an athletic guy — not just some big fat guy, as some people may think we are," Christensen said after pro day. "I knew I had it in me, so I was so anxious to show what I can do, that I'm an athletic guy and can move at an elite level."
That athleticism now belongs to the Panthers — and Rhule couldn't be happier.
"This is a game made up of elite athletes," the former Baylor coach entering his second season in the NFL said. "If you can find elite athletes with a love of the game who treat people well, you have something special."
×
Related Stories