SALT LAKE CITY — Ahead of Friday's game, Utah Jazz coach Quin Snyder admitted his team had gotten some breaks this season.
"We've won some games but we've also had situations where we've played teams without their best players," Snyder said. "We've been fortunate with COVID, other teams have been hit with that; we played teams during that point."
Something he didn't mention: some lucky shots. He might have to next time, though.
The Jazz beat the Chicago Bulls on Friday 113-106 at Vivint Arena to set a new franchise record with their 21st straight home victory with the help of a strange amount of fortuitous bounces.
For example: Mike Conley took a one-handed shot from his hip that somehow went in and Bojan Bogdanovic threw up a fadeaway floater through that went in, too.
✨ MAGIC ✨ pic.twitter.com/8ECaxVPV0f

— utahjazz (@utahjazz) April 3, 2021
A few more? A rebound bounced off multiple Bulls players and right into the hands of Rudy Gobert who then had an easy dunk. After a broken play, Conley threw the ball to a well-guarded Donovan Mitchell in the corner with hardly any time left in the shot clock; he flipped it up quickly and sank the shot. Oh, and Gobert hooked a shot from his waist over his head for a bucket with his off hand.
Or was it his off hand?
Gobert trotted back down the court staring at his left hand still in a follow through. And that opened up the biggest revelation of the night.
Following the game, Gobert was asked about Conley's odd shot from the hip, but it wasn't a shot the 7-foot-1 center couldn't recall.
"Maybe I wasn't looking or something," said Gobert, who had 19 points and 13 rebounds.
That led to a follow-up question about his own circus shot. He knew what play the media was referring to, but circus shot? How was it a circus shot?
"I'm a lefty — a lot of people don't know that," Gobert said. "Why are you guys laughing — I write with my left."
With that, it was time for a quick KSL.com investigation — also known as a quick search through the photo archives. The search revealed that, yes, Gobert does write with his left and shoots with his right. Interesting.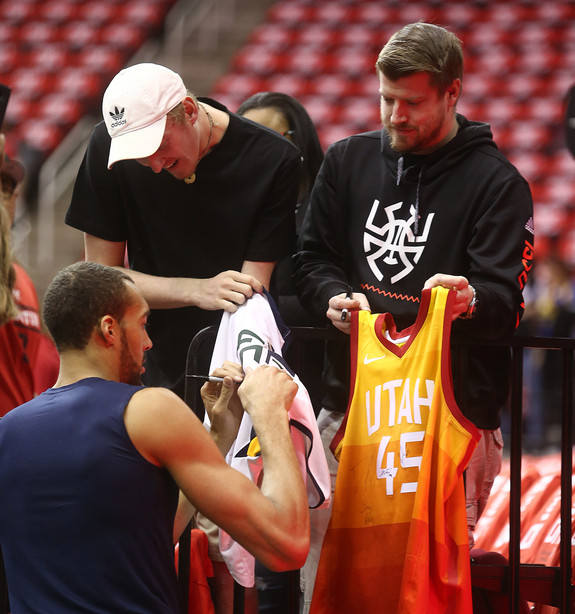 That's a trait he shares in common with a number of players — most notably LeBron James.
"The reason I'm a right-handed basketball player, I think, is probably Michael Jordan or Penny Hardaway, guys I looked up to growing up," James said in 2017 after he took a couple of shots with his dominant left hand late in a game. "Seeing those guys shooting righty, I was like, 'I guess I'll shoot righty.' But I'm pretty much a left-handed guy. I don't take many of those shots, but I'm capable of making those shots. I don't know, I just work on my craft. I work on both hands."
Other NBA players like New York Knicks guard RJ Barrett and Philadelphia's Ben Simmons also shoot with their off hand, and Conley has a bit of that in him, too. The left-handed Jazzman shoots floaters with his right hand, and he's comfortable shooting with both — as he showed while winning the NBA's HORSE challenge when the pandemic hit last season.
And with that kind of pedigree, it probably wasn't a surprise that Conley had one of Utah's many ridiculous shots on Friday.
"He's the best one from our team that can make those," said Bogdanovic, who had 18 points and eight rebounds against the Bulls. "So credit to him."
And credit to those HORSE-like shots, because without them, the Jazz (37-11) could have been looking at a different result.
The Jazz didn't defend great in transition and didn't get many easy buckets themselves; they struggled to defend Thaddeus Young in the paint (he had 25 points on 11-of-17 shooting), and Zach LaVine got going late to finish with 23 points.
"They did a good job with him rolling tonight," Snyder said of Young. "We didn't get under him and take that role away."
The Jazz led by 11 with 4:19 left after Mitchell, who finished with 26 points but was 7-of-21 from the field, drove the lane and hammered home a one-handed dunk. From there, though, the Bulls went on a 12-4 run to make Utah sweat a bit late.
The Jazz made just one field goal following Mitchell's slam; and with 26 seconds left, Nikola Vucevic drilled a 3 to make it a one-possession game. So it was a good thing the Jazz had some of those lucky shots to fall back on late in the game.
"It's great for us to be able to get through some tough games when we kind of struggle a little bit and we learn," Gobert said.
×
Related Stories