PROVO — At this point, more than six months later, Aleva Hifo could only laugh about it.
A few months after pro day following his senior season was canceled and he was one of thousands of college football players to experience the most unique NFL draft workouts in league history with no combine, no on-campus pro days, and no in-person visits or interviews, Hifo made history.
It just wasn't the kind of history he hoped, expected or even wished to shortly after signing as an undrafted free agent with the Kansas City Chiefs. In the middle of July, Hifo was placed on the Chiefs' reserve/COVID-19 list and eventually was waived by the organization. He returned to make a couple of practice squad appearances, but that was the basis of his rookie NFL season following the Cougars' 2019 season.
"It was tough. I believe I was the first player in the whole NFL to test positive, so that's not a good thing to make headlines for," Hifo said with his usual dry sense of humor. "It was very unfortunate timing. But I was able to get a feel of the virtual offseason, and then go back to the Chiefs. The environment was way different, but I was glad to get it back. I hope to continue that."
Hifo's fully recovered from his bout with a pandemic that hasn't been kind to millions of people worldwide, and he recognizes the struggles faced by hundreds of thousands of Americans in the face of the global scourge. But he also wanted to prove to NFL teams that he's back, and ready to give a professional career another shot.
Last Friday, Hifo returned to campus to get his pro day moment and exposure in front of an army of NFL scouts, coaches and executives. Despite COVID-19 protocols limiting attendance at BYU's indoor practice facility — no outside media, fans or boosters were allowed to attend, unlike in years past — he had plenty of eyeballs on him as he ran a 40-yard dash, went through drills like the broad jump and three-cone drill, and caught passes from quarterback Zach Wilson as an outside receiver.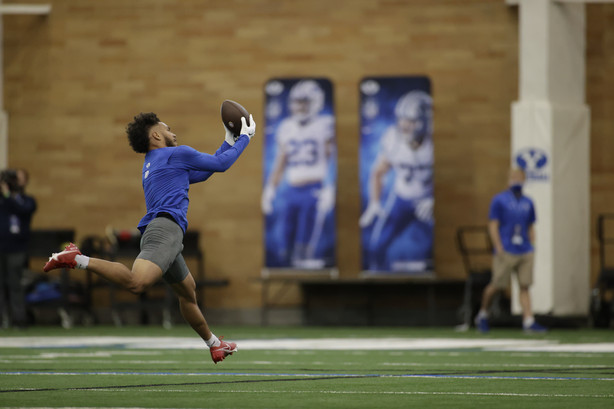 That last one may be the most important visibility Hifo got. Wilson's pro day turned heads all around the league, solidified his first-round draft stock, and validated some predraft projections that predict the Corner Canyon product could go as high as No. 2 overall to the New York Jets.
Hifo already showed off some speed, with a 4.41 40-yard dash that led to the aforementioned free-agent tryout with the Chiefs.
But Wilson wasn't the only BYU player who saw his draft stock soar after Friday's pro day. Left tackle Brady Christensen was a star of the day, with predraft projections as high as a third-round grade in some circles. Dax Milne and Chris Wilcox flashed speed in the 40 that could lead to late-round selections, and tight end Matt Bushman — who missed his senior season with an Achilles' tendon injury — showed that he's back and healthy, ready to begin his pro career.
"The biggest thing was showing I'm football ready," said Bushman, who confirmed he's spoken extensively with the Las Vegas Raiders, including general manager Mike Mayock after undergoing a full medical evaluation by the team's athletic training staff. "I think it was a good turnout."
Simon to Carolina
While high-profile players — especially quarterbacks — attracting attention to their teammates on pro day is common in the NFL's pre-draft workout phase before April, the Cougars also saw plenty of eyeballs on their former players who made the return trip to Provo a year after the coronavirus shut down spring workouts following their senior seasons. BYU invited back six former players — wide receivers Hifo, Batchlor Johnson and Micah Simon; and defensive backs Isaiah Armstrong, Austin Lee and Beau Tanner — to put their times and measurements in front of league executives, and also give Wilson a few extra targets during his own workout.
"It's always good to be around the guys, and to be back at BYU," Hifo said. "We weren't fortunate to have an official pro day … and with the class BYU had this year, it helps a lot. It helps free agents, in general."
It's already paid off, too. The Carolina Panthers announced Simon as their latest free-agent addition on Tuesday morning, a product of his 4.34 40-yard dash run as the second-fastest player at BYU (Wilcox ran a 4.31 on his second attempt).
The 2019 BYU graduate and former quarterback from Dallas, Texas, is believed to have signed a three-year deal at the NFL's minimum salary with the Panthers, where he'll get a chance to make a full-time NFL roster to start his delayed professional career.
A year ago, Simon found a full-time job as he tried to keep hopes alive of earning an NFL contract. He worked full time 9-to-5, while keeping up some training in the offseason. But after one incredible day in the IPF, his dream of signing that contract became a reality.
He probably won't be the last to fulfill that dream.
"It's definitely good to connect with them on this journey. It's something we've all been chasing, all been grinding for, and we all knew this opportunity was something we all needed to take advantage of. Being realistic, this all could be our last opportunity. We understand that, and we know football doesn't last forever."
Connecting with Wilson, though, was extra special — especially for Hifo.
The 5-foot-10 receiver was the product of a viral moment from Fridays' pro day, as he went long for Wilson and caught a perfectly placed post route down the middle of the field. What made the route special wasn't Hifo, who simply showed his hands and did his job. Of course, the talk was about Wilson — about how he dropped back to his right, backpedaled to his left, and threw a ball to the right side of midfield against the torque of his body to find an open Hifo.
Sure, it's a throw against air. But it's a throw that is incredibly difficult to make, and one even Ohio State signal-caller Justin Fields — a projected first-round pick himself — struggled to make during his impressive and successful pro day Monday.
Zach Wilson ‼️@BYUFootball | @zachkapono1pic.twitter.com/yJBzgDdPQy

— NFL (@NFL) March 26, 2021
"That was a big advantage for those guys, to get them in front of some big-time teams," Wilson said. "We hoped they would get a chance, and see what skills they had. That's a lot of reasons for my success at BYU; I had some great players around me.
"I'm so happy for these guys, to all live out their dreams," Wilson added. "You can tell they were putting in the work. We had some crazy numbers today; guys did some awesome things, and I know scouts are going to be all over them."
Hifo has already experienced a rookie season, albeit one extremely unique and one-of-a-kind in the midst of a global pandemic and virtual workouts.
"My whole goal today was just to get one person's attention," Hifo said. "And as you guys know, there have been a lot of eyes here today.
"There are a lot of football opportunities out there. I just wanted to catch somebody's eye."
×
Photos
Related Stories