INDIANAPOLIS — Before the final buzzer had stopped ringing in the ears of the 2,000 reduced-capacity crowd and the final note of "Sons of Westwood" had finished playing over the public-address system, BYU's men's basketball team was off the court at the historic Hinkle Fieldhouse following a 73-62 loss to UCLA in the first round of the NCAA Tournament.
The first player off the court was Brandon Averette, who had 15 points and two assists and scored 10 of them after halftime. The senior whose collegiate career started at Oklahoma State before matriculating to Utah Valley and eventually following coach Mark Pope to BYU held his head his hands — or more accurately, his jersey — as freshman Caleb Lohner put his arm around him and ushered him off the court.
Fellow seniors Matt Haarms and Alex Barcello followed, misty-eyed and emotional after each scored in double-digits in what may be the final game of their collegiate careers.
For Haarms, the pain of the evening stank even more, as the Purdue transfer had already decided that 2020-21 would be his final year of college basketball even before the Amsterdam native's return to his "home" state. He's moving on, and that was the hardest thing to grasp of all.
"There are a lot of feelings right now," an emotional Haarms said after the game. "That was my college career … it just really sucks, going out like that in the first round."
BYU's three-man senior class had hoped for a run in the NCAA Tournament. And when No. 14-seeded Abilene Christian stunned No. 3 Texas 53-52 moments after BYU and UCLA had concluded, it looked like a run would be possible.
One of the Wildcats, who are headed to the Western Athletic Conference this summer, and No. 11 UCLA will go to the Sweet 16. BYU will join Texas — two schools forever linked, if by nothing other than a Taysom Hill hurdle — in going home early.
And the hardest part for BYU coach Mark Pope, who has often been called the most quotable man in college basketball and always a story and a laugh to tell, was that he had nothing to say to his group to take away the sting of Saturday's 11-over-6 upset.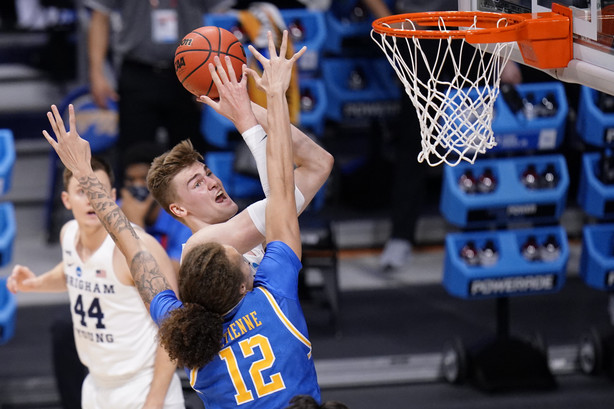 "There's no message to make it better. At least, I don't have it," Pope confessed. "Sometimes you come to the end of a season, and you have guys who are exhausted and frustrated and fatigue, ready for it to be over. And that's not our team, and it makes it doubly hard.
"I just told them how proud I am of allowing me the privilege to push them as hard as I pushed them, to ask as much as we asked them for."
Make no mistake, 2020-21 has been brutally hard for the Cougars. They've suffered and struggled and found a niche bubble to avoid the COVID-19 bug as well as anyone in the country — and avoided program-wide shutdowns better than anyone — but it hasn't been easy.
Anything but, really.
A year after losing seven seniors to graduation that was cut short by the pandemic, including G League pros Yoeli Childs and Jake Toolson and Polish star TJ Haws, BYU rebuilt on the fly — and somehow got better.
Haarms and Averette both transferred for what looked like their final year of eligibility, joining Barcello, who was originally the Cougars' only senior-to-be from a year ago. That gave BYU another ball-handling point guard in Averette and a 7-foot rim protector in Haarms, who won West Coast Conference defensive player of the year.
The duo joined with Barcello to become BYU's leading scorers, with Barcello leading the way with 15.9 points per game and Averette and Haarms quickly following at 11.5 and 11.3 points, respectively.
But more than scoring, the three seniors drove BYU in every direction they could. Barcello was the engine of the offense, but Averette often held the keys to the car and Haarms was the stopper and leading defensive rebounder. And that's just on the court, where everybody could see them lead.
Off the court, the seniors meant so much more to a team that lost nearly all of its leadership but rebounded to finish No. 23 in the Associated Press Top 25, No. 25 in KenPom and No. 20 in the NCAA's NET rankings. None of those accolades — all Haarms' DPOY or Barcello's All-American honorable mention by the AP — will take away the sting of Saturday night's loss, or the emotion of a defeat to the Pac-12's fifth winning/advancing team on national television, nor should it.
But it should be remembered.
"What a gift for anybody that's managing or leading or coaching any organization to have three extraordinary young men like Matt Haarms, Brandon Averette, and Alex Barcello," Pope said. "What they did on the court is incredibly impressive, — what they accomplished this year is incredibly impressive, their numbers are all super impressive.
"But what they did in terms of bonding and binding hearts and minds together in a locker room, and finding a way to come every day, work hard, and find a way to build a team that's better than anybody thought that they were going to be, they're great human beings and they're going to do great things in their lives, and it's super humbling to be able to, to witness that. I'm so grateful for those guys, I don't know if we're gonna have three dudes walk through our doors that are quite like these guys; they're special human beings."
The top-25 team with off-the-charts computer metrics will be talked about for months, while every defensive lapse, missed shot and careless turnover (of which BYU had 10 against UCLA) will also be dissected. But the non-basketball things should be remembered, as well.
"They took an eclectic collection of guys from all over, with all different backgrounds that hadn't played together, and they forged a really special team," Pope said. "So many accomplishments but that's all the stuff that's good for you guys and good for me. What these guys did that's so spectacular, that nobody's going to understand, is these guys formed a relationship, the likes of which you rarely have in your life, with each other. That doesn't just happen. That comes because guys work at it, sacrifice for it, and so I care about wins and losses. I care about numbers, and all those things are super important and this team accomplished incredible things.
"They're walking out of this season with a pocket full of records, incredible accomplishments, and huge contributions to BYU basketball and the history of BYU basketball, some great things. At the end of the day, all that stuff is fine — but they got something that's way deeper and way more important than any of those things. They got each other. "
×
Photos
Related Stories