SALT LAKE CITY — Utah health officials say they believe some of the state's largest hospitals will receive the first COVID-19 vaccine shipments next month, and that all Utah adults will have access to the vaccine by the summer.
But that timeline depends on when the state actually receives the vaccine, and officials still don't have a definitive date scheduled for that. Tom Hudachko, director of communications for the Utah Department of Health, called it a "very fluid situation" and said exact timelines may change as new developments come together.
Nevertheless, state leaders are excited after a pair of drug manufacturers revealed promising results from COVID-19 vaccine studies this month. Utah Gov.-elect Spencer Cox even called it the "the best sign through this pandemic."
"Knowing that these vaccines are going to be available, and knowing that they have performed at such a high level — I think it's exceeded everyone's expectations," he said. "We are just so excited at the optimism that we have now because of these advancements."
State health officials provided details of how the vaccine will be distributed to Utahns during a press briefing inside the Utah Capitol emergency command center Wednesday. The state also launched a new website page devoted to COVID-19 vaccine information.
How and when Utah will distribute the COVID-19 vaccine
To be clear, there are still some logistics that need to be worked out before the COVID-19 vaccine is distributed to Utahns. That's why it's still not perfectly clear when Utahns will begin to receive the drug.
"It is very difficult to plan when we don't know exactly how much vaccine that we have," said Rich Lakin, immunization program manager for the Utah Department of Health. "That's a key perspective that we need to keep here. With limited doses, it's obviously going to limit how fast we can move the vaccine, how fast we can get occupations, professionals, the public and everybody vaccinated."
Once it is made available, the vaccine will only be distributed to individuals 18 and older, based on the unknown risks on children, Lakin added. Once the vaccines can be used, the state's distribution plan includes phases and waves to get it out to residents.
Phase 1: Waves 1-5
The state plans to send the first doses to LDS Hospital and University Hospital in Salt Lake City, Intermountain Medical Center in Murray, Utah Valley Hospital in Provo, and the Dixie Regional Medical Center in St. George. It's possible the hospitals will receive a vaccine supply before they are approved by the Food and Drug Administration for use. If that's the case, they will be put in storage until approved by federal officials, Lakin said.
Once the go-ahead is given, those hospitals will be able to distribute the vaccine however they choose. But it is expected to go to hospital workers who work in high-risk environments — like intensive care units — first, and then to remaining health care personnel, nursing staff, first responders and public health workers. Vaccinations are anticipated to begin in late December or early January, depending on when the first doses arrive.
The vaccine will be administered in two doses. That means people will receive two shots spread out by weeks, depending on the drug manufacturer's recomendations. The Pfizer vaccine — the one the state has done the most work with so far — is three weeks between doses; the Moderna vaccine is spread out to four weeks. This plays into the distribution process because officials need to ensure those who receive the first dose will receive a second dose.
The vaccine won't be limited to just those initial five hospitals, either. The state health department is working with about 30 more hospitals that would also receive vaccines early on.
"We hope to have those hospitals on board so they can receive the vaccine as soon as possible," Lakin said. "If those five hospitals receive it at the second week of December, we're hoping that the additional 30 hospitals would be able to receive it just shortly after that — maybe two weeks after. If we're lucky and we get everything completed, hopefully we can add a few of them into that initial process earlier."
The report presented Wednesday was compiled about two weeks ago; officials said there weren't any snags they've learned from the U.S. Centers for Disease Control and Prevention to change the project December timeline for the first doses to be distributed.
If the first wave of doses comes in December, the second and third waves are expected in January. These latter dosages would likely cover the remaining health care personnel such as staff at clinics, pharmacies, long-term care facilities and assisted living facilities.
Long-term care facilities have been hit particularly hard by COVID-19. The state has more than 300 long-term care facilities with over 18,000 high-risk residents, according to the health department. Since March, there have been 780 outbreaks of COVID-19 in those facilities. As of Wednesday, a total of 2,712 workers and 2,564 residents had tested positive for COVID-19 due to outbreaks. That's led to 281 resident deaths, or a little over one-third of the state's fatal cases of the coronavirus to date.
Lakin said the state health department is working with Walgreens to help vaccinate long-term care facility staff to cover those workers. It will be up to local health departments and community nursing services to distribute vaccinations to any facility not partnered with Walgreens.
The fourth and fifth waves of the state's plan — anticipated for February and March — would cover any remaining long-term care facility staff. It's about this time that Walgreens and CVS, through a federal partnership, will receive vaccine doses to vaccinate long-term care facility residents.
The state will also look at occupations with the highest risk for contracting COVID-19 during this phase. Those who can work from home aren't at as high of a risk as someone like a teacher, who may not be able to work from home and will likely have contact with others. At a later time, the state plans to release a list of professions ranked on a risk scale from 1 to 5, which will dictate which individuals will be prioritized based on occupation.
That's the end of the first phase of the vaccination process.
Phase 2: Waves 1-3
The second phase is expected to begin in March, with three waves that carry through July.
"July is probably the most likely scenario; however, again, based on how many vaccines — all of Utah could receive it in May-June but I still feel confident that all of Utah can see a vaccine in July time frame," Lakin said.
Under this phase, tribal entities, individuals 65 or older, and remaining high-risk employees would be at the front of the line. Racial and ethnic groups — groups disproportionately affected by the coronavirus since March — and those with underlying medical conditions would come next. If all goes well, it's expected that all Utahns who want a vaccine can get one by July at the latest.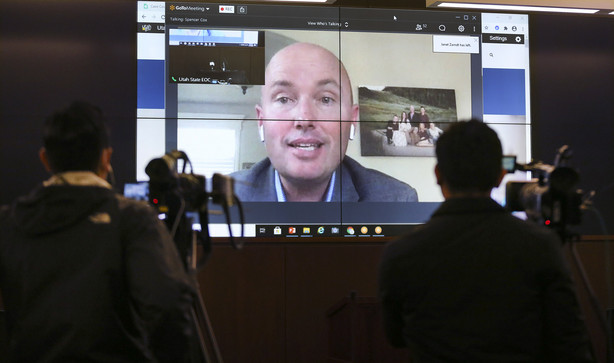 How many doses and at what cost?
Per the state's website, the vaccine will be free because it was purchased through federal taxpayer money. It added that vaccine providers will be able to charge administration fees for providing a shot, however.
It remains unclear, at this point, how much it will cost the state or other groups to roll out vaccinations. Officials said Wednesday they still don't know if federal funding will help with costs.
All states will likely receive shipments of the vaccine around the same time as Utah. Lakin estimated that if it turns out the first batch includes 10 million doses, then Utah would receive about 100,000. It's also unclear if the COVID-19 vaccine will be a one-and-done vaccine, in that once you receive it you will receive lifetime protection.
It is worth noting that a vaccine won't be the end of COVID-19. Wearing masks and socially distancing will still be in play for the coming months, Lakin explained. He expected a reduction of the "disease burden" won't begin until sometime after July.
Will Utahns get the vaccine?
Two drug manufacturers reporting 95% efficacy is "really good news" because it means most people who are vaccinated will have a very good immune response, Lakin said during Wednesday's briefing. But state health professionals have voiced concern that Utahns may skip the vaccine, based on historically low flu vaccination rates.
The health department continually sees flu vaccine rates in the 40% range. An analysis of CDC information conducted by small business research website AdvisorSmith rated Utah with the 14th lowest flu vaccination rate in the U.S. over the past three years at 45.4%. The company reported that rates did improve during the previous flu season, with a vaccination rate of about 52%. Health officials said they believed the vaccination rate would also be higher this year.
A state health department report found that childhood flu vaccinations throughout the 2010s mostly hovered around 50%; Utah's rate fell below the national average throughout the decade.
If many Utahns don't get vaccinated for the flu, will they get a COVID-19 vaccine?
State officials are optimistic that the answer is yes. Lakin said surveying indicated that about 70% of Utahns were either "most likely" or "very likely" to seek out a vaccine. Should that be the case, they believe it would reduce COVID-19 in the state.
"If we have a low vaccination rate regarding COVID, I don't know how that will look," he said. "I would anticipate if we get somewhere around 60%, with a high efficacy of 95%, that we can see a reduction even with a low vaccination rate."
×