SALT LAKE CITY — With positive cases of COVID-19 spiking across the state, Utah Gov. Gary Herbert took a bold initiative last week and enacted a two-week emergency order to try to stem the curve, putting in place significant guidelines and restrictions, a statewide mask mandate and limiting all social interactions outside of homes and families.
That included pulling the plug on sports and extracurricular activities, many of them in high schools and centered around developing youths. The one exception: high school football, which was just one to two weeks away from finishing the season via the state playoffs.
But in that regard, the state had a plan: testing. Lots and lots of testing.
By working through medical professionals and school administrations, the state rounded up every player on all 16 remaining playoff teams and began to test. Officials set up pop-up testing sites in Salt Lake, Utah, Cache and Washington counties, sent mobile testing units to schools in rural counties like Beaver and Duchesne, and began the process of testing every player, coach, cheerleader, drill team member and staffer on each team.
And the results were surprising.
Of the 1,360 individuals tested last Wednesday afternoon, only a handful of positive cases emerged: 49, to be exact. In a controlled environment where participants wanted something — in this case, the chance to play a sport they love — the spread of the virus was eight times lower than the public at-large.
The results — a 3.6% positive rate — amounted to a fraction of the state's other testing procedures, which have steadily increased since Oct. 4 and spiked rapidly since Halloween. No team had more than a half-dozen positive cases, and those that were immediately entered isolation, such as Lone Peak coach Bart Brockbank calling plays for his team's 28-24 win over Skyridge via cellphone with defensive coordinator and acting head coach Ryan Denney.
By Monday, the state's seven-day positivity rate among tested populations hovered at 24.6% or eight times the rate found in this high school population. It all led to a surprising conclusion for Dr. Angela Dunn, the state's top epidemiologist who admitted she "can't believe I'm about to say this."
"We all need to start acting like high school athletes," Dunn said. "They all have something they care about, and they're protecting their ability to keep playing. So find that thing that you care about as much as these athletes care about football, cheer and drill."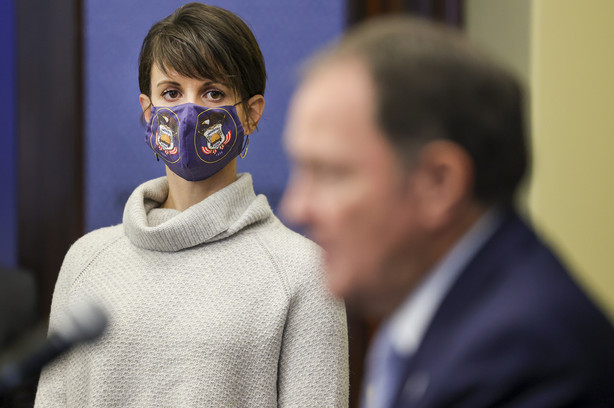 The numbers weren't perfect. There was still infection among the high schoolers tests, which represent only a fraction of total teenage students in the state.
But if playing sports and participating in extracurricular activities can keep a viral infection from spreading at a rate of eight times less, there are plenty of lessons to be learned from students, both in and out of the classroom.
Perhaps the biggest takeaway is motivation: These athletes want to play, and they all want to play for as long as possible.
The Knights will face top-ranked Corner Canyon in the Class 6A state championship at 11 a.m. Friday at Cedar Valley High School. Orem will go for its fourth straight championship against Timpview in the 5A title game at 3 p.m. at the same site.
And yes, that desire to play also led to a "small number" of students at Snow Canyon to admit to cheating the tests by using rubbing alcohol to try to induce negative results. That incident forced the Warriors' administration to suspend the involved students from last Friday's state semifinal against Pine View, but even with those numbers, the results hardly match the state's otherwise spike in case.
Motivation is key in following protocols and procedures designed to stem the spread of a fast-moving virus the likes of which has been unseen in over 100 years.
While any positive case of a virus that has infected more than 11 million Americans with 247,000 deaths is a cause of concern, the infection rate in high school athletes was surprisingly low. A system of protocols and procedures posted online at uhsaa.org, which included regular mask-wearing and social distancing where possible, was working.
UHSAA Football Playoffs
It's a different world. But for many athletes who had their spring seasons ripped away when schools closed their classrooms back in March, they were willing to follow whatever recommendations they needed.
"A lot of these athletes lost a spring season, and it was very difficult," Utah High School Activities Association executive director Rob Cuff told KSL.com. "Even though it was the right decision to make at the time, with 100% of the states not having spring sports, we've been the only state with a full fall season. We've had about 30,000 athletes have a fall season, and we're working very hard to help about 20,000 winter athletes have a full winter season. Even though we've delayed the start a little bit, basketball, wrestling and swimming are sports that can reschedule in that time frame.
"Some of our teams didn't have all of the games they scheduled. But they certainly had a full season."
Cuff said as long as Gov. Herbert's order expires by Nov. 23, his organization anticipates greenlighting the winter sports season for basketball, wrestling and swimming by Nov. 24. Athletes in those sports will have a few weeks to practice before competitions begin, though all competitions will be permitted by early December.
What those competitions look like could be different — just as football, soccer and volleyball games have also looked different in 2020. There will likely be limits on spectators, and mandatory mask requirements for officials, workers and fans in attendance.
There will also likely be some form of mandatory testing, coordinated by the health department, which would also keep athletes who test positive from competing or practicing during the virus' incubation period, according to medical officials. But those competitions will be allowed to go on under the guidelines established by the UHSAA, the governor's office and medical professionals in the Utah Department of Health.
As the bubbles in the NBA, WNBA, NWSL, NHL and other sports have shown the country, the only effective way to navigate sports in a pandemic is by controlling one's environment. That's what state officials are trying to provide: not a bubble, but a controlled environment, with strict limitations in school and athletic settings — and even stricter guidelines for social activities, or a lack thereof.
"They're willing to sacrifice some things socially that they are used to doing," Cuff said. "So those props really go to our member schools, our coaches and the student-athletes for the great jobs they've done to be able to play their sport."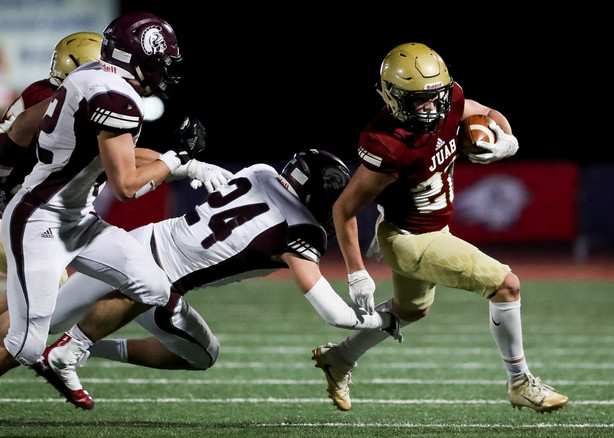 Those guidelines helped the UHSAA conclude the fall sports season in sports like girls soccer, volleyball and cross country. They also led to Beaver's repeat 2A football title on Saturday, or Juab's first football championship with a win over Morgan in the 3A title game at Dixie State.
But the protocols aren't a secret. They're the same things Herbert and Dunn have cautioned Utahns to do since the height of the pandemic this summer. They're the same things Richard Saunders and the Utah Department of Health have passed on to Utahns from the Centers for Disease Control.
Mask up. Maintain distancing. Exercise proper hand hygiene, and stay home when sick.
The difference is that high school athletes, from soccer to football to volleyball, have been kept in a controlled environment — one where those protocols are no longer optional, but mandatory, if they want to play.
"I think certainly high school sports and activities are a microcosm to what the big picture is: if we can keep it simple and do the little things, we'll be fine. The problem is that not everybody is willing to do the little things," Cuff said. "We've been told and we've seen proof now in high school sports that if you are in a controlled environment doing specific things, progress can be made. I know there was speculation that sports were superspreaders — but there is no data that shows that high school sports are superspreaders.
"In fact, the opposite has been shown: In a controlled environment, the virus doesn't spread like it does in an uncontrolled environment."
×
Related Links