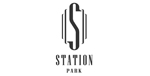 Sponsored by Station Park
The Ryan Flint Team with Colliers International has been part of the Station Park success from the beginning. With their dedication to creating the best customer service and working tirelessly for clients, they have earned their spot as the premier commercial brokerage team.
"We pride ourselves on serving our clients and taking massive action. We love what we do, and we have a lot of fun. Our commitment is to always provide the best in class service while continuing to work on self-improvement,", said, Ryan Flint, president of Colliers International Utah.
They are the trusted brokerage team for CenterCal Properties in Utah. Their commitment to being honest, trusted, and transparent set them apart. They follow principles that have become the basis for how they run their business.
"Our office leasing program at Station Park has exceeded our company's expectations largely due to the Ryan Flint Team. I can't say enough great things about them. Their market knowledge and work ethic, coupled with their constant communication and customer service has helped us excel and establish a partnership that is second to none in my book," said Dave Anderson, general manager of CenterCal Properties.
The Ryan Flint team has made a name for themselves that is recognized nationally. Paving the way commercial real estate is done and always looking at ways they can grow and become even better. They set the standard and don't lose sight of what is most important: the client relationship. "Our clients are family. When they come to us, they get the whole package. Innovation, creativity and most of all our commitment to them to deliver," said Flint.
×