RIVERTON — When you walk by Karen and Blake Christensen's home in October, your eyes aren't quite sure where to stop.
In the east corner, there's a "Cauldron Creep" mixing a brew through a mist of fog. On the west lawn, there's a "jilted bride" skeleton kneeling on a coffin (carried by skeleton pallbearers, no less), preventing something from escaping. Near the front of the home, there's a large ship mast with cursed pirates surrounding it braving the Riverton seas. Oh, and not to mention the large structure in the driveway that serves as a walkway and a falling bridge.
But there's more — much more. If you walk through the yard (and yes, a walk is needed to appreciate everything) you'll see a pirate clinching a treasure map, spell books lying next to witches, and a bottomless pit. And hold up — are those books moving? And is that grave shaking?
It's the culmination of 18 years of work that all feels straight out of a theme park.
"I'm kind of teased in the Rocky Mountain Haunters for my attention to detail, because most of them say they just run past and run back out; but I'm OCD that way," Karen said.
The Christensens' display — which is named the Christensen Haunted Hollows — is one of dozens, if not hundreds, of elaborate displays throughout the Wasatch Front. And most of them are connected through the Rocky Mountain Haunters. The organization's Facebook group has nearly 3,000 members — people who just really love to go all out for Halloween.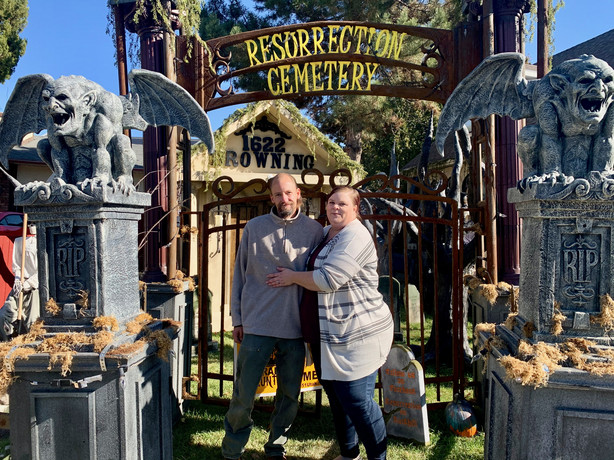 The group has regular meetups throughout the year (at least in nonpandemic years) where members share haunt ideas and hold classes on how to build props. It turns out you can do some pretty stunning things with some wiper motors (the secret behind most moving props) and insulation foam — for example, build an entire false front of your house like Annie and Daniel Browning of Taylorsville do each year.
The couple welcomes those who are passing by to the Resurrection of Rockhill each October. The name, Daniel quips, comes from the fact that they resurrect it from their garage each year. It has gargoyle statues protecting an elaborate life-sized entryway for a cemetery that features large tombstones, a skeleton horse-pulled hearse, and a large mausoleum.
And their home has been hidden by a facade that trick-or-treaters (or anyone else) can peer into to see an elaborate skeleton morgue display featuring rejected coffins made by a cabinet maker friend and some fun Halloween "Easter eggs" (hidden surprises) people can find.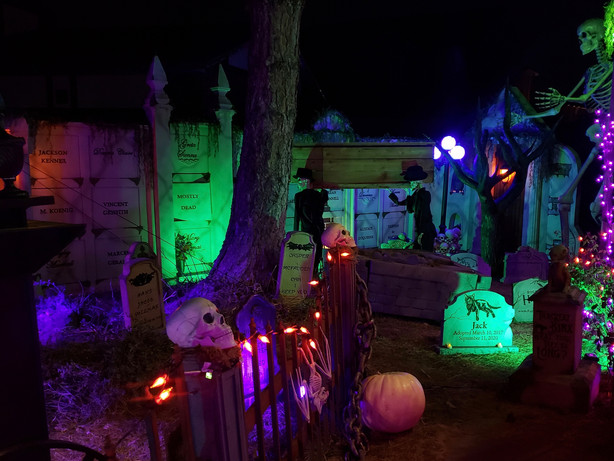 "This is our childhood at heart here," Annie said.
A childhood at heart makes for a pretty fun adult hobby. The Brownings said they usually set a budget of $500 a year to add to their display. If that sounds like a lot, consider that it's less than a ski pass — and building out their home haunt is every bit as much of a hobby.
You have to design the display: The Brownings change things up about every five years (their first haunt, years ago, was mostly Twilight-themed to thrill the younger generation).
You have to gather materials and figure out how to build what's in your mind: The Christensens purchased a walkway from a Spirit Halloween store and added to it to make their massive driveway walkthrough.
"We got the idea, conceptually, from what we had, and then we just wanted to build it bigger," Blake said. "These have open compartments inside, so next year we're gonna add cutouts through the walls with things going on inside."
And there's the setup — which can begin long before Halloween rolls around. For most of these haunters, Halloween is a full-year project. And Karen, who uses her art degree to help design her display, which is split up into mini vignettes, is already thinking of what to add next year: a skeleton who pops out and talks.
"I take November and December off and then we start in January, going again," Karen said. "Just hundreds of hours, there's just so much. In my spare time, this is what I like to do."
And dozens of cars stop to see the display each night; it's clear the neighborhood likes her to do it too. But maybe don't plan on stopping by around Christmas.
"We'll be lucky to get a strand of lights on our house," Blake said.
Christensen Haunted Hollows is located at 4142 W. 13675 South in Riverton.
Resurrection of Rockhill is located at 853 W. 4795 South in Taylorsville.
×