SALT LAKE CITY — Salt Lake County Sheriff Rosie Rivera says she stands by her officer who was cleared in a fatal 2018 shooting, as well as the conclusion reached by the district attorney.
On Friday, Rivera responded to a lawsuit filed by the family of Jason Whittle and allegations that he was "ambushed" and shot "execution style."
"Characterizing this justified shooting as an execution is unequivocally inaccurate. Being justified does not make the situation any less tragic for everyone involved," Rivera said in a prepared statement.
The sheriff's response comes two days after Whittle's parents, Annie Esposito and Rob Whittle, held a press conference to announce a civil lawsuit against Rivera, officer Darrell Broadhead and the Unified Police Department.
On Oct. 22, 2018, Unified police were called to Esposito's home, 11779 S. Stone Ridge Court, about 6:40 a.m. Whittle, 26, who had a history of drug abuse and had been diagnosed with depression, bipolar disorder and schizophrenia, was having a mental episode. His mother said she called 911 to get Unified police to take her son to the hospital.
When the two walked out front to the driveway, they were met by bright lights and officers with their guns drawn. Whittle, who was carrying a butter knife, grabbed his mother and held the knife to her.
"Jason grabbed me and he had a knife, a butter knife. But within two to three seconds he had it down," his mother said.
The family contends Whittle would not have hurt his mother and that she was not in danger.
On Friday, Unified police released the 911 call Esposito made that morning as well as a call by a neighbor.
Related:
Esposito had been granted a permanent protective order against Whittle in 2018, according to court records, something that is not mentioned in the family's lawsuit. But it's something that neighbors were apparently aware of.
"We're worried about her. I heard him call the police and was freaking out at police on the phone," a neighbor told dispatchers on a recorded 911 call.
The man said Whittle had not been physical with his mother in the past, but seemed out of control that morning.
On Wednesday, Esposito said her son was at the end of his rope and had come to her for help. She had 911 on speaker phone and Whittle became agitated because of all the questions that were being asked, she said.
But in the recording, Whittle sounds agitated almost immediately. He is heard repeatedly yelling his name, the address of his mother's house and that they "need officers."
"My son is mentally ill. And he is high on meth," Esposito tells the dispatcher in a soft voice. "Now he's out of control."
The dispatcher asks Esposito several times if she is in danger, and she replies "No." Esposito speaks softly throughout the nearly 10 minute call and seems to remain calm.
Whittle can be heard yelling in the background throughout the call, and seems to say the opposite of whatever his mother or the dispatcher say. When his mother says he is mentally ill, Whittle yells he is not. When she says he will not be violent with officers when they arrive, Whittle yells that he will, claiming "I will kill them with knives if they go through the back door." When the mother says police are coming, Whittle says they are not. When Esposito says her son does not have weapons, Whittle yells he has knives and guns.
Esposito tells the dispatcher that the only thing her son is holding is a butter knife.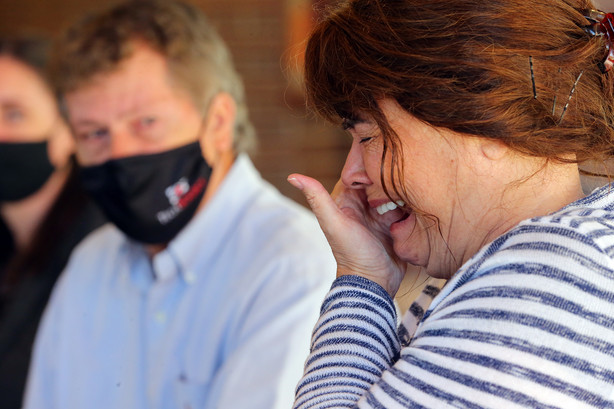 "There are no guns. I think he has a butter knife," she said.
Whether or not the dispatcher relayed to officers that Whittle had a "butter knife" or just a "knife" is a point of contention in the lawsuit.
Esposito eventually goes into a closet so she can have a quieter place to talk to dispatchers.
Outside, Whittle continues to yell odd statements such as "I need to keep my mom safe" and that his mother is watching porn.
About eight minutes into the call, the dispatcher has Esposito take the call off speaker phone. When asked if she is able to leave the home safely, Esposito says yes, but that she doesn't want to because she's afraid her son will then lock the house down. She again repeats that she doesn't not believe her son will hurt her.
The dispatcher eventually tells Esposito and Whittle to go outside where officers will meet them.
After walking to the front of the house, Whittle can be heard becoming extremely agitated and seemingly yells "I'll kill her" several times. Esposito can be heard saying "stop," "it's a butter knife" and "he's mentally ill."
The 911 recording stops just before a shot is fired.
"Loss of a family member, a child in particular, under any circumstance is tragic. I recognize that the family of Jason Whittle continues to grieve his death, and while my words cannot take away their pain, I do express my deepest condolences," Rivera said in her statement Friday.
The sheriff noted that police being called to intervene with people suffering mental health or substance abuse issues have become much more frequent in the past several years across the country.
"I am committed to continually grow the tools available to the UPD to maximize peaceful outcomes in these situations. Officers seek peaceful resolutions when they respond to a call; if an individual's actions threaten death or serious bodily injury officers will act according to their training. The 911 call, findings of the independent investigation, and the Salt Lake County District Attorney's Office ruling the shooting justified support the actions taken by officer Darrell Broadhead," River said.
×
Related Stories