SALT LAKE CITY — Relentless. Nasty. Ball hawks.
In other words: a physical and aggressive style of play that is to the core of Utah football's DNA on the defensive side of the ball under defensive coordinator Morgan Scalley and the staff that report to him. Even the freshmen learn quickly that to play competitively at Utah, it's all about the physical play and give-it-your-all mentality on the field at all times.
There are no days off, no plays off at Utah.
"It's difficult," cornerbacks coach Sharrieff Shah said about what he expects from each player that steps onto the field. "We have a defense that's predicated on understanding very quickly what you have to do in a myriad of situations.
"We have been a physical secondary, and will remain a physical secondary, so it's teaching these guys that that's an attitude every single play."
That's especially important for Utah as it looks to fill out its two-deep depth chart in the coming weeks with many freshmen and sophomores competing for the job after the entire starting secondary moved on from the program, including three to NFL teams.
It helps to have former teammates take that same attitude and apply it at the next level in the NFL as instant impact players, particularly Jaylon Johnson and Julian Blackmon. There's little that coaches have to say in terms of motivation when there's living, breathing examples from players they all know personally. Still, Shah and Scalley have no problem reminding their young guys of what it takes to play at Utah.
"Your temperament in how you bring your level of physicality every single play has to be identified on film," Shah said. "So if I don't see it, and a kid tells me, 'Oh, coach, I was going to do this, but it wasn't done.' But you didn't do it. You didn't do it and that's minus. I give a lot of minuses and I've been giving a lot more than I've ever given than in this fall camp, but I think the only way good players really learn is that they recognize their deficiencies, it's explained to them, why the minus occurred and now they get better from it."
With three weeks to go before Utah welcomes Arizona to Rice-Eccles Stadium in a delayed start to the season, that secondary unit is starting to take shape, but there's still plenty of work to be done.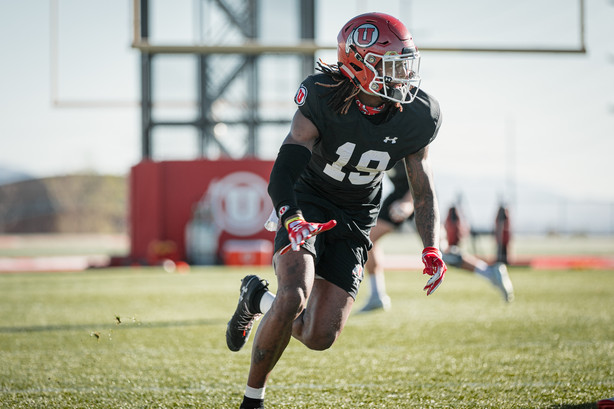 Head coach Kyle Whittingham on Wednesday identified JaTravis Broughton as "probably" a starter at the cornerback position, but that sophomore Malone Mataele, highly-touted freshman Clark Phillips III, and freshman Faybian Marks have been pushing for playing minutes as well. Bronson Boyd, one of the more experienced players to the cornerback position, has been "nicked up" but when on the field is "performing at a high level as well." Others are in the mix but weren't mentioned Wednesday.
Shah said Broughton is doing things on the field "that I anticipated would happen, and it's happening at the time that we need it to happen," but added that he wants to see a little bit more consistency from him and the rest of the cornerbacks vying for the job. "JaTravis is doing an outstanding job for us right now. Just want him to be hungry and continue working."
Phillips, who entered the season as the highest-ever recruit to sign with the program, is being looked at for both the corner and nickel position. "The goal is to teach him both positions," Shah said.
"But what I envision — and hopefully he begins to understand it at a rate that gives us comfort and confidence in him — is that he'll be able to understand both the inside as well as he's already been able to understand the outside. So, we'd like him to develop and continue to develop both positions."
At the safety position, Whittingham said R.J. Hubert and Vonte Davis are the leaders "at least at this point in time." But he said the pair are being "pushed" by freshmen Nate Ritchie, Kamo'i Latu, and Zemaiah Vaughn.
Ritchie, Whittingham added, will "absolutely be in the mix."
"He's done a great job ever since he started with us, which was back in the summer," Whittingham said. "He's a smart kid, he's tough, he's got size — reminds me of Chase Hansen coming out of high school; not quite as big a frame as Chase, but probably faster and more of a true safety. ... He is a guy right now that's getting as many reps as anybody at the safety spot and performing very well."
Older players like Hubert, a junior, and Davis, a senior, are providing a "stabilizing factor" to the secondary, Whittingham said, while noting that "nothing's set in stone — we've got some talented young guys that are challenging."
"Nothing definitive yet, but we've got a good start on the evaluations, and that will continue for the next two weeks," Whittingham said.
The position groups, which Whittingham has previously said are the biggest key to figuring out the defense this year, will continue to be altered in the coming weeks. The team transitioned into full pads on Wednesday, and that physical aspect in practice will be vital for the coaches to evaluate if the freshmen and sophomores can compete immediately or if they become more rotational players in the shortened season.
Either way, Utah is making progress in its least experience area, and the coaches are liking the direction it's headed.
×