SALT LAKE CITY — Since its inception nearly a decade ago, Utah's 4th congressional district is consistently the closest race among the state's four seats.
The two main political parties have split the seat's first four elections. This year's polls provide a similar outlook, even if the incumbent, Rep. Ben McAdams, polled at 11 percentage points ahead in a mid-September poll.
McAdams won in 2018 by less than 1,000 votes. He is Utah's only Democratic Party representative in Washington. His main challenger is Republican Burgess Owens, a former NFL player and author.
Owens and McAdams sparred Monday evening in the only debate between the two leading up to the Nov. 3 election. The two sides jabbed at each other's policy and record at times, as they tried to distinguish themselves in the voters' minds. Here are a few takeaways from the debate.
'Biggest issue'
One of the more poignant questions of the night centered on what each candidate felt like was the biggest issue for the district they represent, especially since it covers both rural land and urban growth. While the smallest district in size, it covers parts of Salt Lake, Utah, Juab and Sanpete counties.
The question offered a possible window into the issues the two leading candidates are focused on most, which can be helpful for voters who want to know what the candidates care about.
McAdams singled out COVID-19 as what he considered as the top issue. Parts of the district has experienced a big uptick in new cases in recent weeks; it's not only led to illness — including McAdams himself earlier this year — and death, but also economic hardships due to pandemic-related shutdowns and shifts in how some businesses are run. Some industries have been harder hit than others.
"We're really seeing that hit our economy. So many families are struggling right now and we have to do better. We have to have a plan to get this virus under control to slow the spread of the virus and then to help those families that are really struggling," he said.
Owens focused on federal land grabs for the southern part of the state before talking about taxes, especially with a high percentage of small business owners or employees.
"We need to make sure we continue to allow them to hold on to their money, not be taxed out of the success they're having and allow them to open up again," he said.
Negative campaigning
As regularly the tightest congressional race in the state, District 4 is often Utah's most advertised congressional seat as the leading candidates try to get any edge as possible. By the end of Monday's debate, sparks flew as the candidates dished out subtle attacks against one another.
McAdams mentioned participating in the Problem Solvers Caucus, which is full of bipartisan congress members seeking solutions to key issues in the U.S. today. Owens flipped that on him during the debate when it came to campaigning.
"It's interesting to go to D.C. and have this nice moment but then come back to District 4 and we see some of the most negative ads I've ever seen," he said.
Both sides have had help from outside Super PACs — groups with interest in the election when it comes to complete House of Representative seats for the next two years — when it comes to attack ads.
"I wish that we could keep the outside money and the outside groups out of Utah and let Utahns decide — let each of us as candidates take our message to Utah voters and let them decide," he said.
It didn't end much Monday evening. For example, McAdams attacked Owens for appearing on shows tied to the far-right conspiracy group QAnon. Owens attacked McAdams for voting 85% of the time with the Speaker of the House Rep. Nancy Pelosi (D-California).
COVID-19 and economy
While McAdams pointed to COVID-19 as the biggest issue, it's a topic that appeared early and often in Monday's debate, which was held without a studio audience because of the coronavirus. It's a topic that's defined 2020, and will likely play a role in this year's federal elections nationwide and not just Utah.
"This virus is serious and we must take it seriously, and I believe Washington has failed us; Congress has failed us," he said, referencing how a bill to provide more funding for businesses hit a snag after the CARES Act passed without many issues earlier this year.
He said he's called out his colleagues to come together and get an additional aid package secured because there are still people struggling economically because of COVID-19.
"Utah businesses are still struggling; Utah families are still struggling and that worries me," he said.
Owens said he believes business owners should have a say in how the economy reopens.
"We have to make sure that we're working together," he said. "Right now, we're looking at targeting help for those who need it and not for blue states who want to get bailed out because of the way they dealt with things in the past, they don't deserve that right now."
Owens said he does not support a statewide mask mandate as a potential way to curb COVID-19 in the state; McAdams didn't say he supported a mandate but that he supports people in the community to "do our part" and find a way to slow the virus down.
Social justice reform
This year hasn't just been defined by COVID-19; protests following the death of George Floyd in police custody back in May sparked worldwide protests and large scale discussions about systemic racism and social justice reform. It also led to a greater rise of movements, such as Black Lives Matter.
Politicians from both sides of the aisle, including Gov. Gary Herbert, have met with local Black Lives Matter leaders to discuss ways to solve issues in policing and the justice system. Still, the images of riots — a small percentage of the many U.S. protests — and disagreements over policy linger in those opposed to the movement.
The issue stood out Monday as one of the areas where the two sides saw it completely differently.
Owens, who is Black, chastised the Black Lives Matter movement. He added that he believes calling the U.S. a systematically racist country is "totally false."
"Sometimes special interests use good people to move their agenda forward. Black Lives Matter, BLM Inc., in their manifesto are against capitalism, against family and they're against God," Owens interjected.
"We don't need an organization that the end game, the byproduct is destruction, the loss of more Black lives, more Black businesses and the division of our country we do not need. … I grew up in the days of (the) KKK, where you had separate bathrooms (and) separate fountains. And it came in the NFL, where you had no Black quarterbacks or middle linebackers because they were white thinking positions."
When asked if he viewed the country as systemically racist, McAdams said he believes there are some "bad apples." He pointed out that giant steps have been made to make the country more inclusive since the country was founded that extends beyond race. For example, this year celebrated the centennial of the 19th amendment.
That said, he argued more work can be done to address the problem, which he said starts with listening to those most affected.
"We've made incredible progress as we work to make sure everyone in our community is treated fairly and equally under the law, and afforded the dignity that individual respects but we also have more that we can do," he said. "There are people in our community who feel left behind and they aren't treated fairly."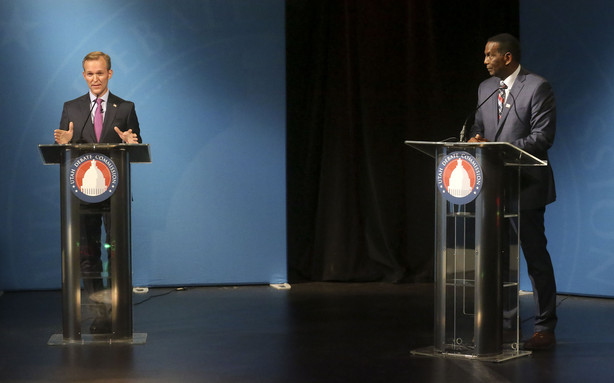 Affordable Care Act protections
A question about the future of the Affordable Care Act led to one of the more fiery exchanges during the evening. McAdams alleged that Owens' stance on covering pre-existing conditions had recently changed.
The accusation appears to be from a change in the Owens' platform dedicated to health care issues. On Aug. 31, it read: "Obamacare must be fully repealed so we can take a new approach to the issue. The ACA has overburdened Medicare, breaches the constitutional rights of citizens, forces people to receive health insurance, and has caused taxpayers millions to fix the failed project."
As of Monday evening, the passage read: "Obamacare no longer needs to be repealed, but changes are necessary in the current healthcare plan. Instead of the old top-down approach to healthcare, we need to open up the system to innovation and competition."
Even with the wording adjustment, McAdams said he was concerned with the original language that only changed recently.
"Simply saying you want to protect people with pre-existing conditions is not going to protect them," McAdams said. "We have to keep the protections in place right now."
Owens, a cancer survivor, denied ever wanting to remove pre-existing conditions from the health care system. He said Monday he thinks both sides of the aisle agree that it's important to ensure that people can't be dropped from their insurance pre-existing conditions.
"To bring this up as an issue is using fear … let's not use fear to get votes," he retorted.
Climate change
A Salt Lake Community College student asked how the candidates would address climate change, especially as decreases in annual snowpack and increases in wildfires are threats to Utah specifically.
Owens said the U.S. leads the world in reducing carbon dioxide production. It appears to be in reference to a February International Energy Agency report that found the U.S. reduced 140 megatons of CO2 in 2019, which was the most among world countries. It tied some of the reduction to less coal power used and also a milder summer in 2019, which reduced air conditioning demand.
It also stated the U.S. produced about 1.9 megatons more than the European Union; but areas like China and India led the overall worldwide growth of CO2 emissions last year. The U.S. has also reduced almost nearly 1 gigaton of carbon dioxide production from 2000, which shows the progress made in the U.S.
Owens suggested if there can be a "warp speed" commission similar to what scientists have done to find a vaccine for COVID-19 but for issues like climate change. There, businesses can piece together solutions to fix it.
"The reason why we're doing so well in terms of bringing these issues down and making sure water is clean, our air is clean is because of the free market and process," he said. "The worst polluters in the world are China and India, where the free market is not as big a part of what they're doing."
McAdams said the issue can only be solved through bipartisanship and through the private sector. He pointed to advancing solar energy, including a bill he co-sponsored with a Republican congressman in 2019, as a way to reduce air pollution.
"We can do this; we have to do this," he said. "It's important."
×
Related Stories